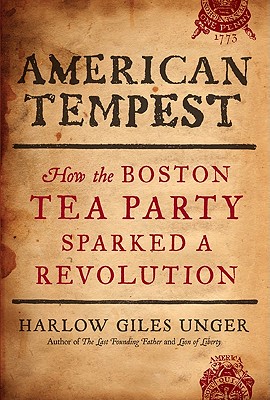 American Tempest (Hardcover)
How the Boston Tea Party Sparked a Revolution
Da Capo Press, 9780306819629, 304pp.
Publication Date: March 8, 2011
* Individual store prices may vary.
or
Not Currently Available for Direct Purchase
Description
On Thursday, December 16, 1773, an estimated seven dozen men, many dressed as Indians, dumped roughly 10,000 worth of tea in Boston Harbor. Whatever their motives at the time, they unleashed a social, political, and economic firestorm that would culminate in the Declaration of Independence two-and-a-half years later.
The Boston Tea Party provoked a reign of terror in Boston and other American cities as tea parties erupted up and down the colonies. The turmoil stripped tens of thousands of their homes and property, and nearly 100,000 left forever in what was history's largest exodus of Americans from America. Nonetheless, John Adams called the Boston Tea Party nothing short of "magnificent," saying that "it must have important consequences."
Combining stellar scholarship with action-packed history, Harlow Giles Unger reveals the truth behind the legendary event and examines its lasting consequence--the spawning of a new, independent nation.
About the Author
A former Distinguished Visiting Fellow in American History at Mount Vernon, Harlow Giles Unger is a veteran journalist, broadcaster, educator, and historian. He is the author of seventeen books, including five biographies of America's Founding Fathers. He lives in New York.
Praise For American Tempest: How the Boston Tea Party Sparked a Revolution…
Kirkus, 2/1/11
"A solidly researched account of the 1773 Boston Tea Party…[A] well-delineated, contrarian history."
Booklist, 3/1/11

"Considering the incident's resonance for the current Tea Party movement, Unger's history allows timely comparison of the original and its contemporary namesake." 
Internet Review of Books, 2/16/11
"A fine example of historical research that educates and entertains at the same time…[An] eyes-wide-open look at what triggered the Revolutionary War and our split from the motherland." 
What Would the Founders Think, 3/8/11

"Fascinating…A book of consequence.  It is informative and thought provoking, packed with historical footnotes and research." 
The Daily, 3/13/11
"[A] zippy account…The adventuresome tone of the book will delight anyone with a stake in American history, colonial mischief or righteous indignation." 
The Oklahoman, 3/13/11
"Unger presents the down and dirty real story about what actually happened at the Boston Tea Party and how it helped launch a revolution…This book is highly recommended to those interested in the American Revolution and Massachusetts history." 
New York Journal of Books, 3/15/11
"The events that birthed the original Tea Party are given their just airing via Ungers' scholarship…At once fascinating and engrossing, it fills in huge gaps between major events and gives studied, fundamental reasons for the actions that occurred. Incredibly well written and as readable as a solid novel, the author has done a prodigious service to consequential events in our early history." 
Boston Globe, 3/17/11

"Never has a meticulous, well-written history of the Boston Tea Party…seemed more relevant. Colonial historian Harlow Giles Unger delivers a stirring chronicle, making it clear that the similarities between then and now are thought-provoking…Unger has brought it brilliantly to life." 
Publishers Weekly, Starred Review, 3/21/11
"Unger brings to vivid life familiar historical characters with lively text and fine reproductions of period maps, paintings, and engravings…Unger's exciting historical account raises questions that are as relevant today as they were in 1773."
Newcity, 3/8/11

"With solid research and elegant, even passionate writing, Harlow Giles Unger has achieved the first rank of historians rescuing our powdered-wig set from the dust of history or, even worse, modern partisan mythology…Bloody good historical writing." 
Hudson Valley News, 3/24/11
"Absolutely riveting…[A] delightful escapade into history." 
Deseret News, 3/27/11
"Set any preconceived notions of the Founding Fathers to the side. After reading author and historian Harlow Giles Unger's latest offering…opinions of America's first idols may change…American Tempest not only offers a somewhat different view on American history, but it also delivers as an entertaining and informative read." 
Tucson Citizen, 3/28/11
"A fascinating book about this chapter in our national history…Unger has written an exciting, accessible account of the tea party and has set it in its proper context." 
The Waterline, 3/31/11
"A fascinating look at the intricacies of the 1773 Boston Tea Party…What is a delight is Unger's ability to bring to life the characters of the period with all the human elements of resentment, jealousy, thirst for power, and loss." 
InfoDad.com, 3/31/11

"[Unger] does a good job of putting the December 16, 1773 protest in the context of the protest movement as a whole at the time…Those with an interest in American history and the roots of today's Tea Party movement (roots of which many modern members are likely unaware) will find
American Tempest
fascinating reading."  
American History, June 2011
"Well-researched, wide-ranging and emphasizing the revolutionary fog shrouding both sides, which caused lost opportunities as well as triumphs." 
WomanAroundTown.com, 3/29/11

"Far from a whitewash of [the] event, this is the tale of the real, and sometimes mad, agitators whom George Washington condemned as vandals." 
Reference and Research Books News, April 2011

"This dramatic retelling of the history of the Boston Tea Party eschews the traditional patriotic narrative and presents the events that led up to the American revolution in a more critical light, describing the leaders of the protest as tax evaders and failed businessmen, who, never the less, managed to inspire a nation to revolution."  
American Spirit, May/June 2011

"Highly enjoyable for history buffs and casual readers alike…Unger brings to life the turbulent times and feelings that preceded the Revolutionary War." 
Asbury Park Press, 4/24/11

"The book does far more than tell that of-old tale…
Tempest
also is a mini-biography of John Hancock."

Charleston Post and Courier, 5/1/11

"How did a protest against taxation turn into an all-out revolution against the most powerful government in the world, resulting in the birth of a nation? Harlow Giles Unger reminds us, and with revealing detail…Unger examines some of the real motivations behind the customary histories and paints a vivid portrait of Colonial Boston…
American Tempest
is exciting and masterfully told." 
Midwest Book Review, May 2011

"A lively history of the Tea Party and its aftermath…Take American history, supercharge it with drama, and you have a nonfiction story that reads like a novel yet is packed with easily-accessible facts!" 
Kingman Daily Miner, 6/3/11
"Unger writes with authority…Highly recommended."
Choice, December 2011
"This readable history will challenge readers' perceptions of those who held the first Tea Party in 1773. Treading where others have been reluctant to go, Unger has washed away some of the shine that has encrusted some patriots…This is good history."
The Lone Star, November 2011
"An outstanding book whose time is now!...American Tempest does an excellent job of fully explaining what the original Tea Party was all about."
Advertisement