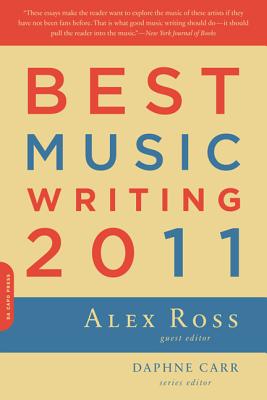 Best Music Writing (Paperback)
Da Capo Press, 9780306819636, 311pp.
Publication Date: November 29, 2011
Description
Best Music Writing has become one of the most eagerly awaited annuals of them all. Celebrating the year in music writing by gathering a rich array of essays, missives, and musings on every style of music from rock to hip-hop to R&B to jazz to pop to blues, it is essential reading for anyone who loves great music and accomplished writing. Scribes of every imaginable sort--novelists, poets, journalists, musicians-- are gathered to create a multi-voiced snapshot of the year in music writing that, like the music it illuminates, is every bit as thrilling as it is riveting.
About the Author
Alex Ross is a music critic for the New Yorker and the author of the acclaimed bestseller The Rest Is Noise. He lives in New York City.Daphne Carr is a music scholar and the author of Pretty Hate Machine. She lives in New York City.
Praise For Best Music Writing…
Kirkus Reviews, 10/15/11
"Maintaining the series' high standard…A great incentive to fire up Spotify, or even the old stereo."
Publishers Weekly, 10/3/11

"These collected pieces offer a soulful anthem to the vibrancy of music writing today." 
Booklist, starred review, 11/1/11

"This terrific collection…includes an eclectic bunch of long-form articles and very short pieces…The types of music covered are impressive: classical (Beethoven, Wagner, European avant-garde); jazz (Duke Ellington; and pop (Lady Gaga) as well as country, metal and hip-hop. The selections even transcend borders: a piece on the underground music scene in Tehran is especially insightful…A bracing collection."
Kingman Daily Miner, 10/21/11
"Well done, and highly recommended is this 5 Star book."
Curled Up With a Good Book
"This is music journalism at its finest."
Library Journal, 11/15/11
"Aficionados of music and illuminating critical writing will find much to savor in this collection, which exemplifies Ross's assertion that music can 'reach across the human universe with astonishing ease.' Recommended."
Philadelphia Inquirer, 1/15/12

"As Ross states in his introduction, he and series editor Daphne Carr looked for 'pieces that led the reader into an unfamiliar realm or marked new paths on well-trod ground—pieces that assumed no prior knowledge, only a spark of curiosity.' They definitely succeeded with this anthology…Ross' choices for
Best Music Writing 2011
make us think more about what we're putting into our ears."  
Tucson Citizen, 12/12/11

"An anthology that is must reading for anyone who truly loves music. This collection of essays, profiles, interviews, news articles, and blogs from important observers in the industry is, simply put, sheer joy."
Buffalo News, 1/1/12
"[Alex Ross is] the first indentured classical critic to edit one of these annual beauties and he's responsible for this one being the most brilliant and far-ranging and revelatory that the series is ever likely to have…Which is why if you read only one music book in 2012, you ought to make it this one."
Midwest Book Review, February 2012

"An outstanding collection very highly recommended for any general or music library."
San Francisco Book Review, 3/6/12
"This is some fearless writing by America's best writers…During and after reading, you'll listen anew."
MusicMediaMonthly.com, 3/13/12
"Best Music Writing 2011's landscape is vast… Ross writes that 'We didn't look for articles by and of insiders; we wanted writerly seductions.' Count me among the seduced."
John Sheltan Ivany Top 21, 4/8
"Essential reading for anyone who loves great music and accomplished writing. Scribes of every imaginable sort—novelists, poets, journalists, musicians—are gathered to create a multi-voiced snapshot of the year in music writing that, like the music it illuminates, is every bit as thrilling as it is riveting." 
Smooth Jazz News, May 2012
"The annual collection of the past year's best music writing is always a journalistic treat…The contributors to this book are passionate music lovers and talented writers."
Advertisement