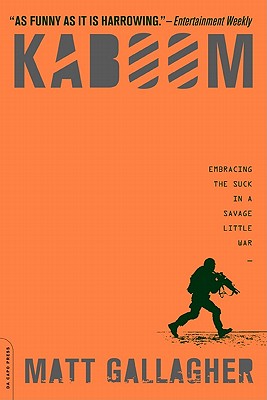 Kaboom
Embracing the Suck in a Savage Little War
Paperback

* Individual store prices may vary.
Description
When Lieutenant Matt Gallagher began his blog with the aim of keeping his family and friends apprised of his experiences, he didn't anticipate that it would resonate far beyond his intended audience. His subjects ranged from mission details to immortality, grim stories about Bon Jovi cassettes mistaken for IEDs, and the daily experiences of the Gravediggers-the code name for members of Gallagher's platoon. When the blog was shut down in June 2008 by the U.S. Army, there were more than twentyfive congressional inquiries regarding the matter as well as reports through the military grapevine that many high-ranking officials and officers at the Pentagon were disappointed that the blog had been ordered closed.Based on Gallagher's extraordinarily popular blog, Kaboom is "at turns hilarious, maddening, and terrifying," providing "raw and insightful snapshots of a conflict many Americans have lost interest in" (Washington Post). Like Anthony Swofford's Jarhead, Gallagher's Kaboom resonates with stoic detachment and timeless insight into a war that we are still trying to understand.
Praise For Kaboom: Embracing the Suck in a Savage Little War…
New York Journal of Books, 8/20/10
"A first-person account of life where the IED hits the road. Gallagher's first command—a scout platoon—is a classic picture of soldiers drawn straight from the American underclass…They are flawlessly presented as the Joes of the Iraq and Afghan wars…Gallagher's men are rich in irony and political incorrectness."
Washington Post, 8/28/10
"[A] half comic, half heart-breaking hour-by-hour account."
Winston-Salem
Journal
"Gallagher is the voice of this war." 
Officer, 10/10

"Readable, often humorous…Convey[s] a sense of what the tip of the spear Soldier and his company grade leaders experienced on an Iraq deployment…For anyone wishing to get a genuine feel for recent deployment experiences of today's Army company grade officer, this book will go a long way in delivering a realistic and candid view…Get a copy and put it on your reading list." 
Reno Gazette-Journal, 10/10/10

"[A] gritty memoir about modern warfare in the Mideast." 
The Old Gold and Black (Wake Forest University), 10/18/10
Entertainment Weekly, 4/30/10
"as funny as it is harrowing."

InternetReviewofBooks.com, April 2010
"[Gallagher] proves himself a gifted writer in this boots-on-the-ground report, with some of his prose echoing the scattershot riffs of Dylan without the guitar…[His] analysis of his situation, his troopers, the rear echelon, the high command, the profiteers, and the Iraqis (friend and foe) is insightful and candid...Gallagher simply gives a platoon leader's perspective of an ugly war that has cost our nation so much in so many ways. Perhaps it is best to think of the young lieutenant's memoir as one more paving stone for the road toward a fair historical assessment that our grandchildren may appreciate."

Galveston Daily News, 4/18/10
"While the opening of the book borrows heavily from the blog, it doesn't simply regurgitate his blog postings. Gallagher adds material that puts his experiences in context and rewrote much of the rest. Unchanged is what made the blog so delightful—the irreverence of his words and the immediacy of what he experienced...
Kaboom
offers an intimate and poignant look at the rough men willing to do violence so good people can sleep peacefully in their beds—during a period that tested those men to their limits. It is well worth reading."

Library Journal, 4/1/10
"[Gallagher's] exceptional narrative technique makes the soldier in-group cant both believable and coherent; his relentless pursuit of sanity in the midst of a chaotic storm of IEDs, policy changes, sheiks, civilians, and baffling missions makes this blog-based memoir an exciting read reminiscent of Anthony Swofford's
Jarhead
."

Zink magazine, April 2010
"
Kaboom
is nothing short of purely honest, unabashedly descriptive and unexpectedly humorous."
St. Louis Post-Dispatch, 4/4/10
"An oddly fascinating account of the high points (and low points) of Gallagher's 15-month deployment…
Kaboom
will generate strong responses from readers."
"Gallagher is a phenomenal writer…He is so real in his writing. He does not hold back, which is why his story is so appealing. We want the truth, and Gallagher gives us nothing but…This war story is as real as you can get. Welcome to the history books Lieutenant." 
Nancy Pearl (via Twitter), 6/27/10
"Matt Gallagher's
Kaboom
—ironic, visceral, based on his well known blog about his experiences as an army lieutenant in Iraq." "
Talk of the Town" (WTVF), 6/1/10
"If you want the inside soldier's view of the most recent Iraq War, read this first person account of Gallagher's 15 month deployment." 
Winston-Salem Journal, 7/25/10
"Gallagher is the voice of this war." 
Collected Miscellany, 6/15/10
"Gallagher does an excellent job of portraying the daily grind of counterinsurgency warfare…[His] writing style is free and easy to read. He does not write with a lot of military jargon…A must-read for anyone interested in reading a grunt officer's perspective on the counterinsurgency war in Iraq." 
Midwest Book Review, June 2010The New Republic, 6/11/10
"A vivid and introspective chronicle of Gallagher's fifteen months in Iraq…Its aim is simple: to explain what it is like to wage an unconventional war…Unlike a journalist, whose Heisenberg-like presence inevitably distorts, Gallagher is able to candidly depict the lighter moments of war…And Gallagher gives the book's characters…much more than the name-rank-hometown exposition that too often flattens soldiers in print…Evocative prose, convincing dialogue, and, especially, telling vignettes of life as an American soldier in Iraq."
Tucson Citizen, 6/14/10
"[Gallagher] freely shares what it was like to face the ever-presence threat of snipers and roadside bombs. He debates the effectiveness of the overall military strategy of the latest surge and struggles to understand the big picture in a memoir that is honest, candid, and insightful."
JulesCrittenden.com, 6/14/10
"Beautifully written, literary in its approach, and looks to be a good companion to [
Rage Company
's] more Spartan, unadorned take on the business end of surge operations and counterinsurgency."
Kick Ass Book Reviews, 6/24/10
"A soldier's account of the realities of war…No military library should be without this." 
Proceedings, August 2010
"Matt Gallagher's memoir is the finest I have yet read from the wars in Iraq and Afghanistan…The genius of both the blog and the memoir is Gallagher's ability and willingness to accurately capture not just the fear and boredom of small-unit combat but also its hilarity…Laugh-out-loud dialogue…Gallagher's parting act of service is this book, which is as noteworthy for its adventurous and stylized prose as for the story it tells…As engaging a combat memoir as any I have ever read."
Boston Globe, 8/10/10
"Provides a firsthand glimpse at the fog of modern war." 
Military Times, 5/24/10
"
Kaboom
is funny and profound, urbane and vulgar, witty and worthwhile…Photos with informative captions, and an index [are] the only pages in
Kaboom
without a sense of humor…As jaw-dropping, laugh-inducing and eye-opening as any life-threatening rollercoaster ride in a war zone."
Sacramento Book Review, 5/26/10
"A candid look at counterinsurgency warfare…Gallagher's descriptions of daily interactions between his soldiers, civilians, sheiks, Iraqi army, and Iraqi police will keep most readers turning the pages. He conveys the terrible stress soldiers face in dangerous situations, while also communicating the marathon tedium of their daily lives…An excellent book for anyone interested in the observations, expectations, humor, and work ethic of the next generation of American leaders."
St. Petersburg Times, 5/30/10
"A memoir by turns harrowing, hilarious and absurd."
"Combines the stark reality of war with humor as Gallagher describes his daily activities."—
Syracuse Post-Standard, 11/1/16
Da Capo Press, 9780306819674, 336pp.
Publication Date: April 12, 2011
About the Author
Matt Gallagher joined the Army in 2005 and left in 2009 following a fifteen-month tour in Iraq. He is the author of the critically acclaimed novel Youngblood. Originally from Reno, Nevada, he now lives in New York City.