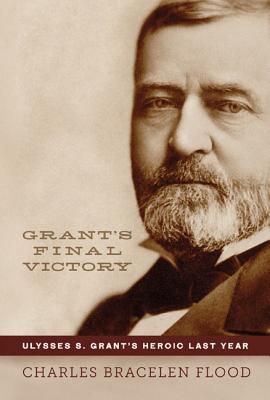 Grant's Final Victory
Ulysses S. Grant's Heroic Last Year
Hardcover

* Individual store prices may vary.
Other Editions of This Title:
Digital Audiobook (10/10/2011)
Paperback (10/9/2012)
MP3 CD (10/11/2011)
Compact Disc (10/11/2011)
MP3 CD (10/11/2011)
Compact Disc (10/11/2011)
Compact Disc (10/11/2011)
Description
Shortly after losing all of his wealth in a terrible 1884 swindle, Ulysses S. Grant learned he had terminal throat and mouth cancer. Destitute and dying, Grant began to write his memoirs to save his family from permanent financial ruin.
As Grant continued his work, suffering increasing pain, the American public became aware of this race between Grant's writing and his fatal illness. Twenty years after his respectful and magnanimous demeanor toward Robert E. Lee at Appomattox, people in both the North and the South came to know Grant as the brave, honest man he was, now using his famous determination in this final effort. Grant finished Memoirs just four days before he died in July 1885.
Published after his death by his friend Mark Twain, Grant's Memoirs became an instant bestseller, restoring his family's financial health and, more importantly, helping to cure the nation of bitter discord. More than any other American before or since, Grant, in his last year, was able to heal thisthe country's greatest wound.
Praise For Grant's Final Victory: Ulysses S. Grant's Heroic Last Year…
Kirkus Reviews, BEA Special Issue, 4/15/11
"A lucid, often somber account of the sad but noble decline of Ulysses S. Grant…Upon learning of his death, Grant's former opponent James Longstreet called him 'the truest as well as the bravest man who ever lived.' In this swiftly moving narrative, Flood ably shows why he deserved the accolade. A welcome addition to the literature surrounding Grant and his time."
The Waterline, 6/2/11
"Flood's book is an excellent read about a little explored aspect of General Grant, and is recommended to those with a passion for American history and specifically the Civil War."
Jon Meacham, Pulitzer Prize-winning author of American Lion
"Charles Bracelen Flood has painted a moving and illuminating portrait of Ulysses Grant's grace as the dying general faced possible ruin. Grant is so important, yet he somehow seems always on the periphery of the American mind. Flood's excellent new book should help put Grant where he belongs: in the center of our memory."
Jean Edward Smith, author of the Pulitzer Prize-finalist, Grant
"An unsurpassed account of Grant's final year. Mr. Flood has written not only the definitive study, but also the most readable. A wonderful book."
Charles P. Roland, author of
An American Iliad: The Story of the Civil War 
"Charles Bracelen Flood has now set his deft and discerning pen to the story of General U. S. Grant's heroic effort during the last year of his life in writing his famous memoirs. Anyone with as much as a grain of interest in the nation's history will derive both profit and pleasure from Flood's work."
Thomas Fleming, author of The Secret Trial of Robert E. Lee
"Seldom if ever have I read a book that plunges so deeply – and so masterfully – into the human side of a major historical figure. When that figure is a man as laconic and private as Ulysses S. Grant, the achievement is even more remarkable. Charles Bracelen Flood has combined his talents as a novelist and historian to create an irresistible book."

Frank J. Williams, president of the Ulysses S. Grant Association and chair of The Lincoln Forum
"In his latest winning book, Grant's Final Victory, Charles Bracelen Flood defines a true American hero in this sensitive telling of Ulysses S. Grant's last campaign to provide for his family in the last year of his life."
William C. Davis, author of Battle at Bull Run
"In a fitting companion to his classic Lee: The Last Years, Charles Bracelen Flood's Grant's Final Victory provides a moving account of a hero's last heroic deeds struggling against financial disaster to provide for his family, and battling cancer to complete what would become one of the greatest memoirs ever written by an American. Crippled by pain, unable to speak, his last chapters written almost in a scrawl, the general who saved the Union demonstrated once again his power of command, just as Flood has shown once more his mastery of narrating the most poignant and inspiring moments of our past."
Harold Holzer, author of Lincoln at Cooper Union and chairman of the Lincoln Bicentennial Foundation
"Ulysses S. Grant won the war but lost both his money and his reputation in the aftermath of his checkered presidency. With consummate grace, Charles Bracelen Flood traces the old general's resurrection, as he battled misfortune and disease to complete his peerless memoir and secure his family's future. They say heroes have no second act, but Grant did, and Flood recalls his fall and rise in a gripping and elegant narrative."
Publishers Weekly, 6/27/11

"A moving if painful portrait of a dying national hero."
Booklist, 9/1/11
"Flood captures Grant's stoic determination to finish, delivering the poignant backstory to his famous, ever-popular recollections."
Library Journal, 9/1/11
"Flood writes movingly of the last months of Ulysses S. Grant's life…Flood has great respect for his subject and succeeds in transmitting it to the reader. Those who like presidential or post-Civil War history will especially enjoy this book, aimed at general readers, with its compelling portrait of a well-known historical figure."
American History, December 2011

"Flood has chosen one of the great profiles in courage from American history and told it splendidly." 
Houston Chronicle, 10/9/11
"The exhilarating and heroic story of the race to complete Grant's memoirs." 
Cannonball (blog), 10/3/11
"A must read for Civil War buffs, presidential history enthusiasts, or anyone looking for a book on a courageous person who refused to give up…Flood's new book neatly captures the essence of the old war hero and two-term President, intermixing the struggle of his last days with brief flashbacks into his life and career to help add depth and background to his emotions and actions as he battled bankruptcy and cancer. Free flowing and easy to read,
Grant's Final Victory
stands as another masterpiece by Flood…The book is lucidly written, fast-paced, comprehensive, and well researched, and yet reads like a well crafted story…Flood's book is certain to become the definitive work on Grant's final year of life." 
48th Pennsylvania Infantry (blog), 10/5/11

"[An] excellent history…Flood tells the story masterfully; it is a story that is at once tragic and inspiring…Flood writes in such a clear and easy-to-read manner that it took but two sittings for me to read through this 250-page book…Will appeal to a wide audience, but especially those interested in the Civil War and one of its most legendary figures…This is more than just the story of Grant's final year; it is also a story of hope in the face of adversity, and inspiration in the face of tragedy."
Christian Science Monitor, 10/19/11
"Flood offers a fascinating coda to a remarkable life in this brisk, well-told history of the final months and days of Ulysses S. Grant…[Flood] demonstrates a keen understanding of Grant and other major figures without bogging the story down in excessive detail. The author's command of details and anecdotes shines throughout."
Shelf Awareness for Readers, 10/18/11
"A deceptively brief but inspiring account of how, in the midst of tragedy, Ulysses S. Grant found the strength to write one of America's greatest memoirs."  
Richmond Register, 10/23/11
"Flood turns a spotlight on the tumultuous drama Grant faced before he died…With such vivid detail, the 247-page book is not easily put down." 
Relaxed Fit eZine, 10/18/11
"Provide[s] some new material and a new viewpoint...
Grant's Final Victory
is a thoughtful, well-researched work…Mr. Flood has provided an accurate, moving portrait of a legendary leader." 
Deseret News, 10/17/11
"Flood beautifully details the sobering last year of Civil War hero and President Ulysses S. Grant…Flood accurately captures the spirit of a man determined to put forth his best effort while staring death squarely in the face. Fans of historical non-fiction will appreciate Flood's superb style…A compelling read."  
Washington Times, 10/28/11
"Flood burnishes his reputation as a top-notch historian with the poignant story of the last year of a gallant American hero. Grant's performance under adversity makes for an inspiring story." 
Tucson Citizen, 11/6/11
"An intimate account of Grant's determination and resolve as his life slowly slipped away. This is an exceptional piece of historical reporting and a book that should be at the top of everyone's reading list this autumn." 
Rhapsody in Books, 10/25/11
"
Under the able hands of the entertaining historian Charles Bracelen Flood, this book is a page-turner that has you not only reaching for the Kleenex box, but aching to get to Grant's memoir itself." 
Roanoke Times, 9/25/11
"Flood fills the pages of
Grant's Final Victory
with richly detailed descriptions of a time often lost to casual studies of history—the years following the Civil War…Flood's real contribution is showing the heroic Grant. It is not the heroics of battlefield bravery but the heroics of fighting a terminal illness in order to finish a project that will support the Grant family after the general's death…Flood's talent as a storyteller engages the reader from the very first page. He keeps the reader involved in Grant's life and the lives of his friends and family to the very end. The book ends with one the most powerful passages I have ever read." 
New York Journal of Books, 10/15/11
"What an inspiring story; and so well told. I could not put it down, despite knowing the ending. Anyone interested in the Civil War Era should read
Grant's Final Victory
."
Minneapolis Star Tribune, 11/26/11
"[An] inspiring tale of resilience."
Bookviews blog, December 2011
"Flood goes beyond Grant's memoirs…Flood paints a picture of a man devoted to his family. His determination, love of family and nation, is captured in this biography."
Midwest Book Review, November 2011

"[An] absorbing, vivid tale of one man's struggle against the inevitable, highly recommended."  
Author magazine, December 2011

"[A] fascinating and entertaining book…Grant's
Memoirs
remain a classic to this day, and Flood's view into the circumstances surrounding their creation makes a perfect companion piece."  
Tucson Citizen, 1/3/12
"Completed just four days before his death in 1885, Grant's book was an instant hit and has long been considered the best ever written by a former military leader or president. Flood provides the riveting true story behind this literary achievement." 
Minneapolis Star-Tribune, 1/15/12
"Flood describes Grant's painful struggle to write as the tumors spread and ultimately took his life—just three days after he completed the final page. Once you read Flood's highly recommended book, you will want to put Grant's memoirs on your reading list."  
Sacramento Book Review/San Francisco Book Review, 1/25/12
"Flood's account of Grant's final year does justice to his subject's heroic story."

Politics & Patriotism (blog), 1/25/12
"This is more than a documentation of one man's death. It's a closer look at what it means to do 'great things.'" 
Asbury Park Sunday Press, 1/29/12
"A spectacular book about the incredible bravery this war hero had in his domestic life." 
Tulsa Book Review, February 2012
"Flood's account of Grant's final year does justice to his subject's heroic story."
Civil War News, Feb/March issue
"With crisp writing and a devotion to historical research, Charles Bracelen Flood has succeeded in immersing us in Ulysses S. Grant's final and tragic year…He captures the turmoil and challenge…Flood's book not only exposes us to the greatness of Grant but redefines him so the reader will gain new-found respect for the general…Flood's research is first-rate and thorough. There is a perfect balance of narration with quotes from primary documents. The book is packed with gems and insights that will change a reader's opinion about Grant as a man…This volume would be a worthy addition to one's personal library."
Da Capo Press, 9780306820281, 288pp.
Publication Date: October 11, 2011
About the Author
Charles Bracelen Flood is the author of twelve previous books, including the bestselling Lee: The Last Years and Grant and Sherman, which Salon.com named one of the "Top 12 Civil War Books Ever Written." He lives in Kentucky.
or
Not Currently Available for Direct Purchase