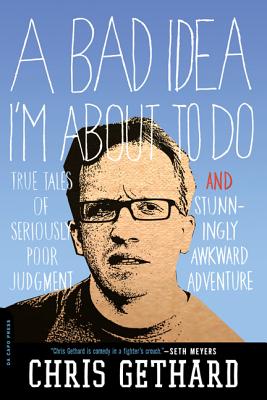 A Bad Idea I'm About to Do (Paperback)
True Tales of Seriously Poor Judgment and Stunningly Awkward Adventure
Da Capo Press, 9780306820304, 264pp.
Publication Date: January 10, 2012
* Individual store prices may vary.
Description
Chris Gethard has often found himself in awkward situations most people, including you, probably would have safely avoided. The good news is now, thanks to this book, you can enjoy the painfully funny consequences of his unfortunate decisions at a safe distance. A Bad Idea I'm About to Do invites readers to join Chris as he navigates an adolescence and adulthood mired in hilariously ill-fated nerdom, and to take comfort in the fact that - as his experiences often prove - things could always be much, much worse.


About the Author
Chris Gethard is an actor, comedian, and writer as well as the star and creator of The Chris Gethard Show. In addition to numerous appearances on Comedy Central, Late Night with Conan O'Brien, Late Night with Jimmy Fallon, MTV's Human Giant, CollegeHumor.com, and FunnyorDie.com, he is a longtime performer at the Upright Citizens Brigade Theatre. Raised in West Orange, New Jersey, he now lives in Queens, New York. Visit: TheChrisGethardShow.com
Praise For A Bad Idea I'm About to Do: True Tales of Seriously Poor Judgment and Stunningly Awkward Adventure…
Amy Poehler
"If you like underdog stories told by a secret comedy superhero, Chris Gethard is your man. Each story is the perfect combination of hilarious and heartbreaking." Seth Meyers
"Chris Gethard is comedy in a fighter's crouch." Patton Oswalt
"There's truly no poorer judgment than not buying this book. Except maybe diving into a swimming pool full of malaria."
Jack McBrayer, 30 Rock
"Whenever I'm felling down on myself or think that I'm slowly going crazy, I think of one of Gethard's stories. Then I realize that, hey, I don't got it so bad after all."
Paul Scheer, FX's The League and Adult Swim's NTSF: SD: SUV
"Chris Gethard stories are like a roller coaster—at times you are scared, shocked, and ultimately exhilarated by the hilarity each story contains—and once you finish one, you wanna hear another one right away."
Rob Huebel, Adult Swim's Childrens Hospital and MTV's Human Giant

"Chris Gethard tells the amazing stories an eccentric old man would tell . . . if that man had lived his f#@king life with any balls. His stories are hilarious and riveting—but more importantly, real."
Rob Riggle, The Daily Show with Jon Stewart
"Chris Gethard is one of my favorite storytellers. He's amazing! He's always getting into the most unusual situations….Even normal situations become amazing when you're Chris Gethard. Seriously, when Geth is talking, I stop and listen."
Kirkus Reviews, 12/15/11
"Self-hating funny guy comes to terms with his depression…He's easy to root for…The author has a good time laughing at himself."
Huffington Post
"In this collection of tales from a nerdy, stumbling adolescence, up-and-coming comedian Chris Gethard will make you laugh, cry, and glad that you aren't him." 
Penthouse, February 2012
"Mr. Gethard's storytelling is very good, and this book is most definitely worth reading," 
The Boston Phoenix
,
1/17/12

"Before I read
A Bad Thing I'm About to Do
, a book hadn't made me bleat with laughter since I read Jonathan Ames's
What's Not to Love?
ten years ago…Gethard made me laugh so much I got a cramp and scared the cats…Chris Gethard deserves a preemptive National Book Award."  
The Spit Take, 1/6/12
"Gethard is a fantastic storyteller…Gethard is engaging and endearing, humbling himself at every opportunity with as much humiliating detail as possible." 
Penthouse, February 2012
"A funny, poignant read that might send a familiar message to all the geeks out there: it gets better."

Examiner.com, 1/25/12
"Gethard has led a pretty screwed life with an especially bizarre childhood. Thank God he had the presence of mind, and enough lack of pride, to remember it all and put it on paper…A hysterical memoir…Gethard has a remarkable knack for self-deprecating storytelling…Unlike the slew of paint-by-numbers bios churned out by stand ups once they get a network TV show, Gethard has managed to write one that is actually original and revealing; sort of what memoirs are supposed to be but rarely are." 
Tucson Citizen, 1/23/12

"A laugh out loud memoir that will be a comfort for those readers who connect the dots and realize their lives are not so bad after all."
Daily Blam, 2/2/12
"[A] hilariously relatable memoir." 
The Island Packet/Beauford Gazette, 3/2/12

"A must-read for anyone who enjoys awkward situations—at a safe distance."