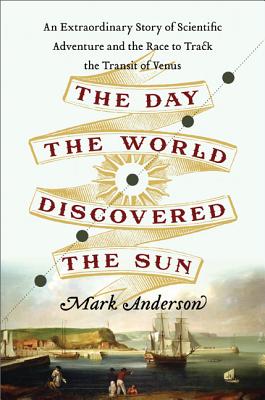 The Day the World Discovered the Sun (Hardcover)
An Extraordinary Story of Scientific Adventure and the Race to Track the Transit of Venus
Da Capo Press, 9780306820380, 280pp.
Publication Date: May 8, 2012
* Individual store prices may vary.
Description
On June 3, 1769, the planet Venus briefly passed across the face of the sun in a cosmic alignment that occurs twice per century. Anticipation of the rare celestial event sparked a worldwide competition among aspiring global superpowers, each sending their own scientific expeditions to far-flung destinations to time the planet's trek. These pioneers used the Venus Transit to discover the physical dimensions of the solar system and refine the methods of discovering longitude at sea.
In this fast-paced narrative, Mark Anderson reveals the stories of three Venus Transit voyages--to the heart of the Arctic, the New World, and the Pacificthat risked every mortal peril of a candlelit age. With time running out, each expedition struggles to reach its destinationa quest that races to an unforgettable climax on a momentous summer day when the universe suddenly became much larger than anyone had dared to imagine.
The Day the World Discovered the Sun tells an epic story of the enduring human desire to understand our place in the universe.
About the Author
Mark Anderson is the author of "Shakespeare" By Another Name and has covered science, history, and technology for many media outlets, including Discover and National Public Radio. He holds a BA in physics, an MS in astrophysics, and lives in western Massachusetts.
Praise For The Day the World Discovered the Sun: An Extraordinary Story of Scientific Adventure and the Race to Track the Transit of Venus…
Publishers Weekly, 3/19/12
"In this exciting tale—part detective story, part history of science—Anderson ("Shakespeare" by Another Name) vividly recreates the torturous explorations and enthralling discovery of three peripatetic and insatiably curious explorers."
Kirkus Reviews, 4/15/12
"A scientific adventure tale in which astronomers risk their lives, traveling the high seas in winter, trekking over ice-bound Siberia and facing deadly diseases…A lively, fitting tribute to 'mankind's first international 'big science' project.'" 
Northampton Valley Advocate, 3/29/12

"Anderson's prose [is] gleaming with a stout and convincing imagining of the past…An adventure tale that brings to life knowledge that is a touch esoteric, yet was at the center of vital, practical pursuits of the 18th century." 
Roanoke Times, 4/8
"An armchair travel adventure." 
AstroGuyz.com, 4/20/12
"I can think of no finer reading companion to warm you up for [the transit of Venus] than this week's review,
The Day the World Discovered the Sun
…This book reads like a fine historical adventure novel…The book doesn't back away from the 'good stuff' that astronomical history buffs yearn for…A table is included for the mathematically curious, and tales of astronomical intrigue abound." 
Booklist, 5/15/12

"A fine combination of popular science and real-life adventure that will appeal to a broad spectrum of readers." 
Discover, June 2012

"[An] intense account of efforts to measure the rare celestial event." 
New Scientist, May 2012
"Truly excellent…Anderson writes as if the reader is on the very shoulders of the adventurers as they sledge across the icy wastes of Siberia or sail across uncharted oceans…communicat[ing] the verve and energy—not to mention the perilous nature—of the expeditions." 
Daily Hampshire Gazette, 5/11/12
"A rollicking tale of 18th-century scientific exploration and adventure."
Nature, 5/17/12
"[An] excellent account…Arresting…Anderson serves up a rich broth of details."
AND Online Magazine, 5/26/12
"All three expeditions are compelling, with riveting accounts of the voyages to the far-flung points of observation, and a fast-paced narrative that has you on the edge of your seat, rooting for each of the teams of astronomers to be able to have the opportunity to actually see the transit of Venus on June 3, 1769 without the threat of clouds, broken equipment, dangerous weather, angry natives, or debilitating illness. Anderson weaves the three stories together seamlessly and
The Day the World Discovered the Sun
is a book about scientific advancement and adventure that is somehow able to avoid being bogged down with the complexities of science." 
Macleans.ca, 5/28/12
"It's a heck of a yarn—a sort of real-life literal Star Trek from the era of tall ships, terra incognita, and scientific Enlightenment." 
Library Journal, 6/1/12
"Recommended for casual students of history and astronomy." 
Popular Science Online, 6/5/12
"From the beginning, you are alongside the famous explorers…Anderson draws on his background in physics as well as a career writing about Elizabethan England to tell the story." 
National Geographic Online, 6/5/12
"A clever and very entertaining book…an adventure tale, a story of human 'drive and endurance' with voyages to the poles and everywhere in between to unlock a scientific mystery." 
Desert News, 6/2/12
"Reads like a mystery. Anderson describes various astronomical puzzles that each explorer has to piece together in order to form the larger picture…A book that pays tribute to men who are not mentioned in textbooks. It is a book for all people, not just those who are interested in astronomy." 
Technology & Society Book Review, 6/4/12
"Both an adventure tale and a look back into the history of science." 
Winnipeg Free Press, 6/2/12
"A worthwhile read for anyone with compatible interests."
Concord Monitor, 6/10/12
"Anderson explores the personalities and politics behind the transit observation expeditions, melding history and science in a fascinating story of the first large-scale international scientific effort…Anderson makes each expedition come alive; the challenges and detours, hopes and hubris… Whether you like science or political intrigue, space or human nature, or simply want to marvel at these men's accomplishments, Anderson delivers." 
Internet Review of Books, 6/15/12
"A wonderful retelling of several intrepid expeditions to the corners of earth in search of a higher human aspiration—scientific truth."
Midwest Book Review, August 2012
"A fine guide for any interested in astronomy's link to mankind's development."
or
Not Currently Available for Direct Purchase