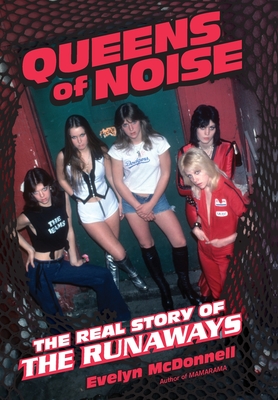 Queens of Noise (Hardcover)
The Real Story of the Runaways
Da Capo Press, 9780306820397, 360pp.
Publication Date: July 9, 2013
* Individual store prices may vary.
Description
In four years the teenage members of the Runaways did what no other group of female rock musicians before them could: they released four albums for a major label and toured the world. The Runaways busted down doors for every girl band that followed. Joan Jett, Sandy West, Cherrie Currie, lead guitarist Lita Ford, and bassists Jackie Fox and Vicky Blue were pre-punk bandits, fostering revolution girl style decades before that became a riot grrrl catchphrase.

The story of the Runaways has never been told in its entirety. Drawing on interviews with most of this seminal rock band's former members as well as controversial manager Kim Fowley, Queens of Noise will look beyond the lurid voyeuristic appeal of a sex-drugs-rock 'n' roll saga to give the band its place in musical, feminist, and cultural history.
About the Author
Evelyn McDonnell, author or co-editor of five books, has been a pop music critic for the Miami Herald and a senior editor at the Village Voice. She lives in Los Angeles.
Praise For Queens of Noise: The Real Story of the Runaways…
"For a grim and gritty look at the rise and fall of the band, as well as a look at sexual politics in the 70s and in the 70s rock scene, this is a fascinating book. And for fans of The Runaways, like me, this is a must have."
Bookviews
"Full of insights."
The Advocate, 8/9/13
"Brilliant, must-read."
San Antonio Express News, 8/4/13
"This book may be the first Runaways project to successfully represent all five members of the classic lineup…Instead of a riot of conflicting opinions, McDonnell skillfully weaves a coherent narrative that looks at both sides of 'he said, she said,' or is often the case, 'she said, she said.'"
Houston Press, 8/21/13
"
Queens of Noise
 is as wild a read as was the Runaways' short-lived career. But in the hands of such a skilled, careful, and picture-painting writer as McDonnell, it's far more than the scandalous jailbait journalism it might have been."
Examiner.com, 8/20/13
"An all-inclusive overview that draws hundreds of quotes from dozens of magazine and television interviews with the musicians, managers, confidantes, and kin to paint a bigger, clearer picture than any previous work."
NeuFurtur.com, 8/20/13
"An even-handed look at the band, and those surrounding them…[McDonnell] objectively covers the group, warts and all, and does an incredible job of balancing everyone's interpretations of the band's brief but often contentious life."
My Big Honkin Blog, 8/18/13
"The sad yet triumphant tale of a handful of California girls who were thrust together to form the at the time revolutionary all-girl band The Runaways.…Author Evelyn McDonnell finally tells the band's story in rich detail and accounts for all perspectives in this oft-disputed tale."
Los Angeles Review of Books, 9/1/13
"Gives this all-girl hard-rock group, the first to sign a multiyear major record label deal and tour the world, the recognition and serious consideration as pioneers that they deserve, granting them a position in cultural, social, and feminist history. Through extensive interviews and research, McDonnell…provides a panoramic scale, sense, and dignity to a complicated and emotion-filled saga that still divides the key players and band members, replete with ongoing lawsuits and deeply entrenched resentments…McDonnell's writing is straightforward, and her passion comes through in an enticing hybrid of music fandom and academia."
January Magazine, 9/7/13
Publisher's Weekly Top Ten Music Books for Spring 2013, 1/28/13

New York Times Book Review, 10/6/13

"Scrupulously researched…McDonnell has done her legwork…[and] rightly rehabilitated a pioneering band's reputation."

CBSNews.com, 6/17/13

"Extensively researched."


Seattle Times, 7/21/13

"[T]he Runaways' legacy as trailblazers who opened the doors for other female artists is assured. Queens of Noise is the definitive account of their pioneering career."


New York Observer, 7/23/13

"Reversing the curse that plagued the band's short run, [Queens of Noise] declares: if you haven't heard of the Runaways, that's your problem—not theirs.


Paste, 7/30/13

"Celebrates the spirit of what could happen when listeners ignore conventional wisdom about girls-in-rock. An almost-feminist manifest…A primer of how bands come together, what they face in the jaws of trying to create arena-sized success without proper management and how it can all go wrong."


Graffiti Magazine, 7/31/13

"This is a girl's story. A woman's story. And the influence this bouquet of teenagers would have on the music scene is perhaps still being calculated."


Under the Radar (website), 9/17/13

"An essential read."

JSItop21.com, December 2013

"A vivid must-read part of music's evolution."

Waterbury Sunday Republican, 12/15/2013

"An astonishing story of Roman candle-like duration…the book is a wild and wooly romp…No question that [The Runaways'] story is exciting and unique and McDonnell tells it well."

Portland Book Review, 2/5/14

"Crisp, self-aware, and interesting…Particularly of note is the analysis McDonnell offers as she thoroughly explores the curious circumstances that stunted the Runaways' lasting success."

Curled up with a Good Book. 2/9/14

"McDonnell…pulls no punches in describing drug use, in-fighting, and the alternate lifestyles many of the girls were following…[Queens of Noise] pulls back the curtains on the façade that, seen from the outside, being in a rock and roll band would be the coolest gig in the world. But when the terrible underbelly is exposed, you realize how easily that dream disappears."
or
Not Currently Available for Direct Purchase