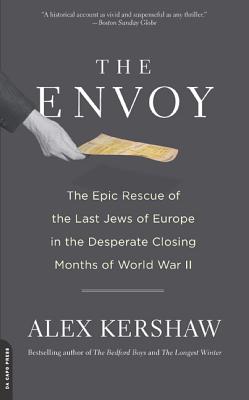 The Envoy (Paperback)
The Epic Rescue of the Last Jews of Europe in the Desperate Closing Months of World War II
Da Capo Press, 9780306820434, 336pp.
Publication Date: November 1, 2011
* Individual store prices may vary.
Description
In July 1944, thirty-two-year-old Swedish diplomat Raoul Wallenberg arrived in Budapest on a mission to rescue the last Jews of Europe.Over the next six months, he repeatedly risked his life to save tens of thousands of Jews, defying mass murderer Adolf Eichmann and crazed Hungarian fascists while enduring one of the bloodiest sieges of World War II. Tragically, when Budapest was finally liberated, the Holocaust's greatest hero had disappeared into the Soviet gulag; to this day, his exact fate is unknown.
About the Author
Alex Kershaw is the author of seven books, including the widely acclaimed bestsellers The Bedford Boys, The Longest Winter, The Few, and Escape from the Deep. He lives in Massachusetts.
Praise For The Envoy: The Epic Rescue of the Last Jews of Europe in the Desperate Closing Months of World War II…
"Kershaw dramatically pulls the reader into the diabolical campaign of Adolf Eichmann…With the nail-biting suspense of a winning novelist, Kershaw uses solid research and anecdotal data to show how it felt to be just one step ahead of the SS … Alex Kershaw has delivered a masterpiece about Raul Wallenberg, as witnessed from every perspective."
WomenAroundTown.com, 11/11/10
"[Y]ou must read everything you can find by Alex Kershaw."

Library Journal, 11/11/10
"An interesting conjunction of two World War II figures, one heroic and one evil, this will most interest general readers just starting to study the Holocaust, although some of Kershaw's details will also interest specialists."\
Boston Sunday Globe, 11/14/10
"A historical account as vivid and suspenseful as any thriller."
The National, 11/2/10
"The Envoy is framed as a suspense narrative in which the outcome is already foretold—a mystery whose hero is also its victim. This is a perilous tack to take with the story of a secular saint like Wallenberg, but one that proves successful for Kershaw, who is more storyteller than philosopher."
Daily Herald, 12/5/10
Booklist, July 2010
"From a best-selling and vibrant writer, the compelling story of how a Swedish diplomat saved 100,000 Hungarian Jews from deportation to the death camps. Many books have been called major contributions to Holocaust literature, but in this case, the claim is true."
Kirkus Reviews, 9/1/10
"The life of a courageous, righteous man well told."
Booklist, 10/1/10
"A tense, fast-moving narrative that shows Wallenberg as a match for Eichmann in intelligence and determination as he utilized fake documents, safe houses, and a variety of other methods to save thousands of Jewish lives. This is an inspiring story that illustrates how one dedicated human can make an impact, even against a monstrous tyranny."
WWII Magazine
"The entwined tales of Raoul Wallenberg and Adolf Eichmann, revisited with new research and this best-selling writer's narrative flair."
New York Journal of Books, 10/29/10 
Norfolk Virginian-Pilot, 1/2/11
"A riveting account of Wallenberg's efforts. Kershaw pits Wallenberg's tenacity against the blood lust of his archnemesis, Hilter's angel of death, Adolf Eichmann…Kershaw also profiles the lives of several Jews who were swept up in war and struggled to survive. He skillfully weaves their stories, gleaned from interviews…and puts a human face on its terrible drama…Extensive footnotes reflect the depth of Kershaw's research and skillful use of quotes from the principal actors involved in this unforgettable story."
Providence Journal, 1/23/11
"A harrowing book."
Shepherd Express, 1/24/11
"What Alex Kershaw adds to the conversation are his own interviews with some of the people Wallenberg saved."
Jewish Book World
"Much like an adventure story, at times impossible to put down….The Envoy is well-written, thoroughly researched, and an engaging book to read."
Buffalo Jewish Review, 7/8/11
"The story is set forth here with considerable authenticity in a style that grips the reader's attention and that vividly reminds us of a hero who deserves continuing universal recognition."
"Kershaw's wisely understated prose allows these horrific events to speak powerfully for themselves. One leaves the narrative with equal parts regard for Wallenberg's honor, determination and sacrifice, and sorrow at his demise."
Examiner.com, 12/4/10
'"Best-selling author Kershaw dramatically pulls the reader into the diabolical campaign of Adolf Eichmann to send more than 250,000 Hungarian Jews to Auschwitz. With the nail-biting suspense of a winning novelist, Kershaw uses solid research and anecdotal data to show how it felt to be just one step ahead of the SS and their cruel Hungarian proxies, the Arrow Cross…The Envoy is a brilliant examination of the rescue of Hungarian Jews near the end of the Holocaust, led by the brave Swiss diplomat, Raul Wallenberg.  Kershaw gives the reader a fiery collection of facts as explained in detail by survivors and records, woven into a thrilling and detailed account of Wallenberg's courageous efforts to save thousands Jewish families from certain death…Kershaw's brilliant effort is one that should be read by everyone who values freedom, tolerance and liberty…Alex Kershaw has delivered a masterpiece about Raul Wallenberg, as witnessed from every perspective. "