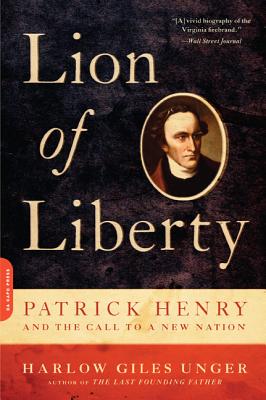 Lion of Liberty
Patrick Henry and the Call to a New Nation
Paperback

* Individual store prices may vary.
Other Editions of This Title:
Digital Audiobook (10/25/2010)
MP3 CD (10/26/2010)
Compact Disc (10/26/2010)
Compact Disc (10/26/2010)
Description
In this action-packed history, award-winning author Harlow Giles Unger unfolds the epic story of Patrick Henry, who roused Americans to fight government tyranny -- both British and American. Remembered largely for his cry for "liberty or death," Henry was actually the first (and most colorful) of America's Founding Fathers -- first to call Americans to arms against Britain, first to demand a bill of rights, and first to fight the growth of big government after the Revolution.

As quick with a rifle as he was with his tongue, Henry was America's greatest orator and courtroom lawyer, who mixed histrionics and hilarity to provoke tears or laughter from judges and jurors alike. Henry's passion for liberty (as well as his very large family), suggested to many Americans that he, not Washington, was the real father of his country.

This biography is history at its best, telling a story both human and philosophical. As Unger points out, Henry's words continue to echo across America and inspire millions to fight government intrusion in their daily lives.
Praise For Lion of Liberty: Patrick Henry and the Call to a New Nation…
"A well-written story of one of the key figures in America's Revolutionary movement and his later efforts in safeguarding the hard-won freedoms during the formation of the new nation…The author is a good storyteller, and his brisk, narrative style ably conveys the importance of the life and contributions of this great 'Lion of Liberty'…An informative and enjoyable read." 
Reference & Research Book News, February 2011

"A popular biography of the public and private life of Patrick Henry…A compelling story that illustrates Henry's beliefs by centering on his actions and the events of his life." 
Washington Times, 2/16/11

"A highly readable account of the life of one of our most prominent revolutionaries." 
The Waterline, 2/24/11

"Unger brings Colonial Williamsburg to life." 
Magill Book Reviews

"An engaging account of Patrick Henry's lifelong quest to promote individual liberties and fight against government interference." 
American Spectator, April 2011
"The first major new biography of Patrick Henry in a generation."
Kingman Daily Miner, 12/3/10

 "Exactingly researched…Unger has captured the essence of Henry…Highly recommended…[A] personable historical account of one outstanding patriot."

The Lone Star, November 2010

"This excellent book should be read by all Americans." 
Our History Project Book Review
,
1/10/11
"In this magnificent book Harlow Unger paints a portrait of Patrick Henry that will inspire, recharge and get us excited; if not passionate; about what freedom is and why we as Americans strive, desire and covet that ideal…[He] combines true story telling mixed with sound academic research." 
WhatWouldtheFoundersThink.com, 1/10/11
"One of the most interesting facets of this book was how the author tied the various actors in the Revolution together and placed them at various events." 
Charleston Post and Courier, 2/6/11
"This biography adds to our further knowledge of the men who were our Founding Fathers." 
Hudson Valley News, 11/3/10
"Very readable, engaging."

New York Journal of Books, 10/26/10

"Harlow Giles Unger does a remarkable job of putting together the life and times of this most noted but little known Founder. Unger provides a startling history of the man who, though never in combat, remains one of the great patriots of his new country…Unger is not only a superior storyteller, he is also a gifted researcher; he sweeps the reader into the story, also enveloping us in the times…The book brings fresh insights to the process of building a nation with little direction from which to work…If you want to know what the Founders meant while deliberating the creation of the Confederation and the Constitution, and if you wish to understand why they made the decisions they did, read
Lion of Liberty
." 
Associated Press, 11/15/10
"Unger recounts Henry's life and explores its ramifications in contemporary America. Whether you find it cautionary or inspiring might depend on your own political beliefs…[Unger] brings an ardent spirit of libertarianism to this engrossing and articulate biography; he argues implicitly that in Henry's aversion to a strong central government, the tea-party movement finds its philosophical cornerstone…Unger's telling of Henry's story is a beacon of vivid, accessible and thought-provoking biography."

Norfolk
Virginian-Pilot
,
11/14/10

"With quotes from Henry's vivid oratory, Unger traces his rise in Virginia society before the Revolution. Though not quite a rags-to-riches tale—his folks were well-established lawyers and clergymen—
Lion of Liberty
tells entertainingly of how a homespun-clad upcountryman with an odd accent fitted into a British-trained, plantation-owning aristocracy of velvet jackets and white neckcloths."

The Federal Lawyer, November/December 2010
"[An] excellent biography…Will be valued by all who have an interest in the birth of this nation and the origins of government." 
Asbury Park Press, 11/14/10
"An easy-to-read and entertaining biography…Today's Tea Party talk of liberty and small government has made Patrick Henry seem especially relevant."

Richmond Times-Dispatch, 11/14/10
"[An] admirable new biography…Goes far to restore that able, eloquent, and courageous man to a proper place in our national memory…Unger's vivid, gracefully written narrative brings Patrick Henry back to life."
San Francisco Book Review, 4/5/11, and Sacramento Book Review, 4/8/11
"Lion of Liberty, a book by Harlow G. Unger, is in many ways like Patrick Henry. Both don't seem special from the outside, and both seem modest and homely at first glance. Yet, inside these two ordinary objects is a fire that excels on natural talent. a marvelous biography and has a different take on revolutionary heroes. Remember that they were mortal men."
Collected Miscellany, 5/5/11

"A light and refreshing read of Henry's life…This biography is history at its best, telling a story both human and philosophical. As Unger points out, Henry's words continue to echo across America and inspire millions to fight government intrusion in their daily lives."
Choice, July 2011
"[Unger] wields a facile pen…There is insightful treatment of Henry's family life and Henry as a lawyer…Recommended."
Portland Book Review, 4/3

Kirkus Reviews, 9/1/10
"A veteran biographer specializing in the Founding Fathers offers a short, sharp life of the Virginia patriot…A fine appreciation—and explanation—of freedom's champion."
Library Journal, 10/1
"[An] engaging popular biography… An appealing element here is the wealth of excerpts from Henry's legendary speeches and revealing letters, seamlessly woven in with Unger's narrative…A good choice for general readers seeking a relatively brief account of Patrick Henry's political activity and contributions to early America."

Asbury Park Press, 9/19
"Pat Henry wasn't a Johnny One-Note patriot. And the author strives to reveal the whole Revolutionary enchilada here—calls to arms, demands for a bill of rights, fights against big government. Why, we could almost call this guy a Tea Party member!" 
Wall Street Journal, 10/22/10
"[A] vivid biography of the Virginia firebrand."
The Oklahoman, 10/31/10
"Unger shows how down-to-earth Henry was and how connected he was to regular people… [A] great book about one of our nation's founders."
Bookviews.com, November 2010
Da Capo Press, 9780306820465, 336pp.
Publication Date: November 8, 2011
About the Author
Acclaimed historian Harlow Giles Unger is a former Distinguished Visiting Fellow at George Washington's Mount Vernon. He is the author of twenty-six previous books, including twelve biographies of America's Founding Fathers and three histories of the early Republic. He lives in New York City.