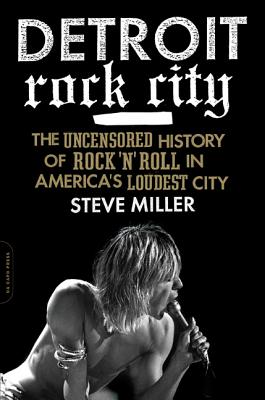 Detroit Rock City
The Uncensored History of Rock 'n' Roll in America's Loudest City
Paperback

* Individual store prices may vary.
Description
Detroit Rock City is an oral history of Detroit and its music told by the people who were on the stage, in the clubs, the practice rooms, studios, and in the audience, blasting the music out and soaking it up, in every scene from 1967 to today.

From fabled axe men like Ted Nugent, Dick Wagner, and James Williamson jump to Jack White, to pop flashes Suzi Quatro and Andrew W.K., to proto punkers Brother Wayne Kramer and Iggy Pop, Detroit slices the rest of the land with way more than its share of the Rock Pie.

Detroit Rock City is the story that has never before been sprung, a frenzied and schooled account of both past and present, calling in the halcyon days of the Grande Ballroom and the Eastown Theater, where national acts who came thru were made to stand and deliver in the face of the always hard hitting local support acts. It moves on to the Michigan Palace, Bookies Club 870, City Club, Gold Dollar, and Magic Stick -- all magical venues in America's top rock city.

Detroit Rock City brings these worlds to life all from the guys and dolls who picked up a Strat and jammed it into our collective craniums. From those behind the scenes cats who promoted, cajoled, lost their shirts, and popped the platters to the punters who drove from everywhere, this is the book that gives life to Detroit's legend of loud.
Praise For Detroit Rock City: The Uncensored History of Rock 'n' Roll in America's Loudest City…
"[A] thoroughly enjoyable romp through the history of the city's amazing rock history…The stories in Detroit Rock City alone make for an hilarious ride, but it is the determination of both a city now in deep decline, and once embroiled in class, race and ideological turmoil that leap from its pages…Detroit Rock City also takes an in-depth look at the most important element of the Detroit scene, its inhabitants."

Nominated for 2014 Award for Excellence in Historical Recorded Sound Research by the Association for Recorded Sound Collections

b>NewBooksInPopMusic.com, 3/17/14
"Based on dozens of interviews with veteran promoters, leading musicians, and uberfans, Miller's insightful conversations trace the evolution of the city's scene from its blues-rock beginnings through its current rock-rap incarnations. Along the way Miller demonstrates that while Detroit's rock community never got the respect it deserved from its New York and Los Angeles counterparts, no metropolis did more to make American rock music loud, heavy, and primal. "

ScannerZine.com, 4/30/15
"Just like the city itself, it is gritty, brutally honest, compelling, hilarious, drug-laden and, in equal parts, uplifting and depressing…A superbly enjoyable read for anyone who has an interest in Rock 'n' Roll."


Austin Chronicle, 6/21/13

"With its scriptlike format, Detroit Rock City…makes you feel like you were in the scrum."


PopMatters.com, 6/17/13

"Not every local music scene has a history like Detroit's but most of them deserve a book like Miller's––thorough, frightening, and funny."


John Shelton Ivany Top 21

"This is the book that gives life to Detroit's legend of loud."


Wall Street Journal, 7/7/13

"[Detroit Rock City portrays] a dysfunctional Detroit scene that, like a negative image, shows what is needed to make great, lasting art by depicting its opposite. That makes the book worth reading, if in a perverse way."


Yahoo! Music, 6/25/13

"There are a tremendous number of colorful stories and pieces of mythology to be had in any recounting of Detroit's rock 'n' roll history—and many of them are here. Kudos to Miller for doing all the legwork in compiling them."


Houston Press (Get Lit blog), 7/10/13

"'It's the best rock and roll city ever,' Alice Cooper says in the book of Detroit. And…Miller's book makes the case for the Motor City." 


A Traverse City Record Eagle Bestseller, 7/14/13



RockBookShow.com, 7/17/13

"Detroit Rock City finally gives Detroit the history book it deserves."


Classic Rock (UK), August 2013

"[A] monumental rock history… Miller more than ris[es] to his challenge to emerge triumphant and defiant with Detroit rock's consummate chronicle."


Hollywood Reporter, 7/23/13

"In typical Detroit fashion, [Detroit Rock City is] both grand and overreaching, flawed yet beautiful, and strangely defiant by virtue of its mere existence."


Boston Globe, 7/25/13

"This book is not for the squeamish. But if you truly love rock 'n' roll, you'll enjoy the ride."


iSpy Magazine, July 2013

"Electrifying and expansively curated."

Ugly-Things.com, 2013

"The anecdotes shared by the MC5's Wayne Kramer and the band's legendary manager John Sinclair are alone worth the price of the book."

The Aquarian Weekly, 12/18/2014

Publishers Weekly, 5/20/13

"[A] spirited oral history…Fans will find a trove of gnarly lore on unjustly (and not unjustly) neglected bands here—and an atmospheric portrait of the Wild Midwest frontier that spawned them."


JeffreyMorgan.info, 5/12/13

"Hands down without a doubt nothing less than simply the all time greatest heavyweight champion Detroit rock 'n' roll oral history book about Detroit rock 'n' roll oral history that has ever been written, let alone published."


Record Collector, June 2013

"This book is for anyone who thinks that New York, Los Angeles and possibly Nashville are America's only musical capitals. After reading Detroit Rock City, you'll be convinced that Michigan's automotive metropolis has always outdone any other US hub…Great job, Miller."

Under the Radar, Spring 2013

"Wildly memorable."


Bookgasm.com, 5/23/13

"Those who remember these times will find it fun to relive."


BackstageAxxess.com, 6/413

"A must read. The brutally honest, first-hand accounts of the Detroit rock scene will hold you captive as you relive these crazy times."


Under the Radar, July 2013

"Wildly memorable."



San Francisco/Sacramento Book Review, 7/17/13
"The book reads like sitting at a big round table discussion, chatting with the people who shaped it, worked it, and partied through it, from Bob Seger, Ted Nugent, and Iggy Pop, through the top musical venues of the day, to when Kid Rock still rapped…Steve Miller lets the story flow from the proverbial horse's mouth, laying out the dialogue into a coherent whole, but largely letting his interviewees tell the story of Detroit rock in their own words."

My Big Honkin Blog, 7/21/13
"Interesting and often entertaining."

American Profile (website), 7/28/13
"Diehard rockologists will appreciate the depth and detail of Miller's excavation, and even casual fans will enjoy reading the story of one of America's great musical cities in the actual words of the folks who made it."

Slug, 7/31/13
"[Steve Miller] believes Detroit to be the mecca of rock n'roll and he'll prove it."

A Traverse City Record EaglePaperback Nonfiction Bestseller, 8/4/13

Curled Up with a Good Book, 8/28/13
"It's a vivid and brutal look at some of the edgiest music to come out of an urban American city. If you weren't there, reading this will get you as close as you've ever been."


Da Capo Press, 9780306820656, 336pp.
Publication Date: June 25, 2013
About the Author
Steve Miller has been a journalist for more than twenty years, writing abut crime, culture, and the world at large. His work has appeared in People, U.S. News & World Report, the Daily Beast, High Times, the Dallas Morning News, and numerous other newspapers, websites, and magazines. He's the editor/author of several music and true crime books, including Detroit Rock City: The Uncensored History of Rock 'n' Roll in America's Loudest City, and is an Edgar Award finalist for his true crime work.