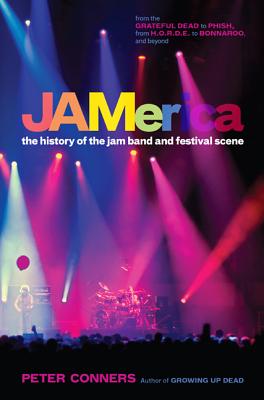 JAMerica
The History of the Jam Band and Festival Scene
Hardcover

* Individual store prices may vary.
Description
The term "jam band" is used to categorize a type of music that favors improvisation and musicianship over concise riffs, hooks, and traditional songwriting structure. The term also helps define the fiercely dedicated fans of the music as accurately as it does the bands. Much as with the Grateful Dead -- the progenitors of the jam band scene -- the survival of the scene depends upon a symbiotic relationship with fans. Jam bands nurture a close relationship with their fans, fostered through constant touring and the mutual belief that each performance is a unique, shared event.

JAMerica tells the story of the roots, evolution, values, and passion of the jam band scene in the words of those who know it best. Modeling itself on such books as Edie: American Girl by George Plimpton and Jean Stein (an oral history of the life of Edie Sedgewick ) and Please Kill Me: The Uncensored Oral History of Punk by Legs McNeil and Gillian McCain, the book is an oral history of the jam band scene, integrating stories from such bands as the Grateful Dead, Phish, Widespread Panic, Dave Matthews Band, moe., Leftover Salmon, String Cheese Incident, Umphrey's McGee, and dozens more. Interviews focus on the history of individual bands and how they communally shaped the larger jam band community, along with songwriting, relationships with fans, business models, and the importance (including the joys and war stories) of touring, including early gigs and venues (e.g. the Wetlands in New York City and the landmark H.O.R.D.E. Festival) that supported the emergence of the jam band scene.
Praise For JAMerica: The History of the Jam Band and Festival Scene…
"JAMerica gives the reader first hand tales with little to no filter on them that shine a light on both the jam band scene and the music industry as a whole…. Peter Conners does an admirable job in giving this popular musical genre both a more tangible definition and the credit it so richly deserves in influencing a generation of bands and artists. ..JAMerica is the most complete work out there that attempts to tell the story of the jam band scene and how it has reached its current state of popularity."
PopMatters.com, 9/10/13
"
JAMerica
skillfully assembles an oral history of America's jam bands…An entertaining read that's thoughtfully assembled and inviting in its casualness."
Blinded by Sound, 9/1/13
"There is a world of great music being made by these groups, and quite a scene to boot,
JAMerica
is a good place to start in getting to know just what is going on there."
Rochester Democrat and Chronicle, 9/15/13
"
JAMerica
is well-researched and excellent reading."
Library Journal, 10/15/13
"Readers interested in the history of the jam band scene from the musicians' point of view would be most interested in this book…Conners's goal is to gather the history of jam bands from the musicians, and that is achieved."—
-
Publishers Weekly, 8/5/13

"Conners has, by synthesizing these different ideas into a harmonious collection of quotations, musings, memories, and even e-mails from fans, created a literary work that captures on paper the collaborative, spontaneous, and uplifting nature of the jam band music."


Examiner.com, 8/26/2013

"Jamerica is a Behind the Music styled treatise devoted to American 'jam' music and its prolific purveyors. Author Peter Conners hits on all pertinent bands and festivals of the virtuosic neo-hippie movement, kicking up intriguing points like a patchouli-scented undergrad shoeing a Hacky Sack outside the student union…When strung together like Christmas lights, these insightful, entertaining tidbits and musical memories instill a sense that reader is amongst friends."


Houston Press, August 2013

"A worthy account for jam fans"


Upstate Live (NY), 9/4/13—-
Da Capo Press, 9780306820663, 288pp.
Publication Date: August 27, 2013
About the Author
Peter Conners's book Growing Up Dead, about his teenage years as a Deadhead, established him as a vital new voice in American music and social history. Conners lives with his wife and three children in Rochester, New York.