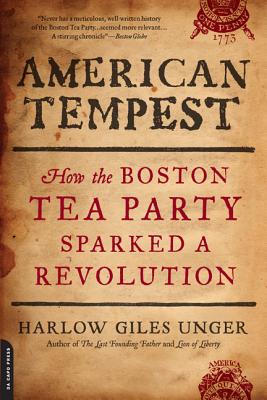 American Tempest (Paperback)
How the Boston Tea Party Sparked a Revolution
Da Capo Press, 9780306820793, 288pp.
Publication Date: March 6, 2012
* Individual store prices may vary.
Description
On December 16, 1773, an estimated seven dozen men dumped roughly 10,000 worth of tea in Boston Harbor. This symbolic act unleashed a social, political, and economic firestorm throughout the colonies. Combining stellar scholarship with action-packed history, American Tempest reveals the truth behind the legendary event and examines its lasting consequence--the birth of an independent America.
About the Author
Harlow Giles Unger is a veteran journalist, broadcaster, educator, historian, and the author of eighteen other books, including six biographies of America's Founding Fathers. He lives in New York.
Praise For American Tempest: How the Boston Tea Party Sparked a Revolution…
Kirkus, 2/1/11
"A solidly researched account of the 1773 Boston Tea Party…[A] well-delineated, contrarian history."
Booklist, 3/1/11

"Considering the incident's resonance for the current Tea Party movement, Unger's history allows timely comparison of the original and its contemporary namesake." 
Internet Review of Books, 2/16/11
"A fine example of historical research that educates and entertains at the same time…[An] eyes-wide-open look at what triggered the Revolutionary War and our split from the motherland."
Politics & Patriotism, 3/6/12
"American Tempest re-defined my understanding of The Boston Tea Party, and what its legacy is to modern Americans. I will never think of 'taxation without representation' quite the same way ever again…American Tempest does more than tell us what happened before, during, and after The Boston Tea Party. The author makes his case for why it happened."
Blogcritics.org, 3/16/12
"A history of the events surrounding the American Revolution, but it is not like any history you were likely to have been taught back in high school…All the significant players are accounted for…They just aren't quite the noble selfless characters that graced the pages of my high school history book…Unger's narrative is eminently readable. And if you can read what he has to say without gritting your teeth in patriotic fury, you may find yourself on the way to the library to see what some of the other modern scholars have to say about the period." 
The Federal Lawyer, July 2012

"[Unger] details the Colonies' move to independence in a coherent and convincing narrative…There is a lot of history, and a lot of detail, in this relatively short volume, which remains exciting though the outcome is not in doubt."

Portland Book Review, 5/22/12
"Unger captures the spirit of pre-Revolutionary America."

Curled Up with a Good Book, 9/3/12
"A definitive account of this renowned incident of American history…An interesting read."
The Historian, October 2012
"A sober study on the events leading up to American independence…A well-balanced history that is highly readable and easily accessible to a very wide range of people from buff to professional."