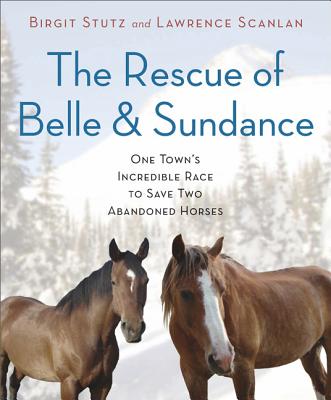 The Rescue of Belle and Sundance: One Town's Incredible Race to Save Two Abandoned Horses (Hardcover)
One Town's Incredible Race to Save Two Abandoned Horses
Da Capo Press, 9780306820977, 221pp.
Publication Date: March 6, 2012
Description
In December 2008, snowmobilers spot two abandoned horses high in the Canadian Rockies. Starving and frostbitten, the horses have trampled the ten-foot-deep snow into a narrow white prison. Those who reach them bring hay but also a gun, in case the horses are too far gone. A glint of life in the horses' eyes earns them the hay.
The harrowing yet inspiring story of their near impossible rescue--involving the volunteer efforts of an entire village, first the excavation of a trench six feet deep and over 3280 feet long, and then a nearly 20 mile descent at negative 40 degrees--is sure to be read in one breathless sitting.
About the Author
Birgit Stutz is a journalist, horse trainer, and riding instructor. She lives on a ranch in the Canadian Rockies. Lawrence Scanlan, author of The Horse God Built: The Untold Story of Secretariat, the World's Greatest Racehorse, lives in Kingston, Ontario.
Praise For The Rescue of Belle and Sundance: One Town's Incredible Race to Save Two Abandoned Horses…
Publishers Weekly, 1/23/12
"This uplifting story will even touch readers who aren't horse fanatics—a lovely read."
Booklist, 2/15/12
"This inspiring tale of equine rescue will be devoured in one sitting." 
Chronicle of the Horse, January 2012
"Stutz and Scanlan's words will remind you that humanity really has the power to do great good. This is a beautiful story, a horsey Christmas miracle that will leave you with a smile on your face. Thumbs up." 
Kirkus Reviews, 3/1/12

"Impressive and inspiring…for animal lovers and those for whom life in the Canadian Rockies is either familiar or of interest…Worth the read."
Tucson Citizen, 2/27/12
"An inspirational story of compassion and survival."
Library Journal, 3/8/12
"Recommended for all animal lovers." 
New York Journal of Books, 3/6/12
"Save this book for a day when you really need a lift. It can be read in one sitting and will restore your faith in humanity…One doesn't need to love equines to fall in love with Belle and Sundance and to root for them throughout the story…So kick back in a comfortable chair and savor this lovely story. Then share it with your friends and family, so they can be heartened, too."
EntertainmentRealm.com, 3/3/12
"Compelling."
InfoDad.com, 3/29/12
"Heartrending and heart-stopping…One of those triumph-against-all-odds tales showing that we humans can rise above our frequently quarrelsome and difficult nature and pull together to help those in need…An excitingly hopeful, danger-filled tale…Animal lovers who enjoy a story filled with tear-jerking moments will get a great deal of restorative emotion, and maybe a good cry, out of The Rescue of Belle & Sundance."
Bookviews (blog), April 2012

"Animal lovers, particularly of horses, will love
The Rescue of Belle & Sundance…
A delightful story that is well worth reading." 
VegNews, May/June 2012
"[A] quick read that will make you smile again and again." 
Rockdale Citizen, 4/30/12

"Authors Birgit Stutz and Lawrence Scanlan put readers on the edge of their saddles as they recount the eight-day effort made by dozens of volunteers on behalf of two starving animals…
The Rescue of Belle & Sundance
is horsey heaven for any equine enthusiast."
Our Stack (blog), 5/16/12

"A great true story…If you love animals and are looking to read a feel good story, look no further—this is it!"
Midwest Book Review, May 2012"A moving saga." Portland Book Review, 5/21/12"A good read if you are horse lover, a feel good book." Metapsychology Online Review, 6/2/12 "In addition to an in-depth recounting of the complex and dangerous undertaking [of the rescue], some interesting ethical questions are raised, including, why so many busy people were willing to volunteer their time and efforts toward the dangerous and unpleasant work needed to try and rescue these horses, and how they responded to those who suggested their efforts were misguided."
Advertisement