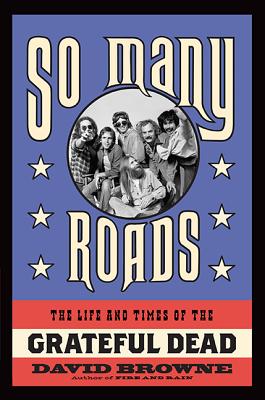 So Many Roads: The Life and Times of the Grateful Dead (Hardcover)
The Life and Times of the Grateful Dead
Da Capo Press, 9780306821707, 496pp.
Publication Date: April 28, 2015
* Individual store prices may vary.
or
Not Currently Available for Direct Purchase
Description
Fifty years after they first came together and changed the sound of rock 'n' roll, the Grateful Dead remain one of rock's most beloved bands--a musical and cultural phenomenon that spans generations and paved the way for everything from the world of jam bands and the idea of independently released music to social networking. Much has been written about the band, but nothing quite as vibrant and vivid as So Many Roads. Drawing on new interviews with surviving members and people in their inner circle--along with the group's extensive archives and his own research from years of covering the group--David Browne, longtime music journalist and contributing editor at Rolling Stone, does more than merely delve into the Dead's saga. By way of an altogether unique structure--each chapter centered around a significant or pivotal day in their story--he lends this epic musical and cultural story a you-are-there feel unlike any other book written about the band. So Many Roads takes us deep into the world of the Dead in ways that will be eye-opening even to the most rabid Deadheads. Readers will find themselves inside their communal home in Haight-Ashbury during the band's notorious 1967 bust; behind the scenes in the studio, watching the Dead at work (and play); backstage at the taping of the legendary "Touch of Grey" video and at their final shows; and in the midst of the Dead's legendary band meetings. Along the way, readers will hear not only from the Dead but also from friends, colleagues, lovers, and crew members, including some who've never spoken to the press before. The result is a remarkably detailed and cinematic book that paints a strikingly fresh portrait of one of rock's greatest and most enduring institutions and sheds new light--for fans and newcomers alike--on the band's music, dynamics, and internal struggles. "There is nothing like a Grateful Dead concert," read the legendary bumper stickers. Similarly, there's nothing like So Many Roads, which explores all-new routes on the band's long, strange trip.

About the Author
David Browne is a contributing editor at Rolling Stone and Men's Journal, and he is the author of Fire and Rain: The Beatles, Simon & Garfunkel, James Taylor, CSNY, and the Lost Story of 1970. He has also written biographies of Sonic Youth and Jeff and Tim Buckley as well as the ebook Spirit of '76: From Politics to Technology, the Year America Went Rock & Roll. He first wrote about the Grateful Dead for Rolling Stone in 1987 and has contributed numerous articles about the band to the magazine since. His work has also appeared in the New York Times, Entertainment Weekly, Spin, The New Republic, and other outlets. He lives in Manhattan.
Advertisement