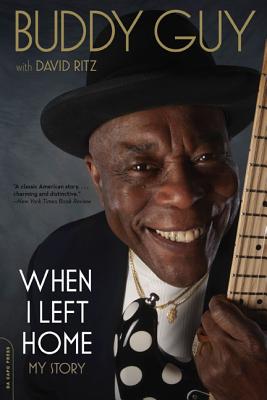 When I Left Home (Paperback)
My Story
Da Capo Press, 9780306821790, 320pp.
Publication Date: March 26, 2013
Other Editions of This Title:
Hardcover (5/8/2012)
MP3 CD (5/8/2012)
Compact Disc (5/8/2012)
Other (2/1/2013)
Compact Disc (5/8/2012)
* Individual store prices may vary.
Description
According to Eric Clapton, John Mayer, and the late Stevie Ray Vaughn, Buddy Guy is the greatest blues guitarist of all time. An enormous influence on these musicians as well as Jimi Hendrix, Jimmy Page, and Jeff Beck, he is the living embodiment of Chicago blues.
Guy's epic story stands at the absolute nexus of modern blues. He came to Chicago from rural Louisiana in the fifties—the very moment when urban blues were electrifying our culture. He was a regular session player at Chess Records. Willie Dixon was his mentor. He was a sideman in the bands of Muddy Waters and Howlin' Wolf. He and Junior Wells formed a band of their own. In the sixties, he became a recording star in his own right.
When I Left Home tells Guy's picaresque story in his own unique voice, that of a storyteller who remembers everything, including blues masters in their prime and the exploding, evolving culture of music that happened all around him.
About the Author
Buddy Guy was born in 1936 in Lettsworth, Louisiana. He is considered among the best blues guitarists alive today. He lives in Chicago. David Ritz is the coauthor of many bestselling autobiographies of musicians, including Ray Charles, Etta James, Scott Weiland, Grandmaster Flash, and more. He is the author of Divided Soul, the definitive biography of Marvin Gaye, and lives in Los Angeles.
Praise For When I Left Home: My Story…
"Buddy makes his life come alive…Told in his own style and language, the book reads more like a blues song than an actual book, each verse telling a different story. And what stories they are…Buddy's book is as colourful as the blues…If you're looking for a reasonably unvarnished account of the blues life, Buddy has it here…The book is funny, sad, tragic, lusty, honest, loving and insightful. Just like the blues. Just like Buddy Guy. If you love the blues and all that it means, you should love this book."
Houston Press, 5/8/12
"In this memoir, the story of [Guy?s] life is also the tale of the music itself of the past 50-plus years…There?s a treasure trove of stories here."  
BluesPowR blog, 5/10/12
"
When I Left Home
covers an amazing amount of ground in its close to 300 pages…Relayed in a simple, conversational manner, the book does a terrific job of documenting the life of one of blues music's biggest living stars, making it a must-read for any fan of the blues…
When I Left Home
isn't, as the title indicates, just Buddy's story; in many respects, this is a story of the blues." 
Quincy Patriot Ledger, 1/3/14

Kirkus, 2/15/12

"Tasty as a Buddy Guy guitar lick."
Library Journal, 3/1/12
"Guy is a vibrant and hilarious storyteller. With a natural ease and honesty, he captures the spirit of the age, the culture of violence in the clubs, and the personalities of his colleagues...Highly recommended for any fan of Guy and those interested in the history of blues music."  
Publishers Weekly, 4/16/12
"As mesmerizing a storyteller as a guitarist, Guy, writing with Ritz, regales readers with tales of growing up picking cotton in rural Alabama, of seeing his first guitar and standing transfixed in front of Lightning Slim for several hours just memorizing the movements of Slim?s hands, of his father?s friend buying his first guitar for him, and of his endless efforts to play the blues as he had heard and seen Slim and others play…Guy?s memoir is a joyous celebration of the blues, one of our greatest musical treasures."  
Chicago Magazine, May 2012
"[A] must-read autobiography…What makes the breezy and revealing book special is its ability to bring history—Guy?s own, as well as that of Chicago blues—to life."  
Internet Review of Books, 4/6/12
"In
When I Left Home: My Story
we finally get inside Buddy Guy, guitar muse to Eric Clapton, Jeff Beck, Jimi Hendrix, Stevie Ray Vaughn, and the Rolling Stones (to name but a few)…Buddy's narrative is cousin to his music. It's down home. It's not clean and prissy…This biography gives the reader unabridged stories of many of the great blues artists of his day and before, and raw images of the Chicago blues scene as it was from the 1950s to the 1980s…A valuable and rare insight into the music and the musician."  
Record Collector, May 2012
"Gives the whole picture, from sharecropping family to big city hustling; guitar-playing to womanizing and back again…[Guy] gives a real flavour of the age and circumstances he grew up on."  
Boston Globe, 5/11/12
"A lively, sharply etched account of Guy?s unlikely ascent from sharecropper roots in Louisiana to the blues hotbed of Chicago and beyond."  
Memphis Commercial Appeal, 5/4/12
"The music fans [Guy] has affected so profoundly over his 50-plus year career will at last know how he feels."  
Pittsburgh Post-Gazette, 5/11/12
or
Not Currently Available for Direct Purchase