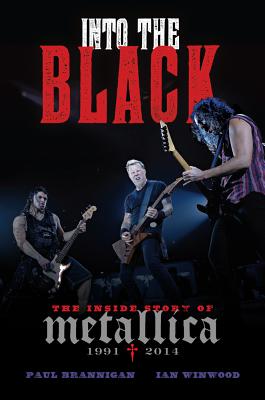 Into the Black
The Inside Story of Metallica (1991-2014)
Hardcover

* Individual store prices may vary.
Other Editions of This Title:
Digital Audiobook (11/3/2014)
Compact Disc (11/4/2014)
MP3 CD (11/4/2014)
Compact Disc (11/4/2014)
Paperback (11/3/2016)
Description
Into the Black begins on the eve of the release of Metallica's massive breakthrough with the eponymous LP that became known as "The Black Album." Suddenly, at the dawn of the '90s, Metallica was no longer the biggest thrash metal band in the world-they were the biggest rock band in the world, period.

But with such enormous success came new challenges, as Metallica ran the risk of alienating their original fan base. They were beset by controversy over musical stylistic shifts, supposed concessions to the mainstream, even their choice of haircuts.

During this transformative era, journalists Paul Brannigan and Ian Winwood had unprecedented access to Metallica. They accompanied the band on tour and joined them in the studio, getting exhilarating eyewitness views into the belly of the beast. Together they amassed over 75 hours of interview material, much of it never in print before now.

Through changes both musical and personal, Metallica struggled to maintain their identity and remain a viable creative force. A ferocious battle with the file-sharing company Napster saw the quartet attract the worst PR of their career. Meanwhile, communication breakdowns between James Hetfield, Lars Ulrich, Kirk Hammett, and Jason Newsted (who would leave the band in 2001) led to fierce internal arguments, as laid bare in the controversial documentary Some Kind of Monster.

At the end of the century, Metallica had appeared to be a band teetering on the brink of self-destruction, but through setbacks and struggles they endured and thrived. From Load, Reload, and Garage, Inc. to the stunning return to form in Death Magnetic and the massive tours that accompanied them-including the real story behind the Big Four shows-Into the Black takes readers inside the heart of Metallica and concludes the saga of one of the greatest rock bands of all time.
Praise For Into the Black: The Inside Story of Metallica (1991-2014)…
Neufutur Magazine, 2/25/15
"You'd be hard-pressed to find a more definitive scholarship of Metallica, one of metal's most polarizing bands, than the massive two-volume set by music journalists Paul Brannigan and Ian Winwood…The duo have a knack for giving an insider's view of the band without slipping into biased fawning…Regardless of how you feel about Metallica's music, through their conversational writing style and exhaustive research, Brannigan and Winwood have managed to pull together such a compelling look at the band that even their biggest detractors would have a hard time putting the book down."
Internet Review of Books, 3/27/1
"This book will no doubt appeal to those who like Metallica."
Examiner.com, 12/30/15
"If you've read part one, you'll like want to tackle part two. The book also stands on its own."
—
-Oakland Press, 12/19/14
"Covers some dramatic years…An illuminating read."
Milwaukee Shepherd Express, 12/24/14
"Written with piercing British wit and critical acumen."
No Echo, 1/14/15
"Offers up an exclusive look inside Metallica's career in the last three decades, through the Rock and Roll Hall of Fame-inducted group's soaring highs and crushing lows. Even if you've followed Metallica closely since the early '90s,
Into the Black
delivers the kind of insider knowledge only members of their inner-circle would normally be privy to…A must-own for any hardcore fan."
Times of London, 1/10/15
"This story will survive like their music, because few testimonies to the psychopathy of rock bands have been as witty, literate and loving."
TeamRock, 12/19/15
"A good and thought-provoking read."
Portland Book Review, 1/6/15
"If you're any kind of fan of Metallica, then you must read
Into the Black
."
This Is Books' Music, 1/4/15
"A worthy book for those who like and love Metallica."
The National (United Arab Emirates), 1/8/15
"Erudite and witty…Anything but hagiography."—
-
New York Post, 11/5/14
"Spills everything including the bad-boy days and bad haircuts."

Alibi.com, 11/6/14
"A readable, engaging biography."

Parade Magazine, 11/16/14
"Authors Paul Brannigan and Ian Winwood detail how one of the world's biggest metal bands was forged."

Dead Rhetoric, 11/18/14
"Written in an articulate, vocabulary-enhanced method (read: both gentlemen have a marvelous grasp of the English language), the way in which this era (or 'eras') of Metallica is presented is that of respect, and at times, with a critical eye…In totality, a marvelous read, probably one of the best on the band."

Examiner.com, 11/20/14
"With comprehensive analysis of Metallica's artistic development and songs, and a walk through the evolution of collections like 'Death Magnetic,' Brannigan and Winwood shed light on the Hall of Famer's highs and lows on the rock and roll world stage."

The Real Rene, 11/22/14
"A well researched book…Paul Brannigan and Ian Windwood were present at a lot of Metallica's most famous moments and have a tremendous collection of interviews with all the members of the band…A really good book for any Metallica fan, and if you are not a fan, well get this book and be educated."—-

ShuIzmz.com, 2/2/15
"This book actually has a great deal of insight to offer its readers because the authors actually were physically present and granted behind-the-scenes access to some very private and important periods in the band's career…[Brannigan and Winwood] really dug deep into analyzing the major events, and did not just note them in the course of the book's timeline…[An] incredible book…The epitome of what any book chronicling a band's history should be modeled after."

Midwest Book Review, February 2015
"Provides a fine survey of the band's evolution…Chapters analyze Metallica's development, its songs, and its recordings and make for a powerful survey recommended for any popular music history holding."—-

My Big Honkin Blog, 12/9/14
"Into the Black provided a great reminder of just how much crap these guys were on the receiving end of simply because they created music that attracted a huge audience…Because they were afforded the extraordinary access during the timeframe in question, Brannigan and Winwood are able to offer up a real time perspective on the recording, writing, performing, promoting and personalities that are constantly at play within the band. Forget about a historical look back, this one is being detailed as it happens which offer a unique perspective on everything."

Examiner.com, 12/17/14
"The definitive story of Metallica."

About.com, 12/21/14
"There is no shortage of Metallica books, with several published over the past few years. While some take more scholarly approaches, making the recording process, albums and songs the primary focus, Brannigan and Winwood hone in on the people and personalities…Metallica's story since 1991 is an interesting one, and the book does a good job relating it. The authors didn't just cobble together other media reports to write the book, they have firsthand experience with the band…A breezy and interesting read, featuring both behind the scenes gossipy nuggets and enlightening moments in the band's history."—-

"Paul Brannigan and Ian Winwood do something Metallica often struggle with: talking about the band with reason and balance...They dig deep into the successes and failures with a candid approach. It paints a portrait of a band that never fails to follow its conscience, even at the risk of alienating fans and friends."
—Curled Up with a Good Book, -
Da Capo Press, 9780306821882, 312pp.
Publication Date: November 4, 2014
About the Author
Paul Brannigan and Ian Winwood are two of the UK's foremost music writers. A contributor to Rolling Stone, Classic Rock, Q, and Metal Hammer magazines, Brannigan is the author of the acclaimed This Is a Call: The Life and Times of Dave Grohl, while Winwood has written for Rolling Stone, the Guardian, Mojo, Kerrang!, NME, and the BBC. Both reside in London.
or
Not Currently Available for Direct Purchase