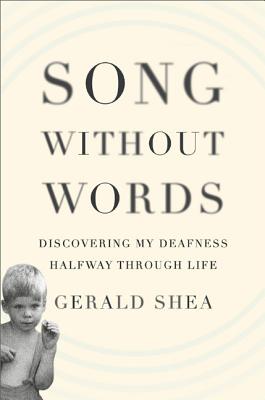 Song Without Words (Hardcover)
Discovering My Deafness Halfway through Life (A Merloyd Lawrence Book)
Da Capo Press, 9780306821936, 320pp.
Publication Date: February 26, 2013
* Individual store prices may vary.
Description
Much has been written about the profoundly deaf, but the lives of the nearly 30 million partially deaf people in the United States today remain hidden. Song without Words tells the astonishing story of a man who, at the age of thirty-four, discovered that he had been deaf since childhood, yet somehow managed to navigate his way through Andover, Yale, and Columbia Law School, and to establish a prestigious international legal career.

Gerald Shea's witty and candid memoir of how he compensated for his deafness--through sheer determination and an amazing ability to translate the melody of vowels. His experience gives fascinating new insight into the nature and significance of language, the meaning of deafness, the fierce controversy between advocates of signing and of oral education, and the longing for full communication that unites us all.

About the Author
Gerald Shea was born in New York City and has lived most of his life in New York and in Paris. He practiced law in both cities for many years with Debevoise & Plimpton as a member of the New York and Paris bars. He is a graduate of Phillips Academy in Andover, Massachusetts, Yale University and Columbia Law School.

Praise For Song Without Words: Discovering My Deafness Halfway through Life (A Merloyd Lawrence Book)…
"Both a work of literary art and a manual for understanding the difficult world Shea inhabits…Readers are lucky that Shea took the time to write this masterful memoir, which brings us into a hidden world so few have ever visited. Song without Words proves that memoir, at its lyrical best, can be a truly wonderful and inspirational literary genre."
Charleston Post and Courier, 2/10/13
"Shea's determination allows him to manage his impairment with remarkable success, and readers will be surprised at how it escaped the attention of his parents, brothers, friends, and teachers."
Washington Post, 3/3
"[A] brilliant and thoroughly engaging, if often painful, account…Throughout
Song Without Words
, the author candidly describes his dark, even catastrophic moments of perceived failure—failure to hear, failure to understand and interpret correctly, failure to connect, failure to keep up—but despite all this, the book sings a long, clear note of success. It is not a complaint but an exploration, not only of one man's unique path to self-knowledge but also of the nature of communication itself….To read
Song without Words
is to appreciate the poetry and clarity of Shea's language, resonant with hard-won experience, wisdom and stunning courage." 
The New Statesman

Nominated for the National Book Critics Circle's John Leonard Award for Best First Book

Finalist, Nonfiction (All Authors), New England Book Festival

Antonia Fraser, author of My Life with Harold Pinter

"A brilliant window into the largely unknown world of the partially deaf: riveting to read, and illuminating at every level."


Louis Begley, author of About Schmidt

"Fascinating, heartbreaking, heroic, and relentlessly riveting."


Kirkus Reviews, 1/15/13
"The moving, poignant account of how a brilliant lawyer came to terms with the midlife discovery of his own partial deafness…The book is a powerful expression of loss, acceptance and the very human need to communicate. Shea's narrative derives its true power from the eloquence and intelligence with which he illuminates a world that may be unfamiliar to many readers."


David Lodge, author of Deaf Sentence: A Novel

"Song Without Words is [an] incredible story . . . .  Gerald Shea . . . tells it with eloquence, wit, and the narrative drive of a good novel. It is a unique contribution to the growing literature about deafness, one which will illuminate the experience of fellow-sufferers, and deepen understanding in society at large."

Boston Globe, 2/22/13



"Shea…writes with elegance, finesse, and humor."

Action on Hearing Loss (UK), Summer 2014

"Shea has presented us with a cogent, beautifully literate and breakthrough book of the philosophy of being a partially deaf person."

Sante Fe New Mexican, 5/10/13
"The struggle alone would make good reading, but it's Shea's infusion of his experience with music and his explorations of the very nature of language that make this book cross into fascinating. And since 30 million Americans have some hearing loss, the story is probably closer to home than you realize."

Psychology Today blog, 5/2813
"[Shea] writes beautifully, and his reflections on partial hearing loss are insightful and often very moving…Song Without Words is compelling reading."

The Spectator (UK), 6/22/13
"Shea's story, fascinating and unusual in some of its details, gives a valuable insight into the experience of many."

New York Journal of Books, 6/24/13
"What makes [Song without Words] shine is the sparkling of humor throughout, the addition of glimpses into his personal life, and the easing of what might be considered arrogance by tastefully illustrating his kindness and humility. You just can't help but like this man."



"Humans communicate. It's not second nature, it's nature. Without that, what is it like to be human? Shea's Song Without Words is as eloquent an answer as we are likely to get."


Library Journal, 3/15/13

"An inspiring and thought-provoking read."


Booklist, 2/27/13

"Fascinating…[Shea's] story gives one a renewed appreciation for both the ear and the human spirit."


Philadelphia Tribune, 3/1/13

"Witty and candid…Brings fascinating new insight into the nature and significance of language, the meaning of deafness—and the fierce controversy between advocates of signing versus those who favor oral education."


Hudson Valley News, 2/27/13

"Well told…Shea [comes] to terms with his mid-life discovery with wisdom, wit, and the uncanny ability to make his story fascinating to all of us."


InfoDad.com, 3/7/13
"Fascinating reading."

Grand Piano Passion, 4/16/13

"Gives a poetic window into the everyday struggles of a person with a significant hearing loss, yet also shows the way for living with a loss with acceptance, creativity, and even joy."

American Lawyer (website), 4/19/13

"Elegantly written."

Millbrook Independent, 5/28/14

"[A] captivating memoir."—Jerome Groopman, New York Review of Books