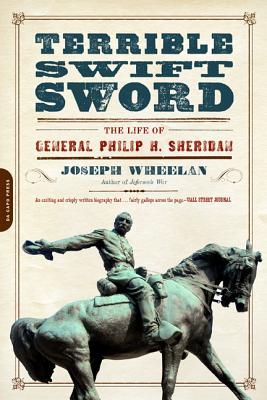 Terrible Swift Sword: The Life of General Philip H. Sheridan (Paperback)
The Life of General Philip H. Sheridan
Da Capo Press, 9780306821981, 387pp.
Publication Date: September 3, 2013
Description
In this compelling and crisply written biography, historian Joseph Wheelan examines the life and wars of the indomitable General Phil Sheridan, whose leadership and aggressive tactics helped win the Civil War, crush the marauding Plains Indians--and save Yellowstone.
About the Author
Joseph Wheelan is the author of Libby Prison Breakout, Mr. Adams's Last Crusade, Invading Mexico, Jefferson's War, and Jefferson's Vendetta. Before turning to writing books full time, Wheelan was a reporter and editor for The Associated Press for twenty-four years. He also reviewed books for the AP and, among other things, wrote about the Korean War and the continuing battle by its veterans to obtain government benefits for cold-weather injuries. He lives in Cary, North Carolina.
Advertisement