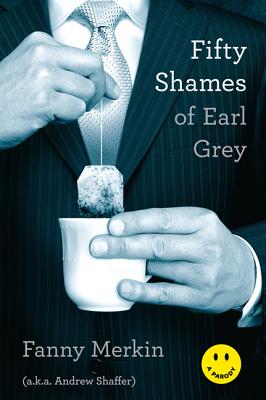 Fifty Shames of Earl Grey (Paperback)
A Parody
Da Capo Press, 9780306821998, 224pp.
Publication Date: July 31, 2012
Other Editions of This Title:
Digital Audiobook (7/9/2012)
Compact Disc (7/10/2012)
MP3 CD (7/10/2012)
Compact Disc (7/10/2012)
Pre-Recorded Audio Player (7/15/2012)
* Individual store prices may vary.
Description

Young, arrogant tycoon Earl Grey seduces the naïve coed Anna Steal with his overpowering good looks and staggering amounts of money, but will she be able to get past his fifty shames, including shopping at Walmart on Saturdays, bondage with handcuffs, and his love of BDSM (Bards, Dragons, Sorcery, and Magick)? Or will his dark secrets and constant smirking drive her over the edge?

About the Author
Fanny Merkin (aka Andrew Shaffer) is known for causing trouble via his Twitter alter egos, @evilwylie, @andrewtshaffer, and @EmperorFranzen. He reviews romance, erotica, and women's fiction for RT Book Reviews magazine; his own writing has appeared in many publications including Mental Floss and Maxim. Shaffer is the founder and creative director of Order of St. Nick greeting cards.

50shames.com
Praise For Fifty Shames of Earl Grey: A Parody…
The Daily Beast, 8/09/12
"At first glance, some of us might be dumb enough to think
Fifty Shames of Earl Grey
is just another clone of the original successful series and buy it for that reason alone. Others will howl at the witty ploys 
Fifty Shames 
evokes to poke fun at E.L. James's series."
Cedar Rapids Gazette, 8/12/12
"[Shaffer] steeps the trilogy's signature elements in a boiling pot of wacky water, straining it into a brew that slides warmly down your throat, only to bubble back up in spurts of laughter."

Hudson Valley News
"Give this one to someone who's read Fifty Shades of Grey."

National Post (Canada), 8/11/12
"We're giggling as we read
Fifty Shames of Earl Grey
…It's hackneyed, glib, goofy and LOL ridiculous but even so, like all of Weird Al's shtick, it's still better than the original."
New York Post,8/19/12
"Shaffer skewers the S&M god of the original."

CNBC.com, 8/23/12
"The funniest take on a best seller since Harvard Lampoon's Bored of the Rings."

VH1.com, 8/24/12
"Kind of the perfect beach read for the end of summer and the end of your obsession."
Alternative Press, October 2012
"An LOL parody of that creepy book your aunts have been tryin' to get your mom to read."

Bookviews blog, September 2012
"It probably helps if you read James' book, but it doesn't matter because Shaffer's is a madcap piece of fun."

Seattle Times, 9/16/12
"Perhaps the greatest homage."
SheKnows.com,9/18/12
"Just what the doctor ordered for fans of the uber-successful trilogy…Laugh-out-loud funny…Such a fun read."
Sacramento Book Review, October 2012
"Broad enough to appeal to people that have never read Fifty Shades…Funny, but also thoughtful. There is some great social commentary hiding between the words."

Portland Book Review, 9/21/12
"A ridiculously funny parody…This book may make you laugh until you cry."
"Shaffer persuades his readers to notice the flaws in our current society. He challenges us to question who we are idolizing and what the effects of such adoration could be…Shaffer's writing is fast-paced, fresh, and entertaining…[It] will have you giggling until the conclusion."

Bookriot.com, 8/1/12
"There is SO MUCH FUNNY!...Folks who read Fifty Shades will recognize that Shaffer's plot loosely follows the same plot that dragged Ana and Christian along, but there's still plenty of fun to be had here if you haven't read that awful novel."

The Hollywood Reporter, 8/09/12
"Unlike so many Fifty Shades parodies that are no more than quickie one-joke cheap ebooks, Earl Grey is a complete book from a traditional publisher. This is a full-length and thought-out piece of work…[Schaffer] captures the rhythms of the original but exaggerates E.L. James' literary ticks to great effect…Fifty Shames of Earl Grey is the literary equivalent of a good Saturday Night Live skit and the perfect gag gift for anyone a little to obsessed (pro or con) with Fifty Shades."
Paul Bogaards in the New York Times
"Erotica is hard. . . . Comedy is harder. If anyone can pull this off, it's Andrew Shaffer."

Valerie Frankel, author of Four of a Kind
"Nose picking, vagina scarf tricks, and erect space needles. What more can you ask of an erotic novel?"

Diana Rodriguez Wallach, author of Adios to All the Drama
"[Fanny Merkin is] the Weird Al of erotica."
PW Show Daily, 6/6/12
"It had to happen: a parody of the bestselling
50 Shades of Grey
. And who better to pull it off than author Andrew Shaffer."
Publishers Weekly, 7/9/12
"Laugh out loud…If you are looking for a funny book to share with friends, look no further…If Austin Powers and Ace Ventura had a love child, it would be Earl Grey."
Kirkus Reviews, August 2012
"[Shaffer] skewers both E. L. James' Fifty Shades of Grey and Stephanie Meyer's Twilight in his debut novel."

Blogcritics.org, 7/28/12