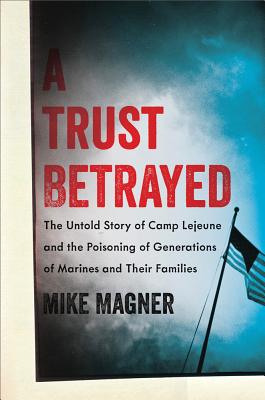 A Trust Betrayed (Hardcover)
The Untold Story of Camp Lejeune and the Poisoning of Generations of Marines and Their Families (A Merloyd Lawrence Book)
Da Capo Press, 9780306822575, 320pp.
Publication Date: March 11, 2014
* Individual store prices may vary.
Description
While the big bad corporation has often been the offender in many of the world's greatest environmental disasters, in the case of the mass poisoning at Camp Lejeune the culprit is a revered institution: the US Marine Corps. For two decades now, revelations have steadily emerged about pervasive contamination, associated clusters of illness and death among the Marine families stationed there, and military stonewalling and failure to act. Mike Magner's chilling investigation creates a suspenseful narrative from the individual stories, scientific evidence, and smoldering sense of betrayal among those whose motto is undying fidelity. He also raises far-reaching and ominous questions about widespread contamination on US military bases worldwide.
About the Author
Mike Magner is managing editor at National Journal, a highly respected print and online publication for Washington insiders, and is the author of Poisoned Legacy: The Human Cost of BP's Rise to Power, published by St. Martin's Press in 2011. He has been a journalist for 37 years, including 15 years in the Washington Bureau for Newhouse Newspapers, five years with the Natural Resources News Service and five years at the National Journal.
Praise For A Trust Betrayed: The Untold Story of Camp Lejeune and the Poisoning of Generations of Marines and Their Families (A Merloyd Lawrence Book)…
Washington Post, 4/6/14
"A meticulous reporter, Magner draws from a bounty of memos and other documents to build a devastating case against a generation of military leaders who ignored or played down the contamination at the base. He adds new insights into the appalling decisions made by Lejeune administrators who were alerted to the contamination but kept the water flowing without alerting residents to the severity of the problem…In writing this book, Magner has done a great service to those Marine families—a service that the Marines failed to provide."
InfoDad blog, 4/3/14
"Make[s] a large subject comprehensible…Magner's carefully detailed look at the ways in which the Defense Department repeatedly failed Marine families even as the toxic-waste accumulation appeared to spawn birth defects and cancers is damning, and his discussion of the slow-moving bureaucratic machinery that allowed the toxic-waste problem to go unaddressed or inadequately addressed for so long is enough to infuriate any reader who thinks of the government, and the military in particular, as a sleek, efficient, and fast-moving machine."
Kirkus Reviews, 2/1/14

"A fast-moving, smartly detailed story of an environmental disaster compounded by the Corps' broken promise—'We take care of our own'—to the men who served and suffered."

Publishers Weekly, 2/3/14

"This book is the first complete account of what really happened—an adroit mixture of detailed factual reporting and disturbing accounts of the serious health problems suffered by individual Marines and their families."

New York Post, 3/30/14
"Magner reports the awful results through affected families' sad stories—along with the Pentagon's slow and sorry response."

The VVA Veteran, March/April 2014
"Magner does a thorough job telling the story…The book is an adroit mixture of detailed reporting on the facts and disturbing accounts of the serious health problems of individual Marines and their families."
or
Not Currently Available for Direct Purchase