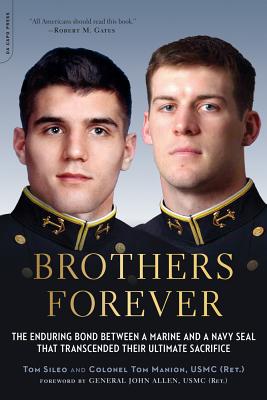 Brothers Forever
The Enduring Bond between a Marine and a Navy SEAL that Transcended Their Ultimate Sacrifice
Paperback

* Individual store prices may vary.
Other Editions of This Title:
MP3 CD (8/5/2014)
Compact Disc (8/5/2014)
Description
Recounts the personal story of how two Naval academy roommates--US Marine Travis Manion and US Navy SEAL Brendan Looney--defined a generation's sacrifice after 9/11, and how their loved ones carry on in their memory

Four weeks after Navy SEALs had killed Osama bin Laden, the President of the United States stood in Arlington National Cemetery. In his Memorial Day address, he extolled the courage and sacrifice of the two young men buried side by side in the graves before him: Travis Manion, a fallen US Marine, and Brendan Looney, a fallen US Navy SEAL. Although they were killed three years apart, one in Iraq and one in Afghanistan, these two best friends and former roommates were now buried together--"brothers forever."

Award-winning journalist Tom Sileo and Travis's father, former Marine colonel Tom Manion, come together to tell thisd intimate story, from Travis's incredible heroism on the streets of Fallujah to Brendan's anguished Navy SEAL training in the wake of his friend's death and his own heroism in the mountains of Afghanistan. Brothers Forever is a remarkable story of friendship, family, and war.
Praise For Brothers Forever: The Enduring Bond between a Marine and a Navy SEAL that Transcended Their Ultimate Sacrifice…
"[A] heartfelt and loving tribute...The school years, service and sacrifice of two young men instill awe, inspire humility and introduce tears."
—Military Times

"This moving story is told well...and it succeeds as a testament to the courage and dedication of two young men who are now buried next to each other at Arlington National Cemetery."
—Publishers Weekly

"Inspirational...Readers will undoubtedly respect the dedication of the book's subjects...Enthusiasts of military heroics should enjoy this grueling account of valor."
—Kirkus Reviews

"This is a tale of two lives, and more than tow lives. It is a heart-touching story."
—Roanoke Times

"I particularly recommended the just published book, Brothers Forever. It's an account of the friendship of U.S. Marine 1st Lieutenant Travis Manion, killed in action in April 1007 in Fallujah, Iraq, and U.S. Navy LT (SEAL) Brendan Looney, killed in action in September 2010, in Zabul province, Afghanistan...A gripping account of friendship, war, sacrifice, and valor."
—The Weekly Standard

"Will grip readers---even after they've finished the book...A fitting tribute to the lives of these two fallen warrior brothers. They were among America's best. This well-written, well conceived book will hit you hard in the gut."
—Leatherneck

"Travis Manion and Brendan Looney accepted the call to defend their country. They rest beside each other now at Arlington Cemetery. Their story is worth your time."
—Richmond Examiner

"A profoundly moving story--of two valiant and courageous young men who gave their lives for their country."
—Wsahington Independent Review of Books

"A tragic, yet somehow also uplifting story of two young men, two warriors, who lost their live son the battlefields of Iraq and Afghanistan and now lie together forever at Arlington National Cemetery."
—Philadelphia Inquirer

"Brothers Forever is a horrific yet gripping and engaging story of two American soldiers--two heroes--whose courage on the battlefield was astonishing...This memorable account truly and finely honors the bravery of the late servicemen."
—San Francisco Book Review

"A story about duty, honor, friendship, family and above all trying to do the best you can to help. For some that may very well lie in places far outside the military life, but they can still employ the lesson s from Looney and Manion."
—BlogCritics
Da Capo Press, 9780306823732, 320pp.
Publication Date: April 14, 2015
About the Author
Tom Sileo is senior editor at The Stream (stream.org) and an author, award-winning military writer, and seasoned journalist.

Colonel Tom Manion, USMC (Ret.), is chairman emeritus of the Travis Manion Foundation. He lives in Pennsylvania.