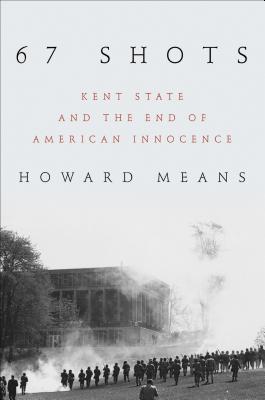 67 Shots
Kent State and the End of American Innocence
Hardcover

* Individual store prices may vary.
Other Editions of This Title:
Digital Audiobook (8/15/2016)
Description
At midday on May 4, 1970, after three days of protests, several thousand students and the Ohio National Guard faced off at opposite ends of the grassy campus Commons at Kent State University. At noon, the Guard moved out. Twenty-four minutes later, Guardsmen launched a 13-second, 67-shot barrage that left four students dead and nine wounded, one paralyzed for life. The story doesn't end there, though. A horror of far greater proportions was narrowly averted minutes later when the Guard and students reassembled on the Commons.

The Kent State shootings were both unavoidable and preventable: unavoidable in that all the discordant forces of a turbulent decade flowed together on May 4, 1970, on one Ohio campus; preventable in that every party to the tragedy made the wrong choices at the wrong time in the wrong place.

Using the university's recently available oral-history collection supplemented by extensive new interviewing, Means tells the story of this iconic American moment through the eyes and memories of those who were there, and skillfully situates it in the context of a tumultuous era.

Praise For 67 Shots: Kent State and the End of American Innocence…
Praise for 67 Shots

"In Howard Means' fine hands, we discern how the terrible events at Kent State unfolded—relentlessly, ineluctably—like a Greek tragedy. Through dogged and imaginative reporting, 67 Shots shows us how the tragedy fed into, and was fed by, the larger maelstrom of the times. In this definitive account, Means has deftly extracted Kent State from the amber and exposed it to fresh air once again."—Hampton Sides, author of In the Kingdom of Ice and Hellhound On His Trail

"Howard Means does a marvelous job of weaving together the many strands of memory and the records of the times to create a nuanced portrayal of a moment in American history too often reduced to the lyrics of a Neil Young song. This balanced account does justice to the perspectives of students, National Guardsmen, campus administrators, and local residents alike, both for and against the demonstrations."—Kenneth Hammond, Chairman, Department of History, New Mexico State University, and Kent State student-protest leader (1970)

San Francisco Book Review, 4/4/16
"Howard Means' look at a horrible moment in US history is crucial to understanding the law, politics, basic rights and how occasionally all three clash, and how the former fail the latter."

Library Journal, 4/15/16
"An intimate look at a tragedy that could not be predicted but was perhaps inevitable."

Milwaukee Journal-Sentinel, 4/22/16
"Means draws upon scores of interviews and a rich archival record to dispel numerous myths that have grown up around the events culminating on May 4, 1970, with four dead in Ohio."

Columbus Dispatch, 4/24/16
"67 Shots is indispensable in understanding the sine-wave pattern of tension that began on the streets of Kent three nights before National Guardsmen fired on protesters."

Washington Independent Review of Books, 4/26/16
"A fresh look at an era-defining U.S. tragedy."

Christian Science Monitor, 5/10/16
"This isn't history writing at a distance. Means interviewed many of the players, major and minor, in this tragedy. Their personal stories give 67 Shots a deeply human feel and turn it into one of the most heartbreaking books in memory."

PopMatters, 5/18/16
"Means weaves a precise and comprehensive narrative that paints an accurate and balanced retelling of events."

Providence Journal, 6/2/16
"Means manages to grab Kent State from the murky recesses of our national memory. In so doing, he shows how the Vietnam War affected everything about our own sense of ourselves."

"[Howard] Means provides the most careful examination of the tragedy that beset Kent State University and the US on May 4, 1970."
—Choice, December 2016

"[A] superb book...balanced, detailed and compellingly written."—Vietnam Magazine
Da Capo Press, 9780306823794, 288pp.
Publication Date: April 12, 2016
About the Author
Howard Means is the author or co-author of ten books, most recently 67 Shots: Kent State and the End of American Innocence (Da Capo, 2016). Hailed by the Christian Science Monitor as "one of the most heartbreaking books in memory," 67 Shots is being developed as a feature length film by Everyman Pictures (Jay Roach) and Little Stranger Picture (Tina Fey & Jeff Richmond). Means' previous book, Johnny Appleseed: The Man, the Myth, the American Story (Simon & Schuster, 2011), was featured on NPR and in the weekend Wall Street Journal, and also optioned for TV and/or film.

Prior to turning full-time to book-length works, Means was senior editor at Washingtonian magazine, an op-ed columnist for King Features Syndicate, a daily journalist, and in the distant past, a schoolteacher. He began swimming competitively when he was five years old, continued through college, then coached for seven years. Swimming continues to define his life: Pools, rivers, lakes, quarries, oceans are his natural medium. Writing Splash! has been a labor of love.