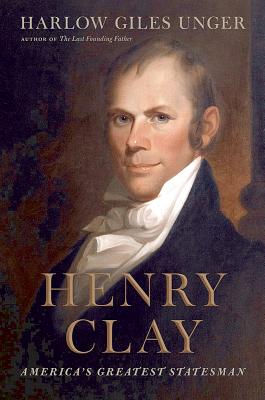 Henry Clay
America's Greatest Statesman
Hardcover

* Individual store prices may vary.
Other Editions of This Title:
Digital Audiobook (9/28/2015)
Paperback (3/7/2017)
Compact Disc (9/29/2015)
MP3 CD (9/29/2015)
Compact Disc (9/29/2015)
Description
In a critical and little-known chapter of early American history, author Harlow Giles Unger tells how a fearless young Kentucky lawyer threw open the doors of Congress during the nation's formative years and prevented dissolution of the infant American republic.

The only freshman congressman ever elected Speaker of the House, Henry Clay brought an arsenal of rhetorical weapons to subdue feuding members of the House of Representatives and established the Speaker as the most powerful elected official after the President. During fifty years in public service-as congressman, senator, secretary of state, and four-time presidential candidate-Clay constantly battled to save the Union, summoning uncanny negotiating skills to force bitter foes from North and South to compromise on slavery and forego secession. His famous "Missouri Compromise" and four other compromises thwarted civil war "by a power and influence," Lincoln said, "which belonged to no other statesman of his age and times."

Explosive, revealing, and richly illustrated, Henry Clay is the story of one of the most courageous-and powerful-political leaders in American History.
Praise For Henry Clay: America's Greatest Statesman…
Houston Press, 9/17/15
"Unger's writing is clear and factual…Unger's book certainly makes the case for the man who spent a long time restitching the fabric of a young nation that was already fraying."

What Would the Founders Think?, 10/1/15
"Unger does not disappoint with his latest biography…Interesting, well-written, and succinct-but-not-superficial."

InfoDad blog, 10/8/15
"[Unger] brings his usual lucidity and attentiveness to detail to Henry Clay."

San Diego Book Review, 10/14/15
"Follows Clay's rise from poor backwoods clerk to the youngest and most influential ever Speaker of the House of Representatives, Senator, and candidate for the Presidency of the United States…A masterful biography of Clay that paints him both personally and in his historical context…Unger doesn't shy from controversies that surrounded his subject, but is careful to present a balanced analysis based on detailed and extensive research, that remains constantly respectful…[An] excellent work."

San Francisco Book Review, 10/1/15
"A very well researched book. [Unger] casts a fair light on the statesman, showing his highs and lows. There is no partiality on the subject…A balanced biography. The author's work is sublime."

Praise for Henry Clay

Kirkus Reviews, starred review, 5/15/15
"A comprehensive biography of the statesman whom Abraham Lincoln called 'the ideal politician.'…In this lucid, exemplary biography, Unger focuses on not just Clay, but also on the formation of the early republic, a time too little studied today. An excellent introduction to a turbulent era."

Publishers Weekly, 8/10/15
"[A] nimble portrayal of 'the first true American leader'…Unger deftly packs nearly a half-century's worth of political leadership into this slender volume."

Library Journal, 9/1/15
"[Clay is] arguably one of the most important figures in American history."

Booklist, 9/15/15
"Well tuned to readers just learning about Clay. Clay's deals preserved the Union several times prior to the Civil War. The Missouri Compromise, the Compromise of 1850, and other Clay milestones, such as his unsuccessful bids for the presidency, occupy Unger's narrative, which otherwise fills out with personal background to form a portrait of his personality, which reflected the young and expanding U.S. of the early 1800s…A competent account of Clay's arc, Unger's work deserves a slot in the history collection."

Midwest Book Review, October 2015
"[A] meticulously researched, reader-friendly life story of a truly remarkable politician. Highly recommended, especially for public and college library biography collections."

Roanoke Times, 11/1/15
"This portrait of Henry Clay is also wonderful portrayal of America in the first half of the 19th century…Unger's prose is influenced by his former career as a journalist. His details are pertinent. His stories are crisp. His characters are well developed. He also has the flare of a Maine storyteller; he keeps the reader engaged from page one, and on the last page, you want more."

New York Journal of Books, 12/20/15
"In a nation today, at least as politically partisan and violently divided over race, both Clay and this new book about him inspires."

Midwest Book Review, January 2016
"Provides a fine political history in discussing how young Kentucky lawyer Henry Clay prevented the dissolution of the new American republic during its early years…It's about time a biography would return him to a central place in American history: no American history or political studies collection would be complete without adding this key title."


"Lively, short, and eminently readable...Unger delivers a vivid portrait of this colorful and self-dramatizing statesman, and provides a rousing account of his remarkable life's journey through the political minefields of the antebellum United States...A splendid introduction to this endlessly fascinating man who may well have been the most qualified presidential candidate in American history never to have won election to the nation's highest office."—The Historian
Da Capo Press, 9780306823916, 336pp.
Publication Date: September 29, 2015
About the Author
Acclaimed historian Harlow Giles Unger is a former Distinguished Visiting Fellow at George Washington's Mount Vernon. He is the author of twenty-six previous books, including twelve biographies of America's Founding Fathers and three histories of the early Republic. He lives in New York City.
or
Not Currently Available for Direct Purchase