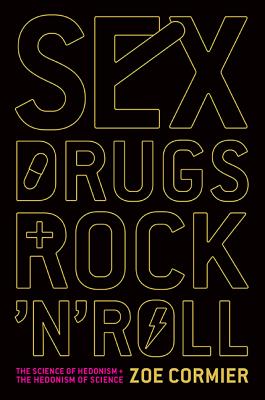 Sex, Drugs, and Rock 'n' Roll (Hardcover)
The Science of Hedonism and the Hedonism of Science
Da Capo Press, 9780306823930, 352pp.
Publication Date: March 24, 2015
* Individual store prices may vary.
Description
What led scientists to have acrobats copulate inside an MRI machine? Why do wordless patterns of sound send shivers down our spines and tickle ancient parts of our brains? How did a chemist's quest to create a drug to ease the pain of childbirth result in the creation of LSD? And did it change our understanding of the brain forever?

From tortoiseshell condoms to superstar athletes on hallucinogens, science writer Zoe Cormier dissects these and other burning questions, amplifying them with insights from some of the world's bravest, cleverest, and downright weirdest scientists.

Sex, Drugs, and Rock 'n' Roll explores science at the edge, where scientists ask big, strange questions—and sometimes experiment on themselves to find answers. It shines a light into the lesser-known corners of scientific research to gain insight into the nature of consciousness, happiness, and humanity. Not to mention our parties.

Here are stories of unconventional scientists, innovative inquiries, hedonistic impulses—and how the renegades of science have illuminated the secrets of our baser impulses.
About the Author
Zoe Cormier is a freelance journalist, author, and public speaker with a background in zoology. Spawned by the music industry, she rebelled by studying science. Originally from Toronto, she now lives in London.

Praise For Sex, Drugs, and Rock 'n' Roll: The Science of Hedonism and the Hedonism of Science…
"Cormier is an irreverent guide to this netherworld of scientific discovery, and although she writes here about serious science, she does so with effortless verve and enthusiasm, making the subject matter jump off the page.... As a (former) scientist, I love Guerilla Science's crusade to bring fun and exciting scientific ideas to people who might not normally engage in such stuff, and
Sex, Drugs, and Rock 'n' Roll
seems like the perfect vehicle for that."—
Big Issue
"A tongue-in-cheek, illuminating investigation into hedonistic pursuits,
Sex, Drugs, and Rock 'n' Roll
skillfully argues that these are not just base pursuits.... A funny, fascinating, and absorbing study."—
Press Association
Quill & Quire, Spring 2015
"More fun than a Mentos and Coke rocket, biologist and Guerilla Science co-founder Zoe Cormier's
Sex, Drugs, and Rock 'n' Roll: The Science of Hedonism and the Hedonism of Science
upturns the scientific side of pleasure."
Discover Magazine, March 2015
One of three books selected for "What to Read in April"
"A tour of the science behind our baser pursuits. By turns wry and giddy, Cormier teases out our uniquely human take on hedonism."
Praise for the UK edition of Sex, Drugs, and Rock 'n' Roll

"An entertaining tour through science"—Wired

"Not your average science book... The book buzzes with facts, like bees dizzy from caffeinated pollen. It is a cornucopia of the strange and fascinating."—Independent

"A romp through three topics that preoccupy western youth... Perfect to dip in and out of for tasty morsels."—Professor Bruce Hood, BBC Focus

"Examines sex, narcotics, and music from a scientist's perspective, with surprising rigor and a keen eye for the odd fact.... [Cormier] shows that there's nothing trivial about the study of pleasure. Indeed, you could say that it's our boundless capacity for having a good time that truly makes us human.... In the end, Cormier brings all her strands together with some skill and an almost childlike sense of wonder. Ian Dury was right. Sex and drugs and rock 'n' roll are very good indeed."—Daily Mail

Wall Street Journal, 3/4/15
"Your baser instincts are not so base after all…[That] is the pleasure-loving message of this compendium of research nuggets about that decadent trio of pastimes: sex, drugs and rock 'n' roll."

National Post (Canada), 3/28/15
"A surefire winner in terms of subject: the lure of the illicit hangs over her entire book, with its sense, from the title on down, that the text will delve into the kind of naughtiness that should offer, at the very least, titillation."

Winnipeg Free Press, 4/4/14
"Cormier is especially good with metaphors. She uses them to draw parallels between technical concepts and more commonplace things in order to make the science easier to grasp…She has a gift for summarizing research in a way that piques, then satisfies, your interest—even if you don't know a lick of science."

Seattle Times, 4/19/15
"If you want to be the hit of any cocktail party, don't miss Zoe Cormier's new book Sex, Drugs, and Rock 'n' Roll…. One thing you won't regret is the pleasure of reading this fun and fascinating book."
or
Not Currently Available for Direct Purchase