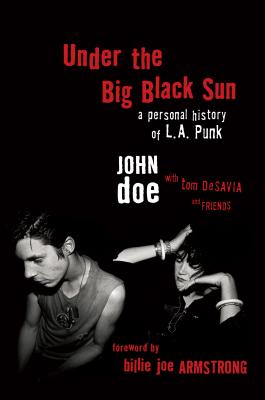 Under the Big Black Sun (Hardcover)
A Personal History of L.A. Punk
Da Capo Press, 9780306824081, 336pp.
Publication Date: April 26, 2016
* Individual store prices may vary.
Description
Under the Big Black Sun explores the nascent Los Angeles punk rock movement and its evolution to hardcore punk as it's never been told before. Authors John Doe and Tom DeSavia have woven together an enthralling story of the legendary West Coast scene from 1977-1982 by enlisting the voices of people who were there. The book shares chapter-length tales from the authors along with personal essays from famous (and infamous) players in the scene. Additional authors include: Exene Cervenka (X), Henry Rollins (Black Flag), Mike Watt (The Minutemen), Jane Wiedlin and Charlotte Caffey (Go-Go's), Dave Alvin (The Blasters), Chris D. (The Flesh Eaters), Robert Lopez (The Zeros, El Vez), Jack Grisham (T.S.O.L.), Teresa Covarrubias (The Brat), as well as scenesters and journalists Pleasant Gehman, Kristine McKenna, and Chris Morris. Through interstitial commentary, John Doe "narrates" this journey through the land of film noir sunshine, Hollywood back alleys, and suburban sprawl, the place where he met his artistic counterparts Exene, DJ Bonebrake, and Billy Zoom and formed X, the band that became synonymous with, and in many ways defined, L.A. punk. Focusing on punk's evolutionary years, Under the Big Black Sun shares stories of friendship and love, ambition and feuds, grandiose dreams and cultural rage, all combined with the tattered, glossy sheen of pop culture weirdness that epitomized the operations of Hollywood's underbelly. Readers will travel to the clubs that defined the scene, as well as to the street corners, empty lots, apartment complexes, and squats that served as de facto salons for the musicians, artists, and fringe players that hashed out what would become punk rock in Los Angeles. L.A. punk was born from rock 'n' roll, from country and blues and Latin music, the true next step in the evolution of rock 'n' roll music. It was born of art, culture, political, and economic frustration. It spoke of a Los Angeles that existed when regionalism still reigned in the USA. It sounded like Los Angeles. For the first time, the stories and photos from this now-fabled era are presented from those on the front lines. Stories that most have never heard about the art that was born under the big black sun.

About the Author
John Doe has worked as a roofer, an aluminum siding mechanic, a manager of poetry readings, a musician, and an actor. He met Exene Cervenka at the Venice poetry workshop in 1976 and started working with Billy Zoom around the same time. When DJ Bonebrake joined X in mid-1977, the lineup was complete. As one of the last original punk rock bands standing, they continue to tour, most recently with Blondie and Pearl Jam in front of stadium-sized crowds and audiences born after the band's formation. He has recorded eight solo records with numerous renowned singers and musicians and as an actor has appeared in over fifty films and television productions, including Road House, Great Balls of Fire, Boogie Nights, and Roswell. He currently tours as both a solo artist and with X. Doe lives north of San Francisco. Tom DeSavia is currently head of creative services for SONGS Music Publishing and is based in Los Angeles, California. Prior to joining SONGS, DeSavia did lengthy stints as both a publisher and record label A&R man, as well as many years running pop membership for ASCAP. He currently serves on the West Coast board of the Songwriter's Hall of Fame and previously served on the board of directors for both the Rock and Roll Hall of Fame and the National Academy of Recording Arts and Sciences (NARAS). A native of Southern California, Tom began his career as a music journalist.
Coverage from NPR
or
Not Currently Available for Direct Purchase