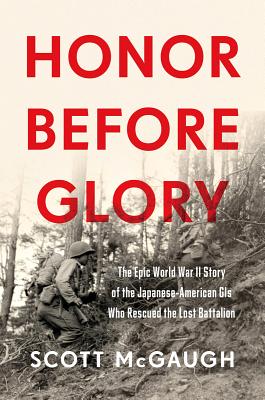 Honor Before Glory
The Epic World War II Story of the Japanese American GIs Who Rescued the Lost Battalion
Hardcover

* Individual store prices may vary.
Other Editions of This Title:
Compact Disc (10/11/2016)
MP3 CD (10/11/2016)
Compact Disc (10/11/2016)
Description
On October 24, 1944, more than two hundred American soldiers realized they were surrounded by German infantry deep in the mountain forest of eastern France. As their dwindling food, ammunition, and medical supplies ran out, the American commanding officer turned to the 442nd Regimental Combat Team to achieve what other units had failed to do.

Honor Before Glory is the story of the 442nd, a segregated unit of Japanese American citizens, commanded by white officers, that finally rescued the "lost battalion." Their unmatched courage and sacrifice under fire became legend-all the more remarkable because many of the soldiers had volunteered from prison-like "internment" camps where sentries watched their mothers and fathers from the barbed-wire perimeter.

In seven campaigns, these young Japanese American men earned more than 9,000 Purple Hearts, 6,000 Bronze and Silver Stars, and nearly two dozen Medals of Honor. The 442nd became the most decorated unit of its size in World War II: its soldiers earned 18,100 awards and decorations, more than one for every man.

Honor Before Glory is their story-a story of a young generation's fight against both the enemy and American prejudice-a story of heroism, sacrifice, and the best America has to offer.
Praise For Honor Before Glory: The Epic World War II Story of the Japanese American GIs Who Rescued the Lost Battalion…
Praise for Honor Before Glory

"The legendary courage and tenacity of the Nisei 442nd Regimental Combat Team made it the most highly decorated unit in the history of the United States Army. The sacrifice of these young Japanese American volunteer soldiers also gave poignant new meaning and irony to America's understanding of patriotism. McGaugh's accurate account will put a lump in our throat."—Pete Wilson, former governor of California

"Well-researched and riveting, Honor Before Glory is a stirring tale of how Japanese American soldiers disregarded hatred, distrust, and overt racism to serve the nation with courage, dignity, and distinction. A page-turner with both depth and emotional punch."—Stephen Harding, New York Times bestselling author of The Last Battle

"On these beautifully written pages, the desperation, terror, and trauma of the infantry soldier's wold comes to life, as does the famous story of the 'Lost Battalion' and the remarkable men of the 442nd Regimental Combat Team. A true page-turner—I could not put it down."—John C. McManus, author of The Dead and Those about to Die

"The little-known story of a segregated Japanese American unit that rescued a surrounded battalion during World War II...McGaugh captures the horror and humanity of this slog through mud, forest and unrelenting German resistance."—Shelf Awareness for Readers (starred review), 10/28/16

"Highly recommended, especially for both personal and public library American History collections."
—Midwest Book Review

"This unit is the most decorated unit for its size in American warfare history...These men are honored by this book and deserve the appreciation of this nation."
—Portland Book Review

"Follows members of the 442nd Regimental Combat Team from the United States to Europe, focusing on their rescue of the 'Lost Battalion,' the 1st Battalion of the 141st Infantry. What emerges is a crisp, hyper-focused narrative that profiles the tenacity of both groups of soldiers and their commanding officers against the brutal conditions of war in Europe...[McGaugh] writes intimately about the soldiers of the 44nd...An engrossing read. Through focusing on the 442nd and one particular rescue, McGaugh crafts a deeply personal take that highlights the personal sacrifices and brings to light one of the Japanese American wartime experiences. It reflects their legacy in the best ways."
—Japan Society of Greater Philadelphia

"A well-researched look at an important WWII battle. However, it is also much more. McGaugh's writing is solid and engaging, and he manages to bring the points of view of the American soldier, the Japanese-American soldier, and even the Germans into a much more complete picture than previously produced. This is a testament to the bravery, courage, and sacrifice of the American soldier."
—San Francisco Book Review

"A fine tribute to the hard-fighting men who were a part of the 442nd...An excellent tribute to the Japanese American soldiers who fought and died for their fellow Americans on a forgotten ridge in eastern France."—Collected Miscellany

"[McGaugh's] recounting of the young Japanese American soldiers of the 442nd-the segregated infantry unit exhaustively, dramatically and sensitively explored in Honor Before Glory-could not be more gripping."—Times of San Diego

"McGaugh knows a good war story when he sees one. Honor before Glory is a battle study, a tale of shared hardship and forged bonds similar to Stephen Ambrose's Band of Brothers...A book worth reading...as an example of extraordinary patriotism and courage in the face of reprehensible actions taken out of pain, prejudice, and fear."—Naval War College Review
Da Capo Press, 9780306824456, 304pp.
Publication Date: October 11, 2016
About the Author
Scott McGaugh is the author of Surgeon in Blue, a New York Times ebook bestseller, and the founding marketing director of the USS Midway Museum in San Diego. A former weekly newspaper publisher, McGaugh is now a guest lecturer at San Diego State University and has taught at the San Diego State University Writers' Conference.
or
Not Currently Available for Direct Purchase