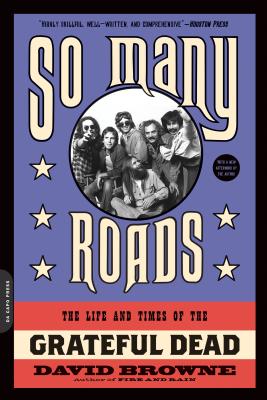 So Many Roads
The Life and Times of the Grateful Dead
Paperback

* Individual store prices may vary.
Other Editions of This Title:
Digital Audiobook (4/27/2015)
CD-Audio (4/28/2015)
Hardcover (4/28/2015)
Compact Disc (4/28/2015)
MP3 CD (4/28/2015)
Description
Fifty years after they first came together and changed the sound of rock 'n' roll, the Grateful Dead remain one of rock's most beloved bands -- a musical and cultural phenomenon that spans generations and paved the way for everything from the world of jam bands and the idea of independently released music to social networking. Much has been written about the band, but nothing quite as vibrant and vivid as So Many Roads.

Drawing on new interviews with surviving members and people in their inner circle -- along with the group's extensive archives and his own research from years of covering the group -- David Browne, longtime music journalist and contributing editor at Rolling Stone, does more than merely delve into the Dead's saga. By way of an altogether unique structure -- each chapter centered around a significant or pivotal day in their story -- he lends this epic musical and cultural story a you-are-there feel unlike any other book written about the band.

So Many Roads takes us deep into the world of the Dead in ways that will be eye-opening even to the most rabid Deadheads. Readers will find themselves inside their communal home in Haight-Ashbury during the band's notorious 1967 bust; behind the scenes in the studio, watching the Dead at work (and play); backstage at the taping of the legendary "Touch of Grey" video and at their final shows; and in the midst of the Dead's legendary band meetings. Along the way, readers will hear not only from the Dead but also from friends, colleagues, lovers, and crew members, including some who've never spoken to the press before.

The result is a remarkably detailed and cinematic book that paints a strikingly fresh portrait of one of rock's greatest and most enduring institutions and sheds new light -- for fans and newcomers alike -- on the band's music, dynamics, and internal struggles. "There is nothing like a Grateful Dead concert," read the legendary bumper stickers. Similarly, there's nothing like So Many Roads, which explores all-new routes on the band's long, strange trip.
Praise For So Many Roads: The Life and Times of the Grateful Dead…
"An education and revelation even for the seasoned Deadhead reader."
—Steve Silberman
, author of
NeuroTribes: The Legacy of Autism and the Future of Neurodiversity
"Highly skillful and comprehensive."
—Houston Press
"Like a live bootleg, each chapter digs deep into the band's state of mind during one particular moment, and Browne enriches that moment with broader context and significance.... It's a wild trajectory, perhaps unrivaled by that of any of their contemporaries."
—Washington Post
"May well prove to be the go-to encyclopedia for all fans."
—PopMatters
"Well-written and capacious and digressive and wonderful."
—Thoughts on the Dead blogKirkus Reviews, April 2015
"Righteous testimonial to the anarchic goodness that was the Grateful Dead...[Browne is] right about most everything. He also appropriately places emphasis on things other biographers have overlooked…One of the better books on the band and welcome reading in this 50th anniversary year."
Billboard, 3/7/15
"Expect a flood of books for the Dead's 50th anniversary, but this one stands out thanks to new interviews and access to the band's extensive archives."—
-
"I'm a well-read Deadhead, and I learned new things even about shows I was at. (Englishtown, New Jersey, 9/3/77!) Browne braids tales of America's greatest rock band like melody lines in a primo jam, tangents looping back to the narrative, always pulling it forward. It's a wild, beautiful ride."—
Will Hermes
, author of
Love Goes to Buildings on Fire: Five Years in New York That Changed Music Forever
"The Grateful Dead have entered the realm of myth. The triumph of
So Many Roads
is animating both the music and the musicians into something very real indeed."—
Alan Paul
, author of
One Way Out: The Inside History of the Allman Brothers Band
"The Grateful Dead are as classically American as Count Basie and Frank Sinatra, and David Browne has written the ultimate book about them: interviewing everyone and bringing us into their lives in the changing decades through which this quintessentially '60s band miraculously increased its mythos, stardom, and relevance. Legendary music gives our world back to us, and specific people, coming together as bands, give us the music that gives us that world. With his wise assessments, ace reporting, and close and long lenses, Browne gives us that world and those men."—
Shelia Weller
, author of
Girls Like Us: Carole King, Joni Mitchell, Carly Simon—and the Journey of a Generation
—
-
"David Browne has come up with a completely unique way of telling the Grateful Dead's story, deftly moving back and forth through time from various chronological pivot points, weaving the intricate tale the way the Dead would open up, explore, and close a great '72 'Playing in the Band.' It's filled with little (and a few big) things I didn't know, and his evocative prose really brings out the band members' personalities in a way that few books have."—Blair Jackson, author of Garcia: An American Life

"So Many Roads is everything Deadheads could want and more. In a deeply reported portrait of the band in good times and bad, David Browne answers all of our questions and poses a few of his own. As Deadheads celebrate the band's fifty years, this book will prove a companion that makes that long trip a little less strange but no less fascinating."—Eric Altermen, author of It Ain't No Sin to Be Glad You're Alive: The Promise of Bruce Springsteen and What Liberal Media?: The Truth about Bias and the News

"Browne presents the ultimate road map of the life and times of a band that has always been a unique American cultural phenomenon."
—Robert Greenfield, author of Dark Star: An Oral Biography of Jerry Garcia and Bill Graham Presents: My Life Inside Rock and Out—-
Da Capo Press, 9780306824470, 520pp.
Publication Date: April 26, 2016
About the Author
David Browne is a senior writer at Rolling Stone and the author of Dream Brother, widely seen as the definitive biography of Jeff Buckley. He is also the author of Crosby, Stills, Nash and Young: The Wild, Definitive Saga of Rock's Greatest Supergroup; Fire and Rain: The Beatles, Simon and Garfunkel, James Taylor, CSNY, and the Lost Story of 1970; and biographies of Sonic Youth and the Grateful Dead. His 1993 New York Times article, "The Unmade Star," was one of the first major stories published on Jeff Buckley. He lives in Manhattan.
or
Not Currently Available for Direct Purchase