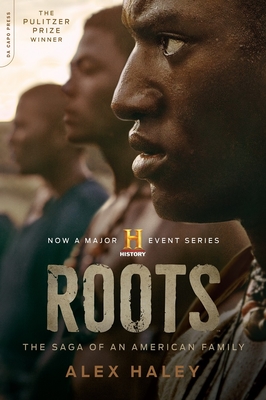 Roots (Paperback)
The Saga of an American Family
Da Capo Press, 9780306824852, 912pp.
Publication Date: May 3, 2016
* Individual store prices may vary.
Description
A new eight-hour event series based on Roots will be simulcast on the History Channel, Lifetime, and A&E over four consecutive nights beginning Memorial Day, May 30, 2016

"Early in the spring of 1750, in the village of Juffure, four days upriver from the coast of The Gambia, West Africa, a man-child was born to Omoro and Binta Kinte."

So begins Roots, one of the most extraordinary and influential books of our time. Through the story of one family—his family—Alex Haley unforgettably brings to life the monumental two-century drama of Kunta Kinte and the six generations who came after him: slaves and freedmen, farmers and blacksmiths, lumber mill workmen and Pullman porters, lawyers and architects...and one author.

A national and international phenomenon at the time of its original publication, Roots continues to enthrall readers with its masterful narrative drive and exceptional emotional power, speaking to us all with an undiminished resonance and relevance.

"In all of us there is a hunger, marrow deep, to know our heritage.... Without this enriching knowledge, there is a hollow yearning no matter what our attainments in life."—Alex Haley

With an introduction by Michael Eric Dyson

RootsTheBook.com

About the Author
Alex Haley (1921-1992) was a bestselling and award-winning writer whose works, including Roots and The Autobiography of Malcolm X, centered on the struggles of African Americans.

Praise For Roots: The Saga of an American Family…
Praise for Roots

"The book is an act of love, and it is this which makes it haunting."—New York Times

"A gripping mixture of urban confessional and political manifesto, it not only inspired a generation of black activists, but drove home the bitter realities of racism to a mainstream white liberal audience."—Observer

"Groundbreaking"—The Associated Press

"A Pulitzer Prize-winning story about the family ancestry of author Alex Haley…[and] a symbolic chronicle of the odyssey of African Americans from the continent of Africa to a land not of their choosing."—Washington Post

Philadelphia Tribune, 6/7/16
"[A] landmark book."—Marian Wright Edelman