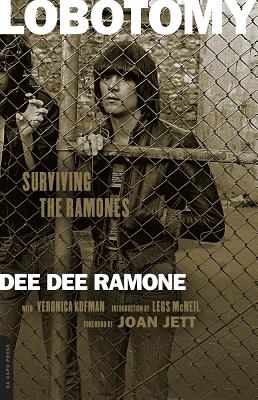 Lobotomy (Paperback)
Surviving the Ramones
Da Capo Press, 9780306824982, 320pp.
Publication Date: March 1, 2016
* Individual store prices may vary.
Description
Lobotomy is the most lurid and unlikely temperance tract yet from the underbelly of rock 'n' roll. On a wild roller-coaster ride from his fucked-up childhood in Berlin and Munich to his lonely, methadone-quaffing stay at a cheap hotel in Earl's Court and newfound peace on the straight and narrow, Dee Dee Ramone catapults us into the raw world of sex, addiction, and two-minute songs. It isn't pretty. With the velocity of a Ramones song, Lobotomy rockets through headlining days at CBGB to the breakup of the Ramones' happy family with an unrelenting backbeat of hate and squalor. His girlfriend ODs; running buddy Johnny Thunders steals his ode to heroin, "Chinese Rocks"; Sid Vicious shoots up using toilet water; and a pistol-wielding Phil Spector holds the band hostage in Beverly Hills. Hey! Ho! Let's go!

About the Author
Dee Dee Ramone was the enigmatic bassist and prolific songwriter for the Ramones, the inventors and best exemplars of punk rock. Dee Dee and the Ramones were inducted into the Rock and Roll Hall of Fame in 2002 and received a Grammy Award in 2011 for Lifetime achievement. Dee Dee's influence on pop culture is immeasurable; his creative output transcends music, fashion, visual art, and literature.

DeeDeeRamone.com

Praise For Lobotomy: Surviving the Ramones…
"Dee Dee was the heart and soul of the Ramones. He brought that aspect to everything he did. Dee Dee set the tone for who and what the Ramones were, giving their identity consistency, and setting the bar for what would eventually define punk rock."—Joan Jett, from the foreword

"Dee Dee Ramone's life was nothing sort of extreme. He was plagued by demons, but created music as if by angels. As chaotic as his reality was, his music was just as brilliant. Dee Dee lived and died by the sword we call rock 'n' roll. Now let him tell you as only he could!"—Jerry Only, The Misfits

"There's no one in a better position to write a definitive work on the New York punk scene.... [Lobotomy] is a compelling, raw nerve rampage through the frazzled brain of one of rock's most tragic heroes."—Ian Fortnam, Vox

Waterbury Republican-American, 6/19/16
"Dee Dee's memoir is alternately funny and sad and well worth revisiting to get a real feel for the darker side of the punk rock legacy."

SLUG , 6/29/16
"A perfect glimpse into the life of the controversial bassist."

Punk Globe, 7/31/16
"[Dee Dee's] recollections are essential and entertaining."