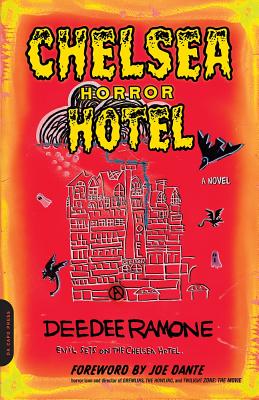 Chelsea Horror Hotel
A Novel
Paperback

* Individual store prices may vary.
Description
Dee Dee Ramone doesn't quite know what he's getting himself into when he and his wife Barbara move into the Chelsea Hotel with their dog Banfield. The room he's staying in might be the very room where his old friend Sid stabbed Nancy.

Dee Dee spends most of his time trying to score drugs and walking Banfield, with whom he can magically communicate. Meanwhile, he can't stand his neighbors and though he shies away from violence, he wishes everyone were six feet under. Dee Dee gets involved with the transvestite lover of one of his gay fellow addicts. When Barbara finds out, things get out of hand. All the while Dee Dee is tormented by the living and dead demons that plague the hotel, along with the ghosts of his old dead punk rock friends Sid Vicious, Johnny Thunders, and Stiv Bators. And that's when the Devil himself decides to join the party...

Praise For Chelsea Horror Hotel: A Novel…
"The screaming voice of a punk Lovecraft"—Joe Dante, horror icon and director of Gremlins, The Howling, and Twilight Zone: The Movie

"Dee Dee Ramone was the essence of rock 'n' roll, infantile and cute and crazy and driven. He was also a supreme songwriter. He's immortal."—Richard Hell, author of I Dreamed I Was a Very Clean Tramp

"I loved Dee Dee Ramone. What a sense of humor! His acute ironic views made his lyrics for the Ramones characteristic of the band's huge success around the world, from then right through to today."—Debbie Harry

Scanner Zine, 6/18/16
"Darkly witty, macabre, mildly disturbing, imaginative and easy to read."

SLUG , 6/29/16
"Reveals the trappings of a life that was subject to the dangerous intrigue of the infamous Chelsea Hotel."

Da Capo Press, 9780306825002, 258pp.
Publication Date: March 1, 2016
About the Author
Dee Dee Ramone was the bassist and songwriter for the Ramones, the creators and best exemplars of punk rock. He left the band in 1989, but performed one last time with his brothers in 1996. He is the author of Lobotomy: Surviving the Ramones.