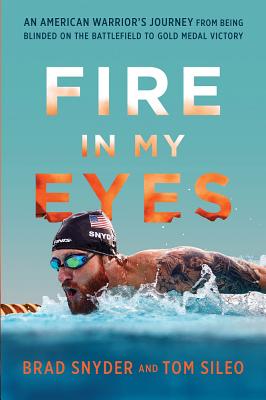 Fire in My Eyes (Hardcover)
An American Warrior's Journey from Being Blinded on the Battlefield to Gold Medal Victory
Da Capo Press, 9780306825149, 272pp.
Publication Date: September 6, 2016
* Individual store prices may vary.
Description
"I am not going to let my blindness build a brick wall around me. I'd give my eyes one hundred times again to have the chance to do what I have done, and what I can still do."-Brad Snyder speaking with First Lady Michelle Obama

On the night Osama bin Laden was killed, US Navy Lieutenant Brad Snyder was serving in Afghanistan as an Explosive Ordnance Disposal officer with SEAL Team Ten. When he learned of SEAL Team Six's heroics across the Pakistani border, Brad was thankful. Still, he knew that his dangerous combat deployment would continue.

Less than five months later, Brad was engulfed by darkness after a massive blast caused by an enemy improvised explosive device. Suddenly Brad was blind, with vivid dreams serving as painful nightly reminders of his sacrifice.

Exactly one year after losing his sight, Brad heard thousands cheer as he stood on a podium in London. Incredibly, Brad had just won a gold medal in swimming at the 2012 Paralympic Games.

Fire in My Eyes is the astonishing true story of a wounded veteran who refused to give up. Lieutenant Brad Snyder did not let blindness build a wall around him-through tenacity and courage, he tore it down.
About the Author
Brad Snyder is a US Navy veteran and Paralympic gold medalist in swimming. Brad is still an active athlete for Team USA and travels the country as a motivational speaker. He lives in Baltimore.

Tom Sileo is coauthor of Brothers Forever and Senior Editor of The Stream (stream.org). Tom is the 2016 recipient of the Marine Corps Heritage Foundation's General Oliver P. Smith Award for distinguished reporting. He lives in Florida.
Praise For Fire in My Eyes: An American Warrior's Journey from Being Blinded on the Battlefield to Gold Medal Victory…
Advance praise for Fire in My Eyes

"Fire in My Eyes is a testament to the extraordinary courage and unwavering dedication of the men and women serving in the US Armed Forces. Lieutenant Brad Snyder's remarkable story is sure to captivate and inspire." —Donald Rumsfeld, former Secretary of Defense

"Fire in My Eyes by Brad Snyder and Tom Sileo tells an unforgettable story of heroism and sacrifice on the battlefield. It's an inspiring journey that leads us through darkness to victory."—Eric Greitens, New York Times bestselling author of Resilience and former Navy SEAL

"Brad Snyder is an American hero. I first met him at Walter Reed and thanked him for his brave service to the nation. As a wounded veteran and two-time gold-medal swimmer, his story is the American story of a patriot who never gave up fighting to live and to win for his country."—Leon Panetta, former Director of the CIA and Secretary of Defense

"Brad Snyder represents the true essence of a warrior. Facing a life-changing injury that would cripple the strongest of individuals, he demonstrated the willpower of an American warfighter. His story is one of courage that we all need to read."—Captain Florent Groberg, US Army (Ret.), Medal of Honor recipient

New York Journal of Books, 8/19/16
"Every once in a while, every American needs to pick up and read a book like Fire in My Eyes…Snyder's story is a needed reminder that the very best of us continue to risk their lives serving in our armed forces with courage, dedication and a deep and abiding love for our country…An inspiring tale."

NavyHistory.org (website of the Naval Historical Foundation), 7/30/16
"A visceral story of fortitude, of striding into harm's way time and again for the sake of others…The prose is strong and authentic…Veterans, especially service academy graduates and disposaleers, will connect with their own experiences due to Snyder and Sileo's superior composition…Fire in My Eyes must sit prominently next to other phenomenal stories like Elizabeth Kauffman Bush's America's first Frogman and Aaron Ralston's autobiography, Between a Rock and a Hard Place. To those aspiring to serve…Fire in My Eyes is mandatory reading…Through these pages they will truly understand what service is, what one is called to do."

"Inspirational."
—TeamUSA.org, 11/1/16

"A story of tragedy that turns to gold...Snyder gives a first-hand account of what it is like to serve in today's military - high stress, intense training, and loss of friends and loved ones...A truly inspirational story."
—Today.com, 11/14/16

"The book recounts, in vivid and exciting detail, Snyder's training as a bomb disposal expert, his deployment to Iraq in 2008, and his subsequent deployment to Afghanistan in 2011. The story of his first attempt to disarm a real IED mortar in the field is told with heart-stopping detail...Fire in My Eyes is the altogether inspiring account of a wounded warrior and hero."—Internet Review of Books
or
Not Currently Available for Direct Purchase