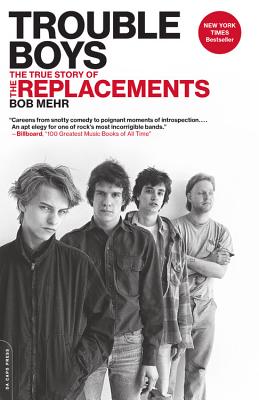 Trouble Boys
The True Story of the Replacements
Paperback

* Individual store prices may vary.
Other Editions of This Title:
Digital Audiobook (6/5/2017)
Compact Disc (6/6/2017)
Compact Disc (6/6/2017)
Description
NEW YORK TIMES BESTSELLER

Based on a decade of research and reporting--as well as access to the Replacements' key principals, Paul Westerberg and Tommy Stinson--author Bob Mehr has fashioned something far more compelling than a conventional band bio. Trouble Boys is a deeply intimate portrait, revealing the primal factors and forces that shaped one of the most brilliant and notoriously self-destructive rock 'n' roll bands of all time.

Beginning with riveting revelations about the Replacements' troubled early years, Trouble Boys follows the group as they rise within the early '80s American underground. It uncovers the darker truths behind the band's legendary drinking, showing how their addictions first came to define them, and then nearly destroyed them.

A roaring road adventure, a heartrending family drama, and a cautionary showbiz tale, Trouble Boys has deservedly been hailed as an instant classic of rock lit.

Praise For Trouble Boys: The True Story of the Replacements…
"The destruction. The volume. The cruelty. The charm. The songs. The songs. The songs. To live close to Paul Westerberg's material was to be lifted…then bent by it. The songs were that good. Mehr shows us that no one, Westerberg included, knew quite what to do with it all. It was underrated, overrated, obsessed over, ignored—never anything in the middle. But somewhere between the Replacements' path of destruction, epic but ultimately empty, and the beauty and honesty of Westerberg's writing, there was a band, a band whose story has for too long remained unknown and unknowable. This book gets us closer than we've ever been. Mehr brings us one of the great American rock 'n' roll stories and all the hurt that came with it."—Warren Zanes, author of Petty: The Biography and Revolutions in Sound: Warner Bros. Records—The First Fifty Years

"The Replacements spent a decade of their lives making some of the most emotive rock music never to hit the mainstream. Bob Mehr has spent a decade of his life researching their story. Balancing a fan's enthusiasm with journalistic perspective, he now delivers it in richly detailed and powerfully unvarnished form. Finally, the 'Mats get the book they deserve."—Tony Fletcher, author of Moon: The Life and Death of a Rock Legend and A Light That Never Goes Out: The Enduring Saga of the Smiths

American Way, March 2016
"The best music book you'll read all year. More than just rockers will love this raucous read…It's a book about a band, but it's also the story of kids from damaged families who were saved—to a point—by rock 'n' roll. A must-read."

Chicago Tribune, 3/20/16
"Thoroughly researched and eminently readable…The type of book any band would kill for."

Salon.com, 3/15/16
"Your new Replacements bible…An unflinching, uncompromising look at the band and the legend."

CMJ.com, 3/15/16
"Finally, the band gets the excellent, fully-formed biography it deserves…A breezy read that sometimes stops you cold for the depth of sadness the band often existed in."

Blurt, March 2016
"Trouble Boys is a time trip back to the heady days when bands definitely mattered and record labels kinda sorta did…If there is a sadder tale in rock 'n' roll, after reading Trouble Boys, I could not call it to mind."

Record Collector, May 2016
"With Trouble Boys Mehr has delivered what will surely be the definitive book about the band at the first attempt."

Austin American-Statesman, 2/28/16
"Easily the year's most anticipated music book."

Vulture, 2/29/16
"A book full of revelations. Mehr fills his biography with little-known anecdotes, shocking quotes, and surprising accounts of interpersonal relations that will provide insight to even the most hard-core Replacements fans."

Creative Loafing, 3/2/16
"The first proper biography of the group…For most Replacements fans, it will be as irresistible as catnip."

Paste, 3/3/16
"A deep, dark look at the Replacements…Both a tragic and strangely comedic portrait of a rock 'n' roll band in the '80s…Powerfully written, densely researched…The story of young, cocky and oftentimes fucked-up Midwesterners led by one of rock's greatest songwriters."

Minneapolis City Pages, 3/1/16
"Essential reading…While the bio deals in weighty matters (abuse, addiction, depression), there's no shortage of priceless anecdotes."

Philadelphia Inquirer, 3/6/16
"The standout music book of the young year…Mehr's book puts a capstone on a Replacements story that has come back to life this decade."


Uncut, April 2016
"Tremendous…[A] brilliant biography."

Huffington Post, 2/25/16
"Mehr's exhaustive biography raises the squeaking garage door on the legend of The Replacements to shed some light and capture in vivid detail the pain, disappointment and heartache of a group of four disparate, self-loathing suburban misfits."

Pitchfork, 3/3/16
"The most comprehensive book about the band to date…Mehr brings the band's members to life."

Yahoo! Music, 2/25/16
"There have been other books and countless newspaper and magazine features written about the Replacements over the years, but none tell the story of the legendary Minneapolis rock band with as much depth, care and clarity as Trouble Boys."

St. Paul Pioneer Press, 3/2/16
"Separate[s] fact and fiction about a group that never had a hit record but claims some of the most faithful fans in music."

Vice.com, 3/4/16
"Trouble Boys finally tells the whole fascinating tale of the Replacements in all its ragged glory. Mehr…brings out the human element in the band's story."

Houston Press, 3/2/16
"[A] masterful, comprehensive and engrossing bio…An incredibly insightful and complete piece of music journalism."

Vanity Fair, March 2016
"Trouble Boys dares to tell the true story of the Replacements."

Library Journal (starred review), 2/15/16
"This fantastic biography…of the self-destructive 1980s alternative rock band The Replacements provides sensitive, detailed, and critical depictions of the band's members…A page-turner from beginning to end and should find its way onto every music fan's bookshelf. It offers a master class on how to pen a rock biography."

Washington Post, 2/11/16
"The definitive bio of the Replacements…Trouble Boys brings the band back to life. Over six years, Mehr interviewed more than 200 people, creating a narrative thick with detail, revelations and emotion."

Rolling Stone, 3/10/16
"[Trouble Boys] dives deep…Mehr vividly charts [the band's] bumpy arc…The 'Mats story has been told many times, but Mehr got unprecedented access and his reporting gives their hard-luck tales chilling depth…This detailed backstory makes [the songs] burn anew."

Mojo, March 2016
"Mehr reveals the very human tragedy behind one of the great American rock 'n' roll bands, as well as the foibles that made The Replacements so beloved by their true believers. This book is for every one of them."


"Bob Mehr has given us a book, a real book, that will draw you in whether or not you give a fig about rock 'n' roll or any world but your own."—Nick Tosches, author of Hellfire: The Jerry Lee Lewis Story and Dino: Living High in the Dirty Business of Dreams

Kirkus (starred review), 1/15/16
"An in-depth biography of a beloved, exasperating band that never quite made it…[An] impressively researched and well-rendered biography…The dynamic that made the band great also tore them apart, as this biography superbly documents."

Publishers Weekly, 1/11/16
"Mehr captures the light and dark of a band that could play both acoustic ballads…and punk anthems…Mehr covers all aspects of the band members: alcoholism and addiction, artistic differences, ruined friendships, and the death of lead guitarist Bob Stinson…Thoroughly researched and detailed…earning the 'true story' subtitle."

Classic Rock, 1/22/16
"A rare insight in the machinations of four young men who brought new meaning to the phrase 'burn out'…A fan Mehr may be, but he's not afraid to pull back the curtain on what a bunch of snot-nosed, damage-case kids The Replacements could and would often be…What puts Mehr's book far above of any other on this prickly subject is the depth of research."

Chicago Reader, 4/21/16
"[A] fastidiously reported account of one of the midwest's greatest rock 'n' roll bands…Well-wrought…Besides being a first-rate biography, Trouble Boys imposes order on an unrelenting barrage of grotesque behavior that was leavened by several of the most beautiful, inchoate records of the '80s…It explains why the Replacements had to collapse, leaving broken bodies and wonderful songs in their wake, over and over."

Los Angeles Review of Books, 5/4/16
"[A] meticulously researched and exhaustive biography…Essential reading for their fans…But more than that, Trouble Boys is the true story of a great American failure; of a band that should have been huge—they probably could be huge right now, really—except for that small problem that real people, with real problems, were never able to get out of their own damn way."

The Economist, 5/3/16
"Charts the doomed trajectory of one of America's greatest crews of blindingly talented misfits, poised to fail…An exhaustively researched, definitive biography…Brings details fans of this star-crossed act long for."

Forbes, 4/30/16
"Stunningly great…There is a depth to Trouble Boys that takes it far out of the class of 'rock book,' and into something that transcends the genre…Like the works of Russell Banks, and others, Trouble Boys examines—in the most painfully entertaining way possible—how families of origin can shatter you to such a degree that it's nearly impossible to ever really hold anything together in your life."

Roanoke Times, 5/8/16
"With Trouble Boys, Mehr has essentially done for The Replacements what author Dave Marsh did for The Who with Before I Get Old. Both books are intricately reported, definitive rock tomes that could only have come from a fan, yet at the same time—painfully, but necessarily—they don't let their subjects off the hook for very much at all."

The New Yorker, 5/23/16
"Trouble Boys takes us to all the recording sessions, reveals the inspirations behind Westerberg's key songs, and puts us in the front row at infamous concerts…'They were nice guys, they were dicks,' Tommy Womack sings in 'The Replacements.' It is hard to imagine that anyone will make a smarter or more thorough case for both halves of that proposition than Mehr has in Trouble Boys."

Minneapolis Star Tribune, 3/20/16
"This new book is the definitive Replacements document. All the infamous stories and folklore that we've heard about are here, warts and all."

Pittsburgh Post-Gazette, 3/20/16
"A well-researched and thorough examination of their career, from the earliest days of their lives up through their recent reunion tour in 2015…It is a sad tale of genius, mental illness, addiction and self-immolation."

Omnivoracious (The Amazon Book Review), 3/24/16
"[The] definitive biography of the legendary Minneapolis rock band…Mehr reaches into all the corners, some dark and salacious: alcohol and addiction; ego and ambition; brotherhood and betrayal; and above everything, all the great songs."

Blurt, 3/24/16
"Mehr lays out The Replacement's story brilliantly…One of the strongest music bios to come out in years, honest and surprisingly in depth."

Austin Chronicle, 4/1/16
"Grave revelations, coupled with side-splitting stories of booze-fueled bedlam, net Mehr's biography as definitive. Ace reporting and the author's shrewd parlance boost this tragicomedy page-turner past paean to allusive eulogy of rock & roll's foremost troublemakers."


USA Today, 3/25/16
"Mehr has compiled a compelling tale full of some of the most colorful characters you'll ever encounter on page."

MTV.com, 4/7/16
"Mehr reveals the untold and often unflattering story of the band, unearthing the trauma that fueled their artistry and their addictions…An essential tome for anyone who ever loved the band."

The A.V. Club, 4/18/16
"An exhaustive, unflinching biography…A guts-wide-open look at the band…With Trouble Boys, Bob Mehr has forever changed my perception of my favorite band: I may never forgive him, but I sure won't forget this book."

PopMatters, 4/21/16
"Mehr's ability to show the less glamorous side of the band is what makes the book such a heartbreaking narrative…A compelling read…Mehr does a masterful job of showing the petulance and childishness that helped make the band so great and yet also so exasperating for their fans and supporters."

Praise for Trouble Boys

New York Times, April 2016
A "Celebrities" Best Seller

"Bob Mehr's raucous, ribald, and oft-times harrowing book takes us behind the scenes, to the bottom of the bottle, all the way to the end of the road, and then further still—revealing the story of the Replacements, a band that gave away its soul on every record and refused to sell its soul to a corporate world."—Robert Gordon, author of Respect Yourself: Stax Records and the Soul Explosion and Can't Be Satisfied: The Life and Times of Muddy Waters

"It is the best band biography of all time. Want to know why? First, underdog stories are an American tradition going back to our underdog story in the Revolutionary War. Second, the Replacements is the most commercially underrated band in the last 30 years...Third, there are more incredible moments here (that are too crazy to be fictional accounts) than any band ever, period."—PopMatters

"The Replacements were an enigma, and this book doesn't crack their code. But it isn't meant to. If anything, Mehr does the work of making them both more puzzling and more enticing."—Hanif Abdurraqib in Publishers Weekly

"Sympathetic, gripping, exhaustive...Mehr's book is so clear-eyed, and the stories are so extraordinary."—Nick Hornby in The Believer
Da Capo Press, 9780306825361, 528pp.
Publication Date: June 6, 2017
About the Author
Bob Mehr is an award-winning music critic for the Gannett-owned newspaper The Commercial Appeal and a longtime contributor to MOJO magazine. He's also served as an editor, writer, and columnist for Village Voice Media, New Times Inc., and Chicago Reader. He contributed liner notes to the Grammy-winning Big Star box set Keep an Eye on the Sky and has written essays for reissues by the Replacements, Kinks, Warren Zevon, Dixie Chicks, Al Green, and many others. A native of Los Angeles, he lives in Memphis, Tennessee.