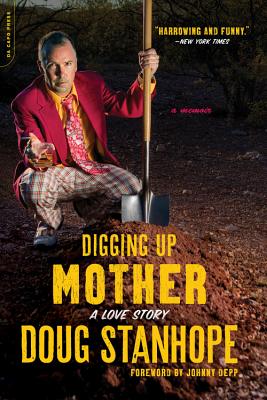 Digging Up Mother (Paperback)
A Love Story
Da Capo Press, 9780306825385, 336pp.
Publication Date: May 9, 2017
Other Editions of This Title:
Hardcover (5/10/2016)
MP3 CD (10/25/2016)
* Individual store prices may vary.
Description
Doug Stanhope is one of the most critically acclaimed and stridently unrepentant comedians of his generation. What will surprise some is that he owes so much of his dark and sometimes uncomfortably honest sense of humor to his mother, Bonnie. It was the cartoons in her Hustler magazine issues that molded the beginnings of his comedic journey, long before he was old enough to know what to do with the actual pornography. It was Bonnie who recited Monty Python sketches with him, introduced him to Richard Pryor, and rescued him from a psychologist when he brought that brand of humor to school. And it was Bonnie who took him along to all of her AA meetings, where Doug undoubtedly found inspiration for his own storytelling.

Digging Up Mother follows Doug's absurd, chaotic, and often obscene life as it intersects with that of his best friend, biggest fan, and love of his life--his mother. And it all starts with her death--one of the most memorable and amazing farewells you will ever read.
About the Author
Doug Stanhope is a veteran of over twenty-five years of stand-up comedy, successfully dodging mainstream fame by using his uncompromising brand of stand-up to build a cult-like following around the world. Described by the New York Times as "an acidic blend of prickly hostility, elaborately articulated self-loathing, and righteous anger" and who Ricky Gervais says "might be the most important stand-up working today," Stanhope resides in the US border town of Bisbee, Arizona, with pets who have people names, in an absurd relationship with his galpal Bingo.