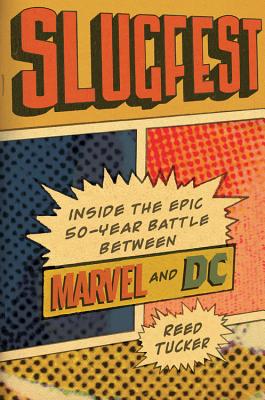 Slugfest
Inside the Epic, 50-year Battle between Marvel and DC
Hardcover

* Individual store prices may vary.
Other Editions of This Title:
Digital Audiobook (10/2/2017)
Compact Disc (11/1/2017)
Description
The first in-depth, behind-the-scenes book treatment of the rivalry between the two comic book giants.

THEY ARE THE TWO TITANS OF THE COMIC BOOK INDUSTRY--the Coke and Pepsi of superheroes--and for more than 50 years, Marvel and DC have been locked in an epic battle for spandex supremacy. At stake is not just sales, but cultural relevancy and the hearts of millions of fans.

To many partisans, Marvel is now on top. But for much of the early 20th century, it was DC that was the undisputed leader, having launched the American superhero genre with the 1938 publication of Joe Shuster and Jerry Siegel's Superman strip. DC's titles sold millions of copies every year, and its iconic characters were familiar to nearly everyone in America. Superman, Batman, Wonder Woman -- DC had them all.

And then in 1961, an upstart company came out of nowhere to smack mighty DC in the chops. With the publication of Fantastic Four #1, Marvel changed the way superheroes stories were done. Writer-editor Stan Lee, artists Jack Kirby, and the talented Marvel bullpen subsequently unleashed a string of dazzling new creations, including the Avengers, Hulk, Spider-Man, the X-Men, and Iron Man.

Marvel's rise forever split fandom into two opposing tribes. Suddenly the most telling question you could ask a superhero lover became "Marvel or DC?"

Slugfest, the first book to chronicle the history of this epic rivalry into a single, in-depth narrative, is the story of the greatest corporate rivalry never told. Complete with interviews with the major names in the industry, Slugfest reveals the arsenal of schemes the two companies have employed in their attempts to outmaneuver the competition, whether it be stealing ideas, poaching employees, planting spies, or launching price wars. The feud has never completely disappeared, and it simmers on a low boil to this day. With DC and Marvel characters becoming global icons worth billions, if anything, the stakes are higher now than ever before.
Praise For Slugfest: Inside the Epic, 50-year Battle between Marvel and DC…
"Reed Tucker masterfully dissects the REAL issue dividing us as a nation."
—Seth Meyers, host of NBC's Late Night with Seth Meyers

"A smart, blow-by-blow narrative of the sometimes-friendly, often bitter rivalry between corporate comic-book behemoths...A wild haymaker for the masses, perhaps, but a knockout read for capes-and-cowls aficionados."—Kirkus

"This is a book for 'Fans.' I consider myself a 'Fan.' I love this book. I guess you could say I am a 'Fan' of this book. If you are not a 'Fan' of 'Things' then this is not a book for you. It is a book for me. GIVE ME BACK MY BOOK!"
—Bobby Moynihan, comedian and former Saturday Night Live cast member

"Slugfest is the ringside commentator for the clash of the comic book titans. A must-read for all comic fans."
—Scott Sigler, author of the #1 New York Times bestselling novel Alive

"If you think comics are squeaky clean, you have no idea how down and dirty things have gotten behind the brightly colored scenes. Slugfest pulls back the curtain on the tireless work, masterful art, smack talk, underhanded tactics, and juicy betrayals that have both blessed and plagued the rivalry of a lifetime. It's meticulously researched and delightfully scandalous, like the lovechild of an encyclopedia and a soap opera. It's an Encyclopera. Which also happens to be my super hero name."
—AJ Mendez, retired WWE superstar and New York Times bestselling author of Crazy Is My Superpower

"Insanely readable...An amazing comic-book story."—Houston Press

"The story of Marvel's David toppling DC's Goliath is a fun one, and Tucker tells it well."—Associated Press

"Tucker uses extensive interviews with major players within the two comics giants to provide a blow-by-blow account of its victories and defeats."—Shelf Awareness for Readers

"A great read for anyone interested in the history of two companies that have had a massive impact on pop culture."—Library Journal

"Tucker delivers a well-written and entertaining look at the decades-long battle between the two titans of the comic book business."—Publishers Weekly

"Slugfest takes readers inside the decades-long beef between DC and Marvel comics."—Newsweek

"Lively and engaging."—Weekly Standard

"This really is a fascinating story, especially when you remember that the competition between DC and Marvel isn't just about comic books; it's about pop culture itself."—Booklist

"As colorful as the characters you see in halftone every Wednesday on New Comics Day."—Pittsburgh Post-Gazette

"Captivating."—National Review

"Slugfest is at its best when it becomes a virtual oral history of the Big Two comics publishers after Frank Miller and Alan Moore alter the entire industry in the mid-80s through their epic Batman and Watchmen titles."
—Washington Post

"An intriguing examination of the intense Marvel-DC rivalry."—Washington Times
Da Capo Press, 9780306825460, 304pp.
Publication Date: October 3, 2017
About the Author
Reed Tucker is a freelance journalist and writer and has lived in New York since 1999. He writes mostly about pop culture and entertainment, including as a staff features writer at the New York Post. He has written hundreds of magazine and newspaper articles for everyone from Esquire to USA Today to Oprah.