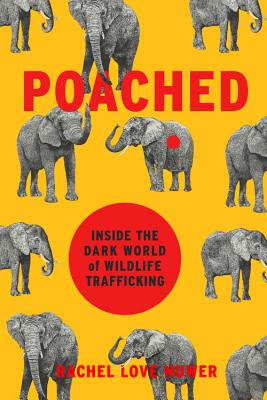 Poached
Inside the Dark World of Wildlife Trafficking (A Merloyd Lawrence Book)
Hardcover

* Individual store prices may vary.
Other Editions of This Title:
Digital Audiobook (9/24/2018)
Compact Disc (9/25/2018)
MP3 CD (9/25/2018)
Description
An intrepid investigation of the criminal world of wildlife trafficking--the poachers, the traders, and the customers--and of those fighting against it

Journalist Rachel Nuwer plunges the reader into the underground of global wildlife trafficking, a topic she has been investigating for nearly a decade. Our insatiable demand for animals -- for jewelry, pets, medicine, meat, trophies, and fur -- is driving a worldwide poaching epidemic, threatening the continued existence of countless species. Illegal wildlife trade now ranks among the largest contraband industries in the world, yet compared to drug, arms, or human trafficking, the wildlife crisis has received scant attention and support, leaving it up to passionate individuals fighting on the ground to try to ensure that elephants, tigers, rhinos, and more are still around for future generations.

As Reefer Madness (Schlosser) took us into the drug market, or Susan Orlean descended into the swampy obsessions of TheOrchid Thief, Nuwer--an award-winning science journalist with a background in ecology--takes readers on a narrative journey to the front lines of the trade: to killing fields in Africa, traditional medicine black markets in China, and wild meat restaurants in Vietnam. Through exhaustive first-hand reporting that took her to ten countries, Nuwer explores the forces currently driving demand for animals and their parts; the toll that demand is extracting on species across the planet; and the conservationists, rangers, and activists who believe it is not too late to stop the impending extinctions. More than a depressing list of statistics, Poached is the story of the people who believe this is a battle that can be won, that our animals are not beyond salvation.
Praise For Poached: Inside the Dark World of Wildlife Trafficking (A Merloyd Lawrence Book)…
"A must-read."—The Revelator

"Nuwer finds rays of hope in the park rangers and other conservation experts who are dedicating their lives to saving some of the earth's most majestic creatures."—Scientific American

"A compelling, lively, and highly informative read."—Science

"A deep, disturbing look into the illegal wildlife trade [that] offers a firsthand account of the battle between traffickers and conservationists."—Science News

"Nuwer's intimate look at different poaching industries is educational and overall heartfelt."—Library Journal

"Nuwer's engaging and immersive reporting style...illuminates and animates the larger forces driving the trade that's wiping out our remaining wildlife."—Sierra

"Nuwer, a conservation biologist turned science journalist, traces at first hand the front lines across the globe in her hard-hitting, wince-inducing report."—Nature

"By focusing on the humans at all points of the [illegal wildlife] trade, Nuwer is able to offer something rare: a window onto the feelings and beliefs that drive it."—Wall Street Journal

"Reads like a thrilling piece of fiction-which makes it even more heartbreaking when you remember the events are true."—Earther
Da Capo Press, 9780306825507, 384pp.
Publication Date: September 25, 2018
About the Author
Rachel Nuwer is an award-winning science journalist who regularly contributes to the New York Times, National Geographic, BBC Future, and Scientific American, among others. She lives in New York.