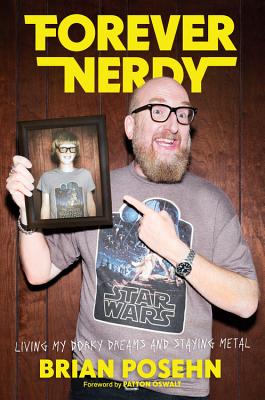 Forever Nerdy
Living My Dorky Dreams and Staying Metal
Hardcover

* Individual store prices may vary.
Other Editions of This Title:
Digital Audiobook (10/22/2018)
Compact Disc (11/20/2018)
Compact Disc (11/20/2018)
Description
The first memoir by beloved comedian, actor, and writer Brian Posehn, hilariously detailing what it's like to grow up as and remain a nerd, with a foreword by Patton Oswalt

Brian Posehn is a successful and instantly recognizable comedian, actor, and writer. He also happens to be a giant nerd. That's partly because he's been obsessed with such things as Dungeons & Dragons, comic books, and heavy metal since he was a child; the other part is because he fills out every bit of his 6'7'' frame. Brian's always felt awkward and like a perpetual outsider, but he found his way through the difficulties of growing up by escaping into the worlds of Star Wars, D&D, and comics, and by rocking his face off. He was a nerd long before it was cool (and that didn't help his situation much), but his passions proved time and again to be the safe haven he needed to persevere and thrive in a world in which he was far from comfortable.

Brian, now balls deep in middle age with a wife, child, and thriving career, still feels like an outsider and is as big a nerd as ever. But that's okay, because in his five decades of nerdom he's discovered that the key to happiness is not growing up. You can be a nerd forever and find success that way. because somehow along the way the nerds won.

Forever Nerdy is a celebration of growing up nerdy and different. This isn't Brian's life story, just some bizarre and hilarious stories from his life, along with a captivating look back at nearly fifty years of nerd culture. Being a nerd hasn't always been easy, but somehow this self-hating nerd who suffered from depression was able to land his dream job, get the girl, and learn to fit in. Kind of. See how he did it while managing to remain forever nerdy.
Praise For Forever Nerdy: Living My Dorky Dreams and Staying Metal…
"Everyone has an origin story. For comedians, they're usually pretty sad, tortured, and depressing. Brian Posehn's is no different, and yet he's so different. Forever Nerdy is a memoir about being brave enough to take your torture and find a way to make it your bliss, and is so fun to read you're gonna wish you took even longer poops."--Sarah Silverman, author of The Bedwetter

"Forever Nerdy is the only book on Brian Posehn and his curious, eventful, sad, sometimes tragic, defiant, fun, loopy life that you will ever need to read. Throw away all the others on this subject matter and get this one! Joyce had his Ulysses, now Posehn has his Forever Nerdy to engage your eyeballs and while away your hours, whether you're stuck in Omaha, or in an airport, or on the toilet, or perhaps in a toilet on an airplane over Omaha (a trifecta). Buy it, read it, commit it to memory, and you can be on my team on trivia night!"--Bob Odenkirk of Better Call Saul, Breaking Bad, and Mr. Show

"In this hilarious and honest memoir, Posehn chronicles the pop culture obsessions that have shaped his life and career."—Publishers Weekly

"Full of great stories told in only a way that Brian can tell them."—Red Carpet Crash
Da Capo Press, 9780306825576, 304pp.
Publication Date: October 23, 2018
About the Author
Writer, actor, and stand-up comic Brian Posehn has appeared on Seinfeld, The Big Bang Theory, New Girl, and The Sarah Silverman Program, and was a writer and performer on HBO's Mr. Show. He coproduced Netflix's With Bob and David and starred in the dark indie comedy Uncle Nick. He hosts and produces the Nerd Poker podcast and cowrote a run of Marvel's Deadpool. His next project is a comedy metal album titled Grandpa Metal, featuring members of Anthrax, Dethklok, Slayer, and Slipknot.
or
Not Currently Available for Direct Purchase