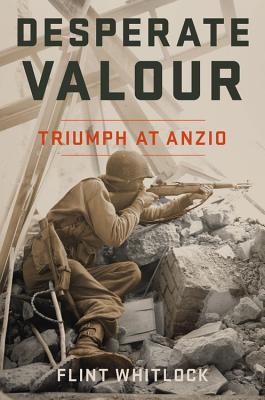 Desperate Valour
Triumph at Anzio
Hardcover

* Individual store prices may vary.
Description
A riveting and comprehensive account of the Battle of Anzio and the Alamo-like stand of American and British troops that turned certain defeat into victory

The four-month-long 1944 battle on Italy's coast, south of Rome, was one of World War II's longest and bloodiest battles. Surrounded by Nazi Germany's most fanatical troops, American and British amphibious forces endured relentless mortar and artillery barrages, aerial bombardments, and human-wave attacks by infantry with panzers. Through it all, despite tremendous casualties, the Yanks and Tommies stood side by side, fighting with, as Winston Churchill said, "desperate valour."

So intense and heroic was the fighting that British soldiers were awarded two Victoria Crosses, while American soldiers received twenty-six Medals of Honor--ten of them awarded posthumously.

The unprecedented defensive stand ended with the Allies breaking out of their besieged beachhead and finally reaching their goal: Rome. They had truly snatched victory from the jaws of defeat.

Award-winning author and military historian Flint Whitlock uses official records, memoirs, diaries, letters, and interviews with participants to capture the desperate nature of the fighting and create a comprehensive account of the unrelenting slugfest at Anzio.

Desperate Valour is a stirring chronicle of courage beyond measure.
Praise For Desperate Valour: Triumph at Anzio…
"Anzio was the bloodiest stalemate for the Allies in Europe in World War II. German veterans remembered the ferocious combat as being worse even than Stalingrad. For the first time, Flint Whitlock has brought the full extent of the carnage and heroism to light. Desperate Valour will long remain the definitive account of this oft-forgotten epic of warfare."--Alex Kershaw, New York Times bestselling author of The Liberator and The Longest Winter
—-

"Flint Whitlock has delivered once again with his stirring account of the terrible fight at Anzio. His prose is crisp and paced, laden with new perspective and insight, while personal accounts bring the vicious struggle to life...a riveting read!"--Michael E. Haskew, editor of WWII History magazine and author of West Point 1915: Eisenhower, Bradley, and the Class the Stars Fell On
—-

"Not maintained like more famous World War II battlefields, Anzio will be memorialized instead by inspiring books like this one. Flint Whitlock reveals that the American and British 'beached whale' there had plenty of teeth and claws, along with the courage and determination to hold off a four-month German onslaught before breaking out to help liberate Rome."--Conrad Crane, author of American Airpower Strategy in World War II: Bombs, Cities, Civilians, and Oil
—-
Da Capo Press, 9780306825729, 512pp.
Publication Date: October 30, 2018
About the Author
Flint Whitlock, a former U.S. Army officer and Vietnam War veteran, is the award-winning author of a dozen books and scores of magazine articles, most dealing with World War II. He has also appeared on History Channel, Fox News's War Stories with Oliver North, in numerous documentaries, and has been the editor of WWII Quarterly magazine since 2010.

He lectures across the country and frequently leads battlefield tours for the Smithsonian Institution, National Geographic Society, Minnesota World War II History Roundtable, Colorado National Guard, and other groups. He and his clinical psychologist wife, Dr. Mary Ann Watson, have three grown children and divide their time between Denver and Vail, Colorado.