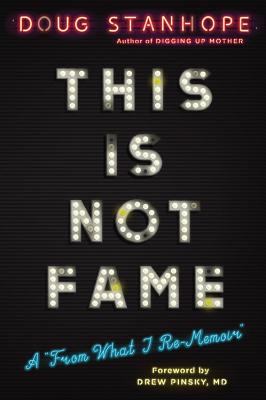 This Is Not Fame (Hardcover)
A "From What I Re-Memoir"
Da Capo Press, 9780306825743, 344pp.
Publication Date: December 5, 2017
Other Editions of This Title:
Paperback (12/4/2018)
MP3 CD (7/31/2018)
* Individual store prices may vary.
Description
An unfiltered, unapologetic, hilarious, and sometimes obscene assemblage of tales from the down-and-dirty traveling comedy circuit

Doug Stanhope has been drunkenly stumbling down the back roads and dark alleys of stand-up comedy for over a quarter of a century, roads laden with dank bars, prostitutes, cheap drugs, farm animals, evil dwarfs, public nudity, menacing third-world police, psychotic breaks, sex offenders, and some understandable suicides. You know, just for levity.

While other comedians were seeking fame, Stanhope was seeking immediate gratification, dark spectacle, or sometimes just his pants. Not to say he hasn't rubbed elbows with fame. He's crashed its party, snorted its coke, and jumped into its pool naked, literally and often repeatedly--all while artfully dodging fame himself.

Doug spares no legally permissible detail, and his stories couldn't be told any other way. They're weird, uncomfortable, gross, disturbing, and fucking funny.

This Is Not Fame is by no means a story of overcoming a life of excess, immorality, and reckless buffoonery. It's an outright celebration of it. For Stanhope, the party goes on.
About the Author
Doug Stanhope is a veteran of over twenty-five years of stand-up comedy. With a litany of dubious television credits, he has successfully dodged mainstream fame using his uncompromising brand of stand-up to build a cult-like following around the world. He's won numerous accolades and has recorded over a dozen comedy specials.

Stanhope tours extensively in North America and overseas. He has been described by the New York Times as "an acidic blend of prickly hostility, elaborately articulated self-loathing, and righteous anger." A regular guest on the Howard Stern Show and appointed the Voice of America for Charlie Brooker's Weekly Wipe on the BBC, Stanhope continues to be an armchair revolutionary for the excluded, ignored, forgotten, and wasted of society, rallying them with what The Guardian calls "comedy with brains and guts and a heart."

Stanhope resides in the US border town of Bisbee, Arizona, with pets who have people names, in an absurd relationship with his gal pal Bingo.
Praise For This Is Not Fame: A "From What I Re-Memoir"…
"Doug Stanhope is the most dangerous comedian in the world.
If we both were fighters I would avoid him at all costs. He's a bad, bad man."
--Chris
Rock
, author of
Rock This!
"I was brunching last week with Jerry (Seinfeld) and Chris
(Rock), and we were saying how it's such a shame that George Carlin and Richard
Pryor aren't around to read Doug's new book."--
Daniel Tosh
, Entertainer,
Gay Billionaire
"Doug Stanhope is my favorite comic. There is no one to
compare him to; it all begins with the writing and this book is a great read."
--Roseanne
Barr
, author of
Roseannearchy
"Stanhope is our Charles Bukowski. If that isn't good enough
for you to buy his stupid book, you don't deserve to read it."--
Michael Ian
Black
, author of
Navel Gazing
and
You're Not Doing It Right
"Doug Stanhope's truth telling wakes me up faster than a Zen
monk slapping the shit out of me. Pure genius."--
Kelly Carlin
, author of
A
Carlin Home Companion
"Doug has done it again. Just when I thought he had peaked,
I realized that that was a valley and THIS is the peak."--
Judd Apatow
,
author of
Sick in the Head
"Doug Stanhope is a true throwback. His authenticity is both
hilarious and inspiring."--
A.J. Hawk
, Famed NFL Linebacker
"Yes."--
Marilyn Manson
, via text when asked if he'd
write a blurb
"Doug Stanhope is my
favorite everything. Any comic can write a book, but two books? Watch
out, Judy Blume!"--
Dave Attell
"Doug clearly didn't want a blurb
from me but that made me want to write one even more. Doug and I have nothing
in common but I still consider him a friend."--Todd Barry, author of Thank
You for Coming to Hattiesburg and opening act for Brendon Walsh