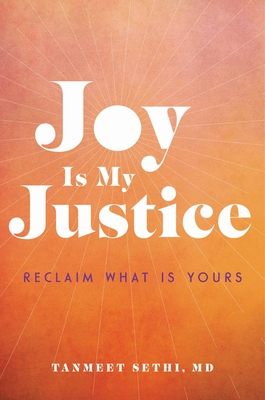 Joy is My Justice
Reclaim What Is Yours
Hardcover

* Individual store prices may vary.
Description
Your pain is not fair or just. You are not broken because you feel it deeply. Yet every footstep you take toward Joy, even while still living with fear or rage, is a radical act of Justice that defies the oppressive weight of your pain and creates a powerful change in your biochemistry.
Joy is here for you.
Joy is your birthright.
It's my mission to make sure you find yours.
And this book will lead you there.
--from the Prologue

If you've been pushed to the margin of conversations on well-being…If you think finding Joy is "too hard" or only for people who are "resilient enough," here is a radical guide that will open you to the potential of healing, rooted in powerful stories, potent guided meditations and neuroscience.

In Joy Is My Justice, Integrative physician and activist Tanmeet Sethi shares her methods for shifting your nervous system and biochemistry into Joy at the cellular level. You can reclaim Joy—as you reclaim your personal power, strength, and purpose—despite the burden of living in an unjust world, despite past traumas, and despite any platitudes that a whitewashed wellness world says about your capacity.

Everyone alive will endure great pain—multiple times and usually beyond your control. An invitation to everyone whom "wellness" has left behind, Joy Is My Justice will help you rediscover your Joy, not as a destination or solution but as a profound practice for healing.
Praise For Joy is My Justice: Reclaim What Is Yours…
"Joy Is My Justice is a book to experience with your whole bodymind. It is brilliant, profound, necessary—and a joy to read."—Resmaa Menakem, author of My Grandmother's Hands and Monsters in Love

"A beautiful and practical companion to finding joy in your body, here and now! With the wisdom of a Sikh American doctor, healer, and mother, Dr. Sethi brings to life the Sikh concept of Chardi Kala—even in darkness and adversity, ever-rising joy."—Valarie Kaur, author of See No Stranger: A Memoir and Manifesto of Revolutionary Love

"Full of transformative practices, illuminating stories and courageous inspiration, this book offers a path through for anyone dealing with trauma, pain, or simply the daily injustices of the world—all the while painting a vision for how we bring joy and justice into our lives with a radical push for change. This is the friend to keep with you, the reminder that we can change the world."—Pramila Jayapal, U.S. Congressmember, civil rights activist, and author of Use The Power You Have

"We mostly turn away from our pain. I have. Tanmeet invites us to walk a stronger, more human path, surprisingly to Joy and Justice. I know her wisdom heals, as it has helped me, and my patients, become more whole. I urge you to you make space for Tanmeet's message in your life."—Drew Ramsey, MD, author Eat To Beat Depression and Anxiety, assistant clinical professor of Psychiatry at Columbia University

"Dr. Sethi dives into the science behind Joy and reveals the underexplored relationship between mind-body medicine, biochemistry, and Joy. She invites you to learn how to find your power at your very center—and I cannot recommend enough that you accept the invitation."—Ellen Vora, MD, board-certified holistic psychiatrist and author of The Anatomy of Anxiety

"Let this be your most transformative journey of healing yet—one that starts from the inside out. Dr. Sethi's roadmap to Joy is the most sacred medicine you will find. She beautifully shows us how ancient wisdom can be amplified through the lens of Justice to create a guide for not only surviving your pain, but for thriving through Joy." —Avanti Kumar-Singh, MD, Ayurvedic physician and author of The Healing Catalyst

"Joy Is My Justice is a clear-eyed, eloquent, loving guide to the joy and fulfillment that we can discover as we meet life's darkest, most traumatizing challenges. Tanmeet Sethi has been there and done that. She does it every day, and generously shares her hard-earned wisdom. I am honored that Tanmeet credits the Center's work as inspiration, and grateful for all that she teaches me."—James S. Gordon, MD, author of Transforming Trauma: The Path to Hope and Healing and Founder & CEO of The Center for Mind-Body Medicine

""If you have ever struggled with life's challenges (and who hasn't?); if your inner critic regularly berates you (and whose doesn't?) this is the book for you! Heartbreaking and triumphant, filled with candid stories from her own life, Dr. Tanmeet Sethi maps a courageous and compassionate path forward with practices we can all learn and do." —Victoria Maizes, MD, Executive Director, Andrew Weil Center for Integrative Medicine University of Arizona
Hachette Go, 9780306830037, 288pp.
Publication Date: May 2, 2023
About the Author
Tanmeet Sethi, MD, is an Integrative Medicine physician who has devoted her career to caring for the most vulnerable and teaching physicians how to care for these communities in the most humane and skillful way possible. She has spent the last twenty- five years on the frontlines practicing primary care, global trauma, and community activism. Dr. Sethi lectures nationally and has spoken on three TEDx stages about using gratitude as medicine. She lives in Seattle with her family.