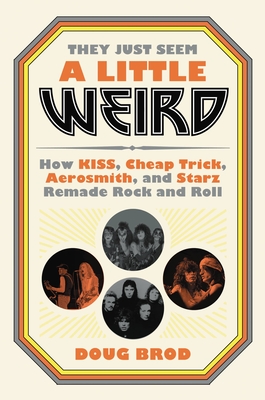 They Just Seem a Little Weird
How KISS, Cheap Trick, Aerosmith, and Starz Remade Rock and Roll
Hardcover

* Individual store prices may vary.
Other Editions of This Title:
Digital Audiobook (11/30/2020)
Paperback (6/21/2022)
Description
A veteran music journalist explores how four legendary rock bands—KISS, Cheap Trick, Aerosmith, and Starz—laid the foundation for two diametrically opposed subgenres: hair metal in the '80s and grunge in the '90s.
It was the age when heavy-footed, humorless dinosaurs roamed the hard-rock landscape. But that all changed when into these dazed and confused mid-'70s strut-ted four flamboyant bands that reveled in revved-up anthems and flaunted a novel theatricality. In
They Just Seem a Little Weird
, veteran entertainment journalist Doug Brod offers an eye- and ear-opening look at a crucial moment in music history, when rock became fun again and a gig became a show. This is the story of friends and frenemies who rose, fell, and soared once more, often sharing stages, studios, producers, engineers, managers, agents, roadies, and fans-and who are still collaborating more than forty years on.
In the tradition of David Browne's
Fire and Rain
and Sheila Weller's
Girls Like Us
,
They Just Seem a Little Weird
seamlessly interweaves the narratives of KISS, Cheap Trick, and Aerosmith with that of Starz, a criminally neglected band whose fate may have been sealed by a shocking act of violence. This is also the story of how these distinctly American groups-three of them now enshrined in the Rock and Roll Hall of Fame-laid the foundation for two seemingly opposed rock genres: the hair metal of Poison, Skid Row, and Mötley Crüe and the grunge of Nirvana, Alice in Chains, and the Melvins. Deeply researched, and featuring more than 130 new interviews, this book is nothing less than a secret history of classic rock. 
Praise For They Just Seem a Little Weird: How KISS, Cheap Trick, Aerosmith, and Starz Remade Rock and Roll…
Variety, "Best Music Books of 2020"

Best Classic Bands, "Best Music Books of the Year"

The Globe and Mail's "Fifteen Music Books That Struck a Chord in 2020"
 

"This absorbing new book is like four complete rock biographies in one, detailing how the ongoing intersections of the four bands of the title influenced rock for a lifetime to come, with a deep level of reporting that results in one hilarious or trenchant detail after another."—Variety

"Once upon a
time, in the faraway galaxy known as the '70s, there were four tightly
knit gangs of misfits and screwups-three mega-platinum Hall of Fame bands and
one near miss. Doug Brod thoroughly and seamlessly chronicles their
interlocking stories, and how their ups and downs, friendships and
rivalries, lucky breaks and twists of fate rewrote the rules of rock and
roll for America's denim-clad masses."—Alan Light, Sirius XM radio host and author of The Holy or the Broken: Leonard Cohen, Jeff Buckley and the Unlikely Ascent of "Hallelujah"

"They Just Seem a Little Weird is a wildly entertaining study of four Me Decade bands, showing how their influence would come to shape successive generations and genres of music. Doug Brod delivers the perfect balance of reportage, reminiscence, and rock-and-roll excess. Deeply researched, evocatively written, and utterly enjoyable-this is a surprisingly essential work of pop culture history."—Bob Mehr, author of Trouble Boys: The True Story of the Replacements

"Doug Brod gives the '70s hard rock world of KISS, Cheap Trick, Aerosmith, and Starz the scholarly research, historical narrative, and--above all else--respect it deserves. You'll be constantly entertained and enlightened by his backstage stories and newly unearthed-and eye-opening-connections between all those bands. The book rock and rolls and parties all night, on every page."—David Browne, author of Fire and Rain: The Beatles, Simon & Garfunkel, JamesTaylor, CSNY and the Lost Story of 1970

"Doug Brod's
detail-rich book exemplifies the same transfixing qualities of the bands he
profiles: The over-the-top hysteria of KISS, the creative tension of Aerosmith,
the charming accessibility of Cheap Trick, and the competency of Starz."—Chuck Klosterman, author of Fargo Rock City

"Doug Brod surrenders
to his passion for '70s pop rock in this thoroughly researched and meticulously
wrought group portrait, and, much to his credit, he is happy to give himself
away as a lifelong fan of music he defends as well worth the attention. This a
rock book of the rarest kind: unaffected, unpretentious, and unafraid to be
fun."—David Hajdu, author of Positively 4th Street: The Lives and Times of Joan Baez, Bob Dylan, Mimi Baez Farina and Richard Farina

"Doug Brod
describes KISS as 'smart guys writing dumb songs for smart people.' In this
loving and detailed book, Brod is a smart guy writing about dumb bands for
smart people. He turns over every rawk in finding connections between four
proudly ludicrous bands who have rarely been taken this seriously, except by
their accountants. Brod follows these longhaired scallywags from obscurity to
debauchery to (usually, not always) sobriety, and tells a story that isn't
about just rock music, but about America."—Rob Tannenbaum, coauthor of I Want My MTV: The Uncensored Story of the Music Video Revolution

"You wanted the best and you got it, the hottest rock-history book of the year... They Just Seem a Little Weird! Doug Brod expertly weaves together the stories of three iconic bands and a fourth act, Starz, you may never have heard of-but by which you'll be no less intrigued. It's a smart, funny, and thoroughly fascinating look at an incredibly influential era in American rock music."—Mark Yarm, author of Everybody Loves Our Town: An Oral History of Grunge

"I'm a little older than Doug Brod, so my rock heroes were Dylan, the Stones, Roxy Music, and the underappreciated Procol Harum. But Brod grew up with Kiss, Cheap Trick, Aerosmith, and the tragically underappreciated Starz. They Just Seem A Little Weird is a wonderful account of the incestuous relationships of these four groups. Brod is a first-class music historian-he's interviewed musicians, promoters, managers, radio programmers, and even fans to fill out the interlocking family trees of these groups and, in the process, provided much more detailed accounts than those available at Ancestry.com. So pour a glass of cold gin, crack open the book, let the music do the talking and surrender to the glory of rock and roll."—Larry "Ratso" Sloman, author of On the Road with Bob Dylan

"They Just Seem A Little Weird pays tribute to the bands I started loving as a young teen. When Kiss, Aerosmith, and Cheap Trick finally broke through, I could say, 'I told you so' to all of the disbelievers, but Starz were also important to me. I saw all of these bands live in New York City and loved every minute. Doug Brod nails it and takes me back. It's a fun read."—Matt Pinfield, radio and TV host

"In uncovering the zillion interconnections between three of the most popular and influential rock bands of their era-and one that shoulda, coulda, woulda been-They Just Seem a Little Weird compellingly embodies a familiar but essential life lesson: it's a small world after all, so be nice to everyone you meet, because you might do a reunion tour with them 40 years from now."—Michael Azerrad, author of Our Band Could Be Your Life: Scenes from the Indie Underground1981-1991

"Starz
4ever! Doug Brod delivers on the preposterous bands that made
the '70s fun and the '80s a blur, all while feeding sincerity to the crocodiles
and reinflating the rock star."—RJ Smith, author of The One: The Life and Music of James Brown

"Brod interviewed deeply, writes with a fan's enthusiasm about all four bands, and braids their experiences to keep the book from reading like four separate bios. He's also attuned to the Spinal Tap–ish nature of the acts, from backstage meltdowns to ironic calamities…. A fun, compassionate history of arena rock's finest hour—and the less-fine hours that followed."—Kirkus

"A rollicking biography of three of the most successful bands of the late 1970s. [Brod] knows whom to ask and what to tell. He is an enthusiastic guide, and fans—and anyone interested in true tales of rock and rockexcess—will love this."—Library Journal

"What's better than a terrific rock biography? Four terrific rock biographies packed into one, with nothing lost in the headbanging whiplash of going back and forth between a quartet of individually and collectively fascinating bands. For anyone who lived through the ascent of flamboyant guitar music in the 1970s or has a residual fondness for these monsters of rock that continued to thrive into the '80s and beyond, there could scarcely be a more entertaining read than They Just Seem a Little Weird. There's a deep level of reporting by Brod that results in one amusing or trenchant detail after another, as he brings the funny and, more importantly, brings the fondness."—Variety

"[This book] seamlessly interweaves the narratives of KISS, Cheap Trick and Aerosmith with that of Starz, a criminally-neglected power-pop band."—The Hype Magazine

"Brod wanted to find an angle that 'has never been covered before and would actually surprise people and shed new light on something.' He does that splendidly in THEY JUST SEEM A LITTLE WEIRD."—SPIN

"Enthralling…expertly researched and crafted. It gives a great picture of both sides of the rock-and-roll fantasy coin."—Hudson Valley 360

"Rock fans of a certain age will enjoy.… Brod clearly is a fan, but he writes about the bands' music and career choices with a critical eye. The book is filled with entertaining anecdotes and fun facts."—The Vindicator

"Four stars!Brod's love of the music will send readers digging deep into the back catalogues, but he also acknowledges the absurdity and fuck-ups with knowing humor.[His] description of the production on Cheap Trick's wretched 1986 album The Doctor—'simulates the experience of being in an MRI machine operated by the ape-men of 2001: A Space Odyssey'—might be the best line in a music book for quite some time."—MOJO

"8 out of 10. Wildly entertaining. With a wonderful mix of anecdote and analysis…Brod depicts these groups in all the color they deserve."—Classic Rock

"A fascinating journey…. The cross-pollination that occurred between these four bands never ceases to amaze…. A never-ending treasure trove of jaw-dropping revelations and anecdotes. Brod possesses a droll sense of humor, and there are many laugh-out-loud moments peppered throughout this wonderfully engaging book. Highly recommended."—Rock Candy

"Absolutely required reading for any fan of rock music."—Glammetal.com

"Remarkably enjoyable…exhaustive. A wildly entertaining book about four of the most influential hard-rock bands to come out of the 1970s."—New Noise magazine

"Doug Brod'sterrific They Just Seem a Little Weird does what all successful music books do: finds the pulse of an artist or a band and then tunes in the larger vibrations happening all around them…. That Brod's dogged flow chart of a book is as readable and narratively appealing as it is is testament to the author's considerable writerly and research gifts for gathering up the many pieces and assembling the puzzle."—nosuchthingaswas.com

"Highly entertaining. Deftly balanced, keenly paced, and flavored with infectious peer-to-peer enthusiasm."—2fast2die.com

"Even-handed and fantastically readable."—Red Hook Star-Revue

"Fun. A well-paced, well-researched ode to '70s excess."—Washington Independent Review of Books

"Brod digs deep in his research and offers…a look behind the curtain at the bands, the management, and the good and bad decisions along the way, as the groups all sail toward their destinies. It's a warts-and-all look at the artists and the art of the deal." —Punk Globe

"Fascinating specifics cover KISS's rollercoaster career, Cheap Trick's lean years, and especially Starz's story—why a band with a flashy image, strong songs, and KISS's management muscle never made it big."—Vintage Guitar

"Even if you weren't in the KISS Army or trekked to arenas to see all those Aerosmith and Starz shows, you'll enjoy reading about how the bands rose above addictions and in-fighting to achieve a lasting imprint in rock history." —The Big Takeover

"Very well-researched…comprehensive…absorbing."—The-BookReview.com

"A glittering backstage history of the 'party every day' people."—Globe and Mail

"It's a great book! I heartily recommend it."—Greg Gutfeld, Fox News

"A must-have for every KISS, Aerosmith, Cheap Trick, and Starz fan! Fantastic job!"—Del James, author of The Language of Fear, songwriter for Guns N' Roses
Hachette Books, 9780306845192, 320pp.
Publication Date: December 1, 2020
About the Author
Doug Brod is the former editor in chief of SPIN magazine and was a long-time editor at Entertainment Weekly. He has worked for Atlantic Records, taught at New York University, and was a segment producer of the comedy/music television series Oddville, MTV. Brod has also written for the New York Times, Billboard, Classic Rock, The Hollywood Reporter, and The Trouser Press Record Guide. A native New Yorker, he lives with his family in Toronto.