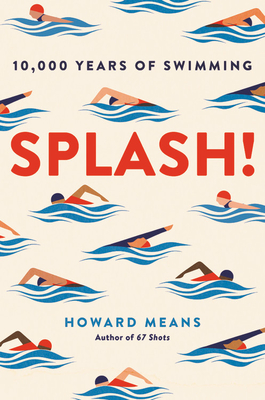 Splash! (Hardcover)
10,000 Years of Swimming
Hachette Books, 9780306845666, 336pp.
Publication Date: June 2, 2020
* Individual store prices may vary.
Description
A lively, sweeping history of swimming, from man's first dip in what is now the driest spot on earth to the 2020 Summer Olympics in Tokyo.
Swimming is a long thread that connects the Olympic heroes of today with the real and mythic ones of the past across more than ten millennia -- a recorded history that begins in a cave in the Egyptian desert and sweeps across athletes and poets, statesmen and emperors, humans and gods; across the whole human experience, the entire human story.
Splash! weaves a 10,000-year-old tale that begins in a bone-dry cave in the remote southwest corner of Egypt, winds its way through ancient Greece and Rome, flows mostly underground through the Dark and Middle Ages, and then reemerges in the wake of the Renaissance before ending on the runway of the 2020 Summer Olympic Games in Tokyo -- where, critically, swimming will once again be among the most high-profile of all events.
But swimming is also about more than itself, more than simply moving through the water, more than speed or great feats of aquatic endurance or the terror of the bottomless deep. It's part of the churning continuum of time -- part of history, part of life. Stretch "swimming" out to its largest dimension, and its history offers a multi-tiered tour through religion, fashion low and high, architecture, sanitation and public health, colonialism, segregation and integration, sexism, sexiness, guts, glory, and much, much more.
Unique and compelling, Splash! sweeps across the whole of humankind's swimming history, and has fun along the way.
About the Author
Howard Means is the author or co-author of ten books, most recently 67 Shots: Kent State and the End of American Innocence (Da Capo, 2016). Hailed by the Christian Science Monitor as "one of the most heartbreaking books in memory," 67 Shots is being developed as a feature length film by Everyman Pictures (Jay Roach) and Little Stranger Picture (Tina Fey & Jeff Richmond). Means' previous book, Johnny Appleseed: The Man, the Myth, the American Story (Simon & Schuster, 2011), was featured on NPR and in the weekend Wall Street Journal, and also optioned for TV and/or film.
Prior to turning full-time to book-length works, Means was senior editor at Washingtonian magazine, an op-ed columnist for King Features Syndicate, a daily journalist, and in the distant past, a schoolteacher. He began swimming competitively when he was five years old, continued through college, then coached for seven years. Swimming continues to define his life: Pools, rivers, lakes, quarries, oceans are his natural medium. Writing Splash! has been a labor of love.
Praise For Splash!: 10,000 Years of Swimming…
"What could be
more audacious an act than the attempt to tell the entire 10,000-year story of
swimming in a single volume? But that is exactly what Howard Means's Splash!
aims to do. Splash! is an exuberant and sweeping cultural
history of the sport and a thoughtful meditation on its possible origins and
humankind's larger relationship to water itself. From the first
evidence of swimming in Middle Eastern desert cave art to "aquatic heroism" in
ancient Roman warfare, to a visit with the uber-stars and superhuman speeds of
the 21st century--Means takes us on a breezy, easily readable journey
across time and space to help us even to begin to understand why we took to the
water in the first place and why we still insist on splashing about in it today.
A great gift for the swimmer in you or in your life."—Julie Checkoway, New York Times bestselling author of The Three-Year Swim Club

"Howard Means' Splash! has raised the bar for the 'swimoir'! He takes masterful strokes through 10,000 years of the cultural and social history of swimming and makes the strongest case yet written on why everyone should swim."—Bruce Wigo, former CEO & President, International Swimming Hall of Fame

"Splash! is an incredible book--the most amazing stories of anything and everything you wanted to know about the world and culture of swimming and its history. I loved every page!"—Rowdy Gaines, three-time Olympic Gold Medalist and Olympic television swimming analyst