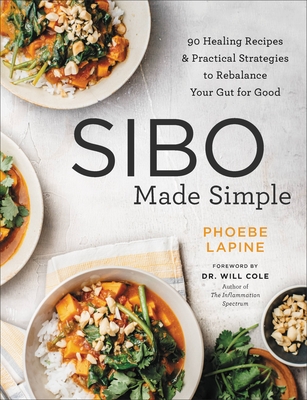 SIBO Made Simple
90 Healing Recipes and Practical Strategies to Rebalance Your Gut for Good
Paperback

* Individual store prices may vary.
Other Editions of This Title:
Digital Audiobook (1/11/2021)
Description
If you're one of the 25 to 45 million Americans living with IBS, finding an accurate diagnosis, treatment, and ultimately good health can feel like an impossible mystery. SIBO Made Simple brings you answers.
 
Small Intestinal Bacterial Overgrowth (SIBO) is a common cause of unwanted bloating, abdominal pain, weight fluctuations, and GI distress. In this guide for achieving long-term healing, health advocate, chef, and SIBO sufferer Phoebe Lapine covers everything you need to know about SIBO and how to thrive in spite of it.
 
Lapine answers all your questions, from what SIBO is (and what it isn't) to related conditions (Hashimoto's thyroiditis, Celiac disease, and more) to practical strategies for on-going prevention.
 
With expert medical advice from dozens of top SIBO practitioners, SIBO Made Simple provides resources for all phases of treatment, offering a clear culinary road map that can be customized to fit a large variety of gut-healing diets, such as the Bi-Phasic Diet, GAPS, SCD, SIBO Specific Food Guide, and more.
 
With 90 delicious, easy, low FODMAP recipes that make a notoriously tough diet doable and delicious, SIBO Made Simple is a one-of-a-kind toolkit for learning about your condition and tailoring your diet toward healing. Every recipe adds anti-inflammatory ammunition to your diet, while offering suggestions for how to add problematic ingredients back in as you diversify your plate.
 
Getting healthy and feeling great doesn't have to be punitive. SIBO Made Simple offers a clear path forward, from someone who's been there.
Praise For SIBO Made Simple: 90 Healing Recipes and Practical Strategies to Rebalance Your Gut for Good…
"[T]he book you are now holding is a priceless, practical road map for all your SIBO questions. Finally, SIBO Made Simple."—Dr. Will Cole, bestselling author of The Inflammation Spectrum

"Phoebe Lapine has fully delivered. Chock full of science forward and understandable information, Phoebe has provided everything you need to know about SIBO, feeding your gut properly, and optimizing your health. Not only is it needed, but it's crucial in how we move the needle forward in effective and sustainable healthcare."—Dr. Michael Ruscio, clinical researcher, bestselling author of Healthy Gut, Healthy You

"Finally! A comprehensive and easy to read manifesto for anyone struggling to understand SIBO and trying to figure out what to do about it. This amazing book by Phoebe Lapine offers simple explanations, instructions and a great nutrition and recipe section to help you repair your gut and get your symptoms under control once and for all. If you have any chronic gut symptoms, this book is for you!"—Susan S. Blum MD, MPH, author of The Immune System Recovery Plan and Healing Arthritis

"If you've been recently diagnosed with or have been struggling with SIBO for years, this book will simplify your understanding and your life. With delicious, exciting, and no hassle recipes, Phoebe will have you enjoying food while you work to heal your gut for good. As a doctor, I appreciate that she has created a comprehensive guide to end the overwhelm and give patients the tools to take action, which is why I am making this my new go-to patient resource for those struggling with SIBO."—Dr. Jolene Brighten, bestselling author of Beyond the Pill

Praise for Phoebe Lapine:
"Making good food and lifestyle choices is the best medicine for curing what ails us. For those suffering from autoimmune or other chronic health problems, The Wellness Project is an invaluable look at how one woman learned to apply best health practices and still enjoy all that makes life sweet."—--Terry Wahls, MD, author of The Wahls Protocol

"The Wellness Project is a smart, funny, and incredibly helpful guide to the complexities of not just what makes us sick, but what makes us well."—--Robynne Chutkan, MD, FASGE, author of The Microbiome Solution

"Whether you're looking for support as you take an honest inventory of your health or are seeking inspiration for long-lasting changes, Phoebe has been there and done that and shares it all."—--Julia Turshen, bestselling author

"Like so many people with chronic conditions, Phoebe discovered that true healing begins with food. [S]he illustrates that our wellness is made up of so much more--the products we use, our daily movements, and how we tame stress out in the world."—--Robin Berzin, MD, CEO and founder of Parsley Health

"If you're struggling to figure out why you're not feeling like you should, and are overwhelmed by all the wellness information online, then start your journey with The Wellness Project. You'll not only learn so much valuable information, but you'll learn a lot about yourself and your potential for feeling good again."—--Alissa Vitti, functional nutritionist and author of WomanCode
Hachette Go, 9780306846168, 336pp.
Publication Date: January 12, 2021
About the Author
Phoebe Lapine is a writer, gluten-free chef, culinary instructor, recipe developer, wellness blogger, Hashimoto's advocate and speaker, born and raised in New York City, where she continues to live and eat.