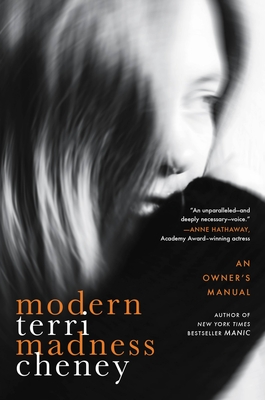 Modern Madness
An Owner's Manual
Hardcover

* Individual store prices may vary.
Other Editions of This Title:
Digital Audiobook (9/7/2020)
Description
Terri Cheney ripped the covers off her secret battle with bipolar disorder in her New York Times bestselling memoir, Manic. Now, in this "stigma-buster" and "must-read", she blends a gripping narrative with practical advice (Elyn Saks).
Cheney flips mental illness inside out, exposing the visceral story of the struggles, stigma, relationship dilemmas, treatments, and recovery techniques she and others have encountered. Sometimes humorous, sometimes harrowing, Modern Madness is the ultimate owner's manual on mental illness, breaking this complex subject down into readily understandable concepts like Instructions for Use, Troubleshooting, Maintenance, and Warranties.
Whether you have a diagnosis, love or work with someone who does, or are just trying to understand this emerging phenomenon of our times, Modern Madness is a courageous clarion call for acceptance, both personal and public. With her candid and riveting writing, Cheney delivers more than heartbreak; she promises hope.
Praise For Modern Madness: An Owner's Manual…
"Terri Cheney's unflinching commitment to telling her own truth on her own terms moved me into a new place of compassion. Hers is an unparalleled--and deeply necessary--voice."—Anne Hathaway, Academy Award-winning actress

"Terri Cheney paints a compelling picture of the mind of someone with mental illness, helping us to understand what it must feel like and causing us to sympathize with, not fear, those who suffer. Her book is a real stigma-buster -- and a must-read."—Elyn Saks, author of New York Times bestseller The Center Cannot Hold: My Journey Through Madness, 2009 MacArthur Genius recipient

"This book is for everyone: people struggling with mental illness, their family and friends, and all those on the front lines of the U.S. mental health crisis. To be truly effective, today's advocates need a better vocabulary that captures what it means to live with mental illness, to struggle, to survive, and to take ownership of one's life. Modern Madness provides that unique vocabulary by illuminating something that touches all of us."—Former U.S. Rep. Patrick J. Kennedy, founder of The Kennedy Forum, author of A Common Struggle

"In Modern Madness, Terri Cheney does something much more than simply reveal the struggles and challenges of those who have bipolar--she provides a menu of concrete, actionable steps that both those with bipolar and their family and friends can take to manage the inevitable ups and downs of this disease together. She aptly depicts the ways in which suicidal thoughts can silently stalk sufferers, and she rages passionately against us accepting the alarming acceleration in the number of suicides in America. This is a moving and insightful book that will make a meaningful difference."—Suzy Favor Hamilton, three-time Olympian and New York Times bestselling author of Fast Girl

"Modern Madness is not just a psychological roller coaster; it's a story of determination, self-efficacy, and hope. A great read for anyone grappling with bipolar illness and a must-read for anyone who loves someone with bipolar illness."—Thomas Insel, MD, Former Director of National Institute of Mental Health, Co-Founder Mindstrong Health and NEST Health

"I heartfully recommend Terri Cheney's smart and eloquent book Modern Madness to anyone who has the disorder, has a friend or relative who has it--or just wants to know about this extraordinarily common challenge. Terri is a compassionate and engaging writer as well as an important truth teller."—Sheila Weller, author of Carrie Fisher: A Life on the Edge and Girls Like Us: Carole King, Joni Mitchell, Carly Simon--and the Journey of a Generation

"I've read dozens of books and articles while
researching my documentary about bipolar disorder, "Of Two Minds." Nothing illustrates the
humanity of someone living with a mental illness like Terri's stories -- all told with warmth,
humor, exquisite language, and unwavering honesty."—Lisa Klein, director, Of Two Minds and The S Word

"Terrifically real. Cheney opens a window to the reality of living with bipolar and gives us hope. Like with her first book Manic, I often felt I was peeping into Cheney's soul when reading the book. It's hard to watch, but impossible to look away. "—Julie A. Fast, author of Loving Someone with Bipolar Disorder and Take Charge of Bipolar Disorder

"With taut and witty prose, Terri Cheney takes us on an unblinking tour of the actual experience of bipolar disorder. Each chapter allows us to experience the daily joy, terror, resolve and compassion of a mind bargaining with itself. This is not just a recital of clinical symptoms, this is a journey into the human psyche. It is a stunning addition to the literature on mental illness and should be required reading for all medical students and mental health professionals."—Louisa Benton, Executive Director, Hope for Depression Research Foundation

"Darkly funny, painfully optimistic, and full of smart advice about things most people won't even admit are things. An engaging, evidence-based thrill ride for people with these disorders and those who love them."—Stephen Fried, author of Rush: Revolution, Madness & the Visionary Doctor Who Became a Founding Father and co-author, with Patrick Kennedy, of A Common Struggle: A Personal Journey Through the Past and Future of Mental Illness and Addiction

"Whether you have a mental health condition or love someone who does, this insightful, poignant narrative is for you, providing practical guidance and lessons learned."—Christine Moutier, MD, Chief Medical Officer, American Foundation for Suicide Prevention

"This is a book for everyone...for friends and family, for policy makers and for pharmaceutical companies. A must-have bedside table book for anyone who lives with a mental health diagnosis and for their loved ones who want to help but are not sure how to do so."—Lauren Slater, author of Blue Dreams: The Science and the Story of the Drugs that Changed Our Minds and Prozac Diary

"...this important and timely book. Modern Madness should be required reading for anyone impacted by mental health matters"—Shelf Awareness

"A lawyer and mental health advocate describes recent skirmishes in her decades long battle with bipolar disorder and offers advice on managing the condition. Cheney offers 65 swiftly moving essays that suggest the rapid cycling through moods that her disorder causes."—Kirkus Reviews

Praise for Manic

"Cheney's chilling account of her struggle with bipolar disorder brilliantly evokes the brutal nature of her disease. Manic . . . has heart and soul to spare."—People

"Cheney's book is a gut-wrenching ride."—Los Angeles Times

"With evocative imagery . . . Cheney conjures life at
the mercy of a brain chemistry that yanks her from 'soul-starving' despair to raucous
exuberance, impetuous pursuits to paralyzing lethargy . . . More than a train-wreck tearjerker, the
memoir draws strength from salient observations . . . startlingly lucid descriptions."—Publishers Weekly

"[A] gritty, vibrant, memoir brings this chaotic frenzy to life...through disaster and despair to end in hope. "—Peter C Whybrow, MD, author A Mood Apart

"Filled with gorgeous writing...Echoes of William Styron abound."—Demitri F. Papolos, MD and Janice Papolos, authors of The Bipolar Child

"Once again, Terri Cheney has written an educational but bittersweet book that moved me deeply."—Muffy Walker, MSN, MBA, President, International Bipolar Foundation

"Rewind the life of any adult with bipolar and you will find a childhood we would all desperately like to forget. Terri Cheney unflinchingly remembers...at long last, someone with the courage to break the silence."—John McManamy, author of Living Well with Depression and Bipolar Disorder

"As the father of an adult son with a severe mental illness, I found myself choking with emotion as I read Terri Cheney's riveting and illuminating account of her childhood growing-up with bipolar disorder. What did I miss as a loving father? Were there signs? Could I have saved my son? Cheney provides us with important insights from the eyes of the most innocent among us--our very own children."—Pete Earley, New York Times bestselling author of CRAZY: A Father's Search Through America's Mental Health Madness

"Her story is a sound first step toward understanding your child's pain and finding solutions."—Publishers Weekly

"The book is a superb stigma-bashing exercise in revelation--one packed with cleverly rendered, narrative-driven advice and knowledge that will inspire sufferers to seek help, and aid those who are not members of our cursed club in understanding a disorder that is all too common across our country and across our world."—Edward Renehan, Medium
Hachette Go, 9780306846304, 288pp.
Publication Date: September 8, 2020
About the Author
Terri Cheney is the author of the New York Times bestseller Manic: A Memoir, which was translated into eight foreign languages. Terri's writings and commentary about bipolar disorder have also been featured in the New York Times, the Los Angeles Times, the Huffington Post, NPR, and countless articles and popular blogs, including her own ongoing blog for Psychology Today, which has over one million views.
Once a successful entertainment attorney representing the likes of Michael Jackson and Quincy Jones, Terri now devotes her advocacy skills to the cause of destigmatizing mental illness. She is a member of the Board of Directors of the Saks Institute for Mental Health Law, Policy, and Ethics at USC, and the Honorary Board of Directors of the International Bipolar Foundation. She also served on the Community Advisory Board of the UCLA Mood Disorders Research Program. She currently lives in Los Angeles.