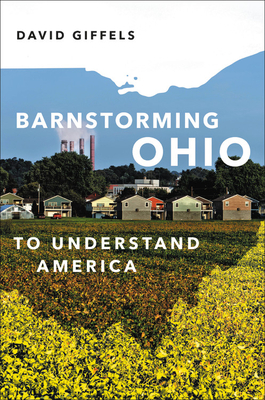 Barnstorming Ohio
To Understand America
Hardcover

* Individual store prices may vary.
Description
**Finalist for the 2021 Ohioana Award**

An on-the-ground look at the diverse challenges facing Ohio, in light of its national significance as the state that has aligned with presidential election winners more than any other -- from an award-winning author and essayist dubbed "the Bard of Akron" (New York Times). The question of America's identity has rarely been more urgent than now, and no American place has ever been more reflective of that identity than Ohio. David Giffels, a lifelong resident of the "bellwether" state, has spent a quarter century writing and thinking about what it means to live in what he calls "an all-American buffet, an uncannily complete everyplace." With Cleveland as the end of the North, Cincinnati as the beginning of the South, Youngstown as the end of the East, and Hicksville (yes, Hicksville) as the beginning of the Midwest, Ohio offers important insight into the state of the nation. As a historic 2020 presidential election approaches, Barnstorming Ohio is Giffels' account of a year on Ohio's roads, visiting people and places that offer valuable reflections of the national questions and concerns, as well as astounding electoral clairvoyance -- since 1896, Ohio has accurately chosen the winner in twenty-nine of thirty-one presidential elections, more than any other state. With lyricism and a native's keen eye, Barnstorming Ohio takes readers into the living room of a man whose life was upended just shy of retirement by General Motors' shutdown of its Lordstown assembly plant. It offers an exclusive view into the presidential campaign of Ohio Democratic hopeful Tim Ryan. It takes us into the sodden soybean fields of farmers struggling to outlast the dual punch of a protracted trade war and historic rainfall, and to an indie rock music festival in Dayton a week after a mass shooting there. We enter the otherworld of long-dormant shopping malls as Amazon transforms them into vast new fulfillment centers. On the lighter side, Giffels makes a "beer run" into Ohio's booming craft brewing industry and revisits the legend (and the bird-nest toupee) of Jim Traficant, a larger-than-life Ohio politician whom many have called the "proto-Trump." In a year when Americans are seeking answers, Barnstorming Ohio offers rare and carefully nuanced access to the people who have always held them.
Praise For Barnstorming Ohio: To Understand America…
"David Giffels is becoming one of the really invaluable American reporters. With a sharp comic eye for mid-American idiosyncrasies that recalls Thurber or Keillor, he also has a political conscience, and consciousness, that allows him to illuminate, with gentle acuity, many vexed corners in our national debate, from pro sports to strip malls. He is one of those rare writers who gives us truth without sentiment or rhetoric, and I never read him without pleasure, and a feeling that I now understand my country better than I did before."—Adam Gopnik, author of A Thousand Small Sanities

"There is no single narrative about Ohio, and nobody understands this better than its native son, David Giffels. His journalist's instincts set his compass as he explored this fabled political battleground, and his storyteller's heart is why this book unfolds in lyrical ways. Giffels neither romanticizes nor excuses, but chapter by chapter, one observation at a time, he reveals his love for the people who live here. This is the way to tell the whole story of Ohio. It is the only way to tell the truest one."—Connie Schultz, Pulitzer Prize-winning author of The Daughters of Erietown

"For how so much of the modern political discourse paints Ohio as a state of flux in election years, and a monolith every other time, I'm thankful for the gentle and generous touch of David Giffels. In this book, he writes the nuances of the state and its people with incredible warmth and immense insight. He does justice to the many tensions and affections that rumble through the state, always. These are uncertain years, with more uncertain years promised to follow. I am thankful for the familiar (and sometimes uncomfortable) clarities this book offers."—Hanif Abdurraqib, New York Times bestselling author of Go Ahead in the Rain and They Can't Kill Us Until They Kill Us

Winner of AudioFile Earphones Award

"Giffels's terrific new book is a thought-provoking and poignant examination of the election bellwether state of Ohio. The Akron native and bestselling author is an adept narrator...Blending his own story with those of the people he meets, Giffels writes with an open heart and mind. In so doing, he has produced a timely and timeless portrait of the American heartland."
—AudioFile

"Illuminating…. Giffels expertly observes some of the issues and events weighing on Ohioans…. Giffels offers context but allows Ohioans to tell their stories, which are rich and complicated. The people and places he visits during a year on the road erase any notion of the state as a monolith…. In what could be argued is Barnstorming's greatest achievement, Giffels resists the urge to whitewash our history in service of a political narrative that focuses exclusively on white, working-class voters…. Barnstorming is an essential read for anyone who wants to understand the forces shaping our electorate in a place too often written off as 'flyover country.'"—The Los Angeles Review of Books

"An engaging compendium of personal narrative and memoir, travelogue, ethnography, and vignettes that serve as evidence of the state's national significance. In a way, it is a tortured love letter, waxing poetic about the place and its people, and tearfully hashing over the ways things have gone wrong. It is also a white paper of sorts, arguing for greater attentiveness to this "bellwether" state, one with a knack for predicting presidential wins and acting as a canary in the coal mine for broader misalignments, divisive politics, festering social problems, and public health emergencies, from the opioid crisis to COVID-19. Giffels' gift with language, his astuteness as a social observer and analyst, and his deep connection to the people of Ohio makes this a highly engaging and worthwhile read."—Booklist

"Giffels... writes gracefully at every stop and actively seeks pockets of sunlight amid the gloom....An affectionate, realistic survey of a state coming back from the brink."—Kirkus Reviews

"[A] trenchant mix of memoir, reportage, and political analysis.... [Giffels] infuses his social commentary with local color and memorable turns-of-phrase.... [T]his nuanced and often lyrical account...offers a measure of hope."—Publishers Weekly

"Written in an engaging and poetic style, this exploration of Ohio is told with care and sensitivity. Readers interested in current events and politics will enjoy this highly readable account."—Library Journal

"Akron writer David Giffels decides to learn what Ohioans are like today....The people speak, and he listens."—Akron Beacon Journal

"By providing an Ohioan's view on these questions, David presents a human, empathetic, and holistic take on the stories that reflect the state's, and by extension America's, identity."
—The Devil Strip

"Barnstorming Ohio is a welcome interpretation of living in a bellwether state. [Giffels'] elegant prose, in turns blunt and poetic, is a gift—a balm of reason for unreasonable times….Giffels' exploration is both revealing and calming: This, too, shall pass."—Ohio Humanities

"[Giffels] carefully listens to folks of various walks of life…. [His] contacts as he travels are interesting and insightful, but…some of the richness of this book comes from Giffels' vast understanding of the history of Ohio and of his knowledge of Ohio authors."—The Daily Record
Hachette Books, 9780306846397, 272pp.
Publication Date: August 25, 2020
About the Author
David Giffels is the author of five books, and two-time winner of the Ohioana Book Award. His critically acclaimed memoir, Furnishing Eternity: A Father, a Son, a Coffin, and a Measure of Life, was hailed by the New York Times Book Review as "tender, witty and . . . painstakingly and subtly wrought," and picked as a New York Times Book ReviewEditors' Choice. His previous books include The Hard Way on Purpose: Essays and Dispatches from the Rust Belt, also a New York Times Book Review Editors' Choice, and nominee for the PEN/Diamonstein-Spielvogel Award for the Art of the Essay, and the memoir All the Way Home (William Morrow/HarperCollins).
Giffels is the coauthor, with Jade Dellinger, of the rock biography Are We Not Men? We Are Devo! and, with Steve Love, Wheels of Fortune: The Story of Rubber in Akron. A former columnist for the Akron Beacon Journal, Giffels's writing has appeared in the New York Times Magazine,the Atlantic, Parade, the Iowa Review, the Wall Street Journal, Esquire, Grantland, and many other publications. He also was a writer for the MTV series Beavis and Butt-Head. He is a professor of English at the University of Akron, where he teaches creative nonfiction in the Northeast Ohio Master of Fine Arts program.