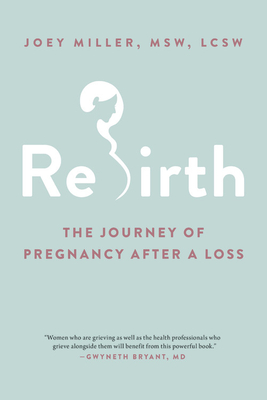 Rebirth
The Journey of Pregnancy After a Loss
Paperback

* Individual store prices may vary.
Description
From an expert counselor, a compassionate, comprehensive guide to healing, conception, and pregnancy after loss of a baby.
The challenges of having another pregnancy after loss can be extensive from a physical/medical standpoint alone, but no more so than the emotional and psychological hurdles. Therapist and social worker Joey Miller has counseled women and their families on exactly these matters for nearly twenty years. She brings deep compassion, knowledge, and wisdom of both the emotional and physical roller coasters to help women and their partners tackle all the tough issues:
How to talk to your doctor
How to handle the emotional fallout, including dealing with your children, family members, and friends
Physical assessments and considerations
How to get the emotional support you need
Support for partners/spouses
and more
Other than personal accounts of pregnancy after loss, no other book addresses what to expect when expecting goes horribly wrong . . . and then beyond.
Rebirth
provides a road map for that journey. With concrete help navigating the immediate aftermath of tragedy and the difficulties re-acclimating to a very fertile world to the very mixed emotions of grieving while trying to conceive,
Rebirth
addresses the inconceivable with deep empathy and practical wisdom.
Praise For Rebirth: The Journey of Pregnancy After a Loss…
"I have worked with
Joey Miller as both an obstetrician working in Chicago and as a patient myself. It
was because of Joey that I was able to return to delivering babies in the very
hospital I lost my own. I know [this book] will help women who are grieving as well as the health
professionals who grieve alongside them but often struggle with how best to
support their patients emotionally."—Gwyneth Bryant, MD, Obstetrician/Gynecologist, Prentice Women's Hospital, Chicago, and Clinical Instructor of Obstetrics and Gynecology Northwestern Feinberg School of Medicine

"I have worked with
Joey Miller for over a decade, and in that time, I have seen the benefits that
women and their partners accrue by being in her care.[She will] make a valuable
contribution to the many individuals (patients, families, care providers) who
may never have the chance to work with her on a personal basis."—William Grobman, MD, MBA, Northwestern Memorial Hospital, and Professor of Obstetrics and Gynecology and Preventative Medicine, NorthwesternFeinberg School of Medicine, Chicago

"Joey Miller is Chicago's
'go-to source for perinatal loss counseling. Ms. Miller has tremendous depth of
experience with patients whose grief originates within a variety of different
contexts. My endorsement reflects the clinical experience of years of patients
who have benefitted from her care in the most trying of circumstances. I trust
her advice, respect her insight and am glad that she wishes to share her
knowledge with a broader audience."—CassingHammond, MD, Director, Section and Fellowship in Family Planning, AssociateProfessor of Obstetrics and Gynecology, Northwestern Feinberg School ofMedicine, Chicago

"Joey Miller is an
exceptional clinician and therapist. She has expert diagnostic acumen
accompanied by unparalleled compassion and fortitude that allow her to walk
with her patients in times of profound loss, horrific tragedy and immeasurable
threats to themselves and those they love. Her capacity to hold patients
in a loving and safe space while also holding them accountable to their own
aspirations and goals is inspiring. I am profoundly grateful to be able
to learn from her and work with her in the care of individuals who are
suffering."—ElizabethKieff, MD, Psychiatrist, Private Practice, formerly Student Affairs Dean,Faculty Member, and University Student Mental Health Psychiatrist, Departmentof Psychiatry, The University of Chicago, Chicago

"Joey Miller is a
locally and nationally recognized expert and respected advocate, therapeutic
practitioner, and incredibly regarded presenter in the area of perinatal loss. Much
of her professional career also includes educating as well as supporting the
physicians, nurses, and support staff that care for these patients and
families. "—Susan Rizzato, LCSW, MSW, Perinatal Loss Program Coordinator,Northwestern Memorial Hospital, Chicago

"Joey Miller is a very competent and highly skilled clinician who joins her clients and their stories of loss, suffering, and adversity in empathic and compassionate ways. She connects with clients while building resiliency and hope for their futures. Joey is highly regarded among colleagues and clients and their families who continue to seek her out not only during vulnerable times in their lives but also in their journey of remembering, meaning making, and resiliency."
—DenadaHoxha, PhD, psychologist, private practice, and professor, Loyola University,Chicago

"Joey Miller is
brilliant in her vocation and seeks to bring healing and peace to all who seek
her comfort and guidance. This tremendous book flows from years of experience -
action put into words. Joey Miller is an angel of hope in the midst of the pain
and tragedies of life."—VeryRev. Gregory Sakowicz, rector, HolyName Cathedral Parish, Chicago
Hachette Go, 9780306846618, 288pp.
Publication Date: October 13, 2020
About the Author
Joey Miller, MSW, LCSW, is a therapist and social worker who has counseled women and their families for eighteen years. She was the Perinatal Loss Program Coordinator at Prentice Women's Hospital of Northwestern Memorial Hospital, the largest birthing center in the state of Illinois and the Midwest (and one of the largest in the country, supporting up to 13,600 births per year); she has a private practice at Wellsprings Health Associates in Chicago. In addition to individual clients, Joey also trains healthcare providers, and she remains affiliated with Northwestern Feinberg School of Medicine, where she has served as a faculty member.