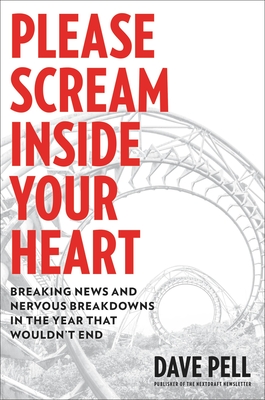 Please Scream Inside Your Heart
Breaking News and Nervous Breakdowns in the Year that Wouldn't End
Hardcover

* Individual store prices may vary.
Other Editions of This Title:
Digital Audiobook (11/8/2021)
Compact Disc (11/9/2021)
Description
From the publisher of the NextDraft newsletter comes a cathartic and humorous ride through the unnerving, maddening hellscape of the 2020 press cycle, reestablishing the line between "real" news and real life.
Please lower your shoulder restraint and keep your hands and feet in. You're about to board a roller coaster ride through a year that was at once laughable and lethal.
If you've got an anti-anxiety prescription, now would probably be a good time to call in a refill.Please Scream Inside Your Heart
is a time capsule; a real-time ride through the maddening hell that was the 2020 news cycle—when historic turmoil and media mania stretched American sanity, democracy, and toilet paper. Who better to examine this unhinged period in all of its twists and turns than news addict Dave Pell, aka the internet's Managing Editor? Fueled by the wisdom and advice of his two Holocaust-surviving parents, for whom parts of this story were all too familiar, Pell puts the key stories of 2020 into context with pith and punch; highlighting turning points that widened America's divisions, deepened our obsession with a media-driven civil war, and nearly knocked the country off its tracks.  
Pell also examines the role of technology in society—and how we somehow built the exact opposite of what we thought we were building. Why did the lies spread faster than the truth? How did our tech addiction contribute to the nightmare? Why do you feel a vibration in your pocket right now? 
In 2020, the news was everywhere, and everything was political—even the air we breathed. So brace yourself as you're hurtled through the twists and turns of the corkscrewiest year in American history; one that included two impeachment trials, a global pandemic, Black Lives Matter, the biggest election of a lifetime, a slide towards autocracy, and a warning from the makers of Lysol not to drink their products.
Praise For Please Scream Inside Your Heart: Breaking News and Nervous Breakdowns in the Year that Wouldn't End…
"I can't recall a more engaging read."—Norman Lear, Television Writer and Producer

"Buckle up and get ready for a wild ride!  No matter how much you think you know about the most extraordinary year any of us can remember, treat yourself to this smart, funny, compelling and uniquely personal journey through 2020 with one of America's smartest (and funniest) commentators."—Andrew Heyward, Former President, CBS News

"This book is perfectly fantastic and so direly needed. Pell offers up a careful news braid of America 2020—creeping authoritarianism, global pandemic, and racial injustice. But, Please Scream Inside Your Heart isn't just a romp through our repressed memories of Trumpism, a memoir about the trauma of newsgathering during a media tsunami, or a meditation on our complicated relationship with fame and attention. It's also a love letter to his own father, and the ordinary people who refuse to accept democracy as something we observe, rather than fight for."—Dahlia Lithwick, Senior Editor, Slate, Host of Amicus Podcast

"Pell combines sharp insights and a wicked wit to bring context to the chaos. Having read Please Scream Inside Your Heart, I now feel I understand what happened in 2020. His is a perfect public voice.  This is how vibrant, memorable history should be written."—Phil Bronstein, Center for Investigative Reporting

"Like his daily newsletter, the book is breezy, funny, outraged, and filled with wordplay. Plus, he remembers all the best Trump quotes. Reading it will make you so grateful this is this year."—Harry Shearer, The Simpsons, Le Show, This is Spinal Tap

"With humor and depth, Scream delivers a brilliant, riveting, Hollywood blockbuster-like ride through the year that transformed all of us. The man appropriately known as 'the managing editor of the Internet' helps us grasp an extraordinary time and make sense of the history we lived through—and that we must never forget."—Laurie Segall, correspondent 60 Minutes+, co-founder Dot Dot Dot Media

"Come for the hilarious recounting of the traumas of 2020. Stay for the moving story of an extraordinary family."—Daniel Pink, #1 New York Times bestselling author

"Pell's family stories are lucid and heartwarming. Fans of Nextdraft and news junkies with an appreciation for the absurd will savor Pell's ability to find humor and hope in a year of chaos."—Publishers Weekly

"Pell blends in the news with anecdotes from his family which often prove bittersweet....readers who share Pell's left-leaning politics will enjoy the ride."—Philip Zozzaro, Booklist

"Pell's deep and formative connection with his Holocaust-survivor parents proves to be a scene-stealer. In fact, any and all sections in which Pell writes about his father, Joseph Pell, grab my heart and won't let go."—San Francisco Chronicle

"If you have ever wondered: 'Is there a book that will explain the role of technology in our world, and also, in ruining/making wonderful my life?' then, friend, I have got a book from Dave Pell for you."—Charles Duhigg, Pulitzer Prize winning reporter and New York Times bestselling author of Smarter Faster Better

"For anyone who knows Dave Pell, the usual adjectives apply—witty, incisive, self-deprecating, poignant. But what defines this first book from the internet's managing editor is its willingness to bare the heart behind a political perspective and to illustrate the process by which a news ninja chooses to engage and understand."—Gregg Hurwitz, New York Times bestselling author

"Pell, a self-proclaimed 'media Jedi' and the Internet's Managing Editor, makes [2020] an interesting, revelatory journey down a harrowing memory lane and, if you can believe it, even kind of fun."—USA Today

"When I read Dave Pell online, I always wish for more. Here is the answer to my wish and yours: a charming, insightful, touching, funny chronicle of the year from hell by one of the nicest, smartest guys on the whole internet. Buy Please Scream Inside Your Heart as therapy for surviving the roller-coaster ride that was 2020."—Jeff Jarvis, Director of the Tow-Knight Center for Entrepreneurial Journalism

"Like everything Dave Pell writes, his new book is a great read."—Dan Pfeiffer, Pod Saves America
Hachette Go, 9780306847394, 368pp.
Publication Date: November 9, 2021
About the Author
Dave Pell has been writing about news, technology, and media since 1999. He writes NextDraft, a newsletter offering a quick and entertaining look at the day's most fascinating news. He's been news obsessed since he was child and he is known to his readers as the Internet's Managing Editor. He has also been investing in and advising startups since the earliest days of the internet, and has written extensively on the role of technology in our lives. He is a graduate of UC Berkeley and the Harvard Graduate School of Education. He sits on the board of 826 Valencia and is a longtime advisor to the Center for Investigative Reporting.