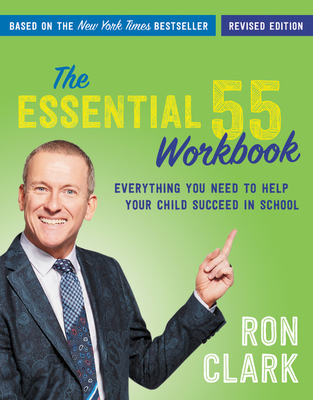 The Essential 55 Workbook (Paperback)
Revised and Updated
Hachette Go, 9780306873485, 240pp.
Publication Date: April 28, 2020
* Individual store prices may vary.
Description
From the Disney Teacher of the Year and New York Times bestselling author comes the ideal updated companion to the revised edition of The Essential 55.
Ron Clark's
The Essential 55
took the country by storm, selling over one million copies. Now he provides a new edition of the companion workbook, with fresh exercises for teachers and parents to transform any child into a successful student.
The Essential 55 Workbook
is full of easy-to-do lessons to help you reinforce The Essential 55 rules that every child should know, including ways to improve classroom learning and homework. With a series of self-tests, exercises, and questionnaires in the form of games, quizzes, word searches, and riddles,
The Essential 55 Workbook
encourages you to adapt Ron Clark's tools to your own situation. You'll get kids excited and proud of the effort they put forth. With determination, discipline, and regular rewards, the children you stick by will be the children you come to admire.
About the Author
Ron Clark is the New York Times bestselling author of The Essential 55, which has sold more than one million copies in the U.S. and has been published in twenty-five different languages. He has been named "American Teacher of the Year" by Disney and Oprah Winfrey's first "Phenomenal Man." He founded The Ron Clark Academy in Atlanta, Georgia, which tens of thousands of educators from around the world have visited to learn about the extraordinary ways that teachers and parents of RCA have helped children achieve great success.
Praise For The Essential 55 Workbook: Revised and Updated…
Praise for The Essential 55


"The winner of the 2001 Disney Teacher of the Year Award presents some
revolutionary ideas for the classroom: manners, industriousness, and
accountability.... [Ron's] rules go beyond simple politeness: they
promote respect for self and others, and help foster a mature and
responsible way of living in the world.... [H]is cogent explanations
about why he created his rules and his closing tips on dealing with
parents and children offer plenty of ideas and much-needed
support...this book is a definite winner... Clark's slim but valuable
volume will make a welcome addition to any teacher's library."—Publishers Weekly

"Ron Clark's approach to classroom management is clearly a three-legged
stool made of high expectations, an unmistakable belief that children
can succeed, and a support system that makes students want to do the
right thing. All three ingredients are a must for the magical recipe we
see in this book."—Frank Buck, former Editorial Advisor to the National Association of Elementary School Principals, Principal Magazine

"The Essential 55: rules for a lifetime."—EducationWorld.com