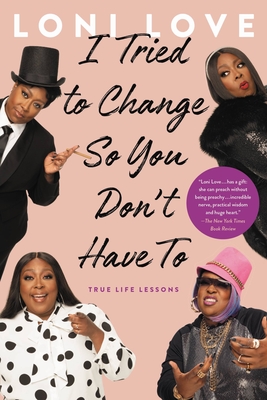 I Tried to Change So You Don't Have To
True Life Lessons
Paperback

* Individual store prices may vary.
Other Editions of This Title:
Hardcover (6/23/2020)
Compact Disc (6/23/2020)
Compact Disc (6/23/2020)
Description
An inspiring, hilarious memoir about learning to resist the pressures of conformity, love yourself for who you are, embrace your flaws, and unlock your true potential.

Winner of the African American Literary Award for Memoir!

Now cohost of Fox's The Real and SiriusXM's Café Mocha, Loni Love hasn't taken the typical path to becoming America's favorite straight-talking girlfriend and comedian. She was not the child of Hollywood legends and she never wore a size 00. Rather, she grew up in housing projects in Detroit, more worried about affording her next meal than going on a diet. When she moved to Hollywood after graduating college with an engineering degree, seeking to break out in the entertainment world, there was nothing that would convince her to eat the kale salads and quinoa bowls that her colleagues introduced her to, which looked to Love like "weeds my grandma used to pay me a dollar to pull from her yard."

Still, despite the differences that set her apart in the status-driven world of entertainment where being thin, young, blond, and bubbly is sometimes considered a talent, Love spent years trying to fit in—trying to style her hair just so, dieting, dating the men she thought she was supposed to be with. In this book, she tells the uproariously funny story of how she overcame the trap of self-improvement and instead learned to embrace who she was. As Love writes, "There's a saying a lot of people live by: 'Fake it till you make it.' For me, it's always been 'fake it, and then have the whole thing blow up in your face.'" I Tried to Change So You Don't Have To explores all of the embarrassing mistakes, terrifying challenges, and unexpected breakthroughs that taught her how, by committing ourselves to our own path, we can take control of our destiny.
Praise For I Tried to Change So You Don't Have To: True Life Lessons…
"Fantastic."—Sunny Hostin

"Loni Love...has a gift: she can preach without being preachy....With her maniacal work ethic, incredible nerve, practical wisdom and huge heart...she's a woman whose romantic advice we should all listen to."
—The New York Times Book Review

"Loni Love's latest memoir will help you accept your flaws...wise but relatable....Uproarious...written as someone who has long been wise beyond her years."—Marie Claire

"Incredibly compelling."
—Meghan McCain

"This breezy read is an inspirational tale."—Forbes

"Even devout fans of the show will come to find that there's so much more to the comedian they didn't know about until they read her memoir."—NBC News

"Loni Love delivers laughs with real-life lessons...[Love's] book is a let-me-tell-y'all, not a tell-all, affair."—The Washington Informer

"With her new memoir, Loni Love aims for inspiration and levity in relating an unexpected journey."—MetroWeekly

"Loni's candid and down-to-earth writing will encourage readers to learn from past hardships."—CBS Detroit

"[Love] dispenses her wisdom with a healthy dose of humor."—Metro Weekly

"A fun and inspiring read."
—Booklist

"[Love] writes powerfully... [her] moving memoir will resonate with readers, especially women, in need of personal and professional motivation."—Publishers Weekly
Hachette Go, 9780306873737, 240pp.
Publication Date: June 22, 2021
About the Author
Comedian and the defending winner of an Emmy (2018) for "Outstanding Entertainment Talk Show Host" and two straight NAACP Image Awards for "Outstanding Talk Series" (all for The Real), Loni Love is the magnetic, hilarious, sexy (Loni demanded we put this in), and relentlessly candid cohost of Fox's The Real and a nationally syndicated radio show Café Mocha.