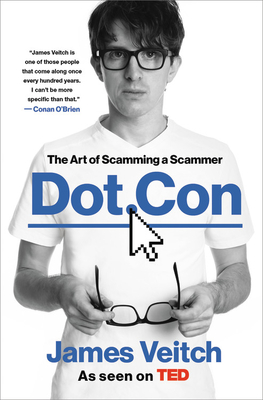 Dot Con
The Art of Scamming a Scammer
Hardcover

* Individual store prices may vary.
Other Editions of This Title:
Digital Audiobook (6/1/2020)
Compact Disc (6/2/2020)
Description
From viral comedy sensation James Veitch (as seen on TED, Conan, and The Tonight Show with Jimmy Fallon) comes a collection of laugh-out-loud funny exchanges with email scammers.
The Nigerian prince eager to fork over his inheritance, the family friend stranded unexpectedly in Norway, the lonely Russian beauty looking for love . . . they spam our inboxes with their hapless pleas for help, money, and your social security number. In Dot Con, Veitch finally answers the question: what would happen if you replied?
Suspicious emails pop up in our inboxes and our first instinct is to delete unopened. But what if you responded to the deposed princess begging for money in your Gmail? Veitch dives into the underbelly of our absurd email scam culture, playing the scammers at their own game, and these are the surprising, bizarre, and hilarious results.
Praise For Dot Con: The Art of Scamming a Scammer…
"James Veitch is one of those people that come along once every hundred years. I can't be more specific than that."—Conan O'Brien

"From the first page I was intrigued and laughing out loud. Delighted to see someone going out of their way to waste the time of these scammers. James is doing the Lord's work."—Iliza Shlesinger, author of Girl Logic: The Genius and the Absurdity

"A diverting read that may bring you some needed laughs."
—Fortune

"Dot Con is perfect for [Veitch's] superfans as he shares all of his hilarious correspondence, complete with screenshots."—TED.com

"Hilarious....[A]n uproariously funny read that will make your stomach hurt from laughing so hard."—Omnivoracious: The Amazon Book Review

"Whip-smart and brilliant. Hysterically funny!"—Harry Hill

"A wicked sense of humor....I laughed my ass off."
—The New York Times

"A pleasure."—The Sunday Times (UK)

"A Dave Gorman-esque romp."—Time Out

"Ingenious...One to watch."—Independent (UK)

"Playfully funny...the author's absurdist approach and enthusiasm for his work make for unpredictably funny reading. An amusing, oddball compilation."
—Kirkus Reviews

"Summed up in a single word, Dot Con is hilarious!...Dot Con brings to light the potentially life-changing repercussions that these scammers can have on an innocent person's life....English teachers will probably hate this book because of the misuse of the English language...a great read."—The Seattle Book Review
Hachette Books, 9780306874598, 208pp.
Publication Date: June 2, 2020
About the Author
James Veitch is a former Apple Genius whose high-tech comedy picks apart and parodies the constantly evolving and perplexing technology we live with. James has sold out shows throughout the world and presented the third most popular TED Talk of all time. He wrote and performed two viral hit seasons of his show Scamalot with Mashable, has appeared twice on Conan, and appeared on The Tonight Show with Jimmy Fallon.
He lives in Islington with his full-body pillow.