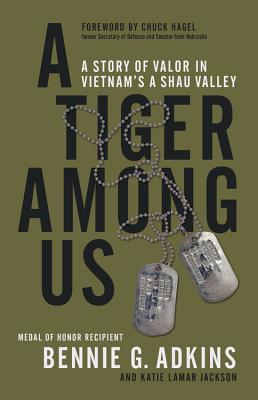 A Tiger among Us (Hardcover)
A Story of Valor in Vietnam's A Shau Valley
Da Capo Press, 9780306902024, 224pp.
Publication Date: May 15, 2018
* Individual store prices may vary.
Description
Foreword by Chuck Hagel, former Secretary of Defense and Senator from Nebraska

Adaptable. Cunning. Ferocious. Fearless. The Indochinese tiger is just one of the formidable predators roaming Vietnam's jungle. In 1966 a small band of US Special Forces soldiers--most especially Bennie Adkins--spent four grueling days facing down the "tiger" among them.

While the rain and mist of an early March moved over the valley, then-Sergeant First Class Bennie Adkins and sixteen other Green Berets found themselves holed up in an undermanned and unfortified position at Camp A Shau, a small training and reconnaissance camp located right next to the infamous Ho Chi Minh Trail, North Vietnam's major supply route. And with the rain came the North Vietnamese Army in force.

Surrounded 10-to-1, the Green Berets endured constant mortar and rifle fire, direct assaults, treasonous allies, and volatile jungle weather. But there was one among them who battled ferociously, like a tiger, and when they finally evacuated, he carried the wounded to safety. Forty-eight years later, Command Sergeant Major Bennie Adkins's valor was recognized when he received this nation's highest military award, the Medal of Honor.

Filled with the sights, smells, and sounds of a raging battle fought in the middle of a tropical forest, A Tiger among Us is a riveting tale of bravery, valor, skill, and resilience.

About the Author
Bennie G. Adkins is a highly decorated retired US Army Command Sergeant Major and recipient of the Medal of Honor for actions in March 1966 during the Vietnam War. He deployed to Vietnam for three tours. Upon retiring from the service he ran his own accounting business. He and his wife live in Opelika, Alabama.

Katie Lamar Jackson is a writer, editor, and photographer with more than thirty years of experience as a journalist, author, communicator, public relations expert, and marketing specialist. Jackson lives in Opelika, Alabama.
Praise For A Tiger among Us: A Story of Valor in Vietnam's A Shau Valley…
"A Tiger among Us tells the riveting, real life story of an American hero in Vietnam who repeatedly risked his life to help save his fellow warriors. His selfless bravery in the face of overwhelming odds in 1966--and his long, honorable career in the US Army--reflects the best of America's military tradition. This is a story every American should read."--General Tommy R. Franks (US Army, Ret.), former commander of US Central Command


"Of the millions of men and women who have fought America's wars, only some 3,500 received our country's highest award for gallantry, the Medal of Honor. There's just one way to earn it--the hard way. Command Sergeant Major Bennie Adkins tells us what it takes. A Tiger among Us puts you right in the middle of desperate close combat in the heart of the Vietnam War's deadly A Shau Valley. What does it really mean to battle a relentless enemy 'above and beyond the call of duty'? Bennie Adkins knows. Read this book and you will, too."--Lieutenant General Daniel P. Bolger (US Army, Ret.), author of Our Year of War: Two Brothers, Vietnam, and a Nation Divided


"In his magnificent memoir A Tiger among Us, Command Sergeant Major Bennie Adkins proves that he is as talented a writer as he is an intrepid warrior. He has penned a gripping, minute-by-minute, hour-by-hour account of one of the most intense Special Forces battles of the Vietnam War. This is a powerful, riveting story about valor, comradeship, and self-sacrifice in the deadly A Shau Valley. A must-read for all soldiers, scholars, and students of leadership!"--Colonel Thomas R. Yarborough (USAF, Ret.), author of A Shau Valor and Da Nang Diary


"The heart of Adkins's memoir is a blow-by-blow account of a vicious, four-day battle in 1966 in the densely forested and notoriously dangerous A Shau Valley...[it] will be of interest to those seeking tales of the hell combatants went through in Vietnam."—Publishers Weekly

"[A Tiger Among Us] conveys the hell that Adkins and his comrades went through fifty-two years ago in a little-known, brutal engagement in the Vietnam War."—The VVA Veteran

"A powerful memoir about valor, selfless service and self-sacrifice."—ARMY